After two and a half months of taking oath, MP Chief Minister Shivraj Singh Chouhan has many challenges before him. The first is to tackle the Covid-19 pandemic, which has affected more than 10,000 people in the state. But The political challenges are even more daunting, reports Sandeep Kumar.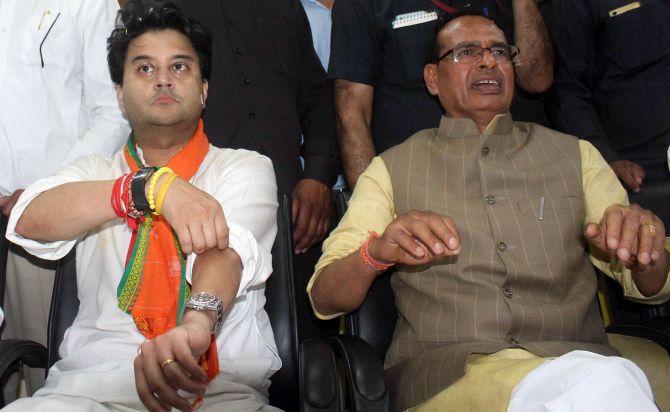 In March, Shivraj Singh Chouhan took over as Madhya Pradesh chief minister for a record fourth time, snatching power from the Congress's Kamal Nath within 15 months.
Though Narottam Mishra, state home minister, was instrumental in dethroning Nath, Chouhan became the obvious chief ministerial choice for the Bharatiya Janata Party in the faction-ridden Madhya Pradesh.
Political compulsions were also in his favour. Also to win the by-elections to seats that have fallen vacant after the resignation of rebel Congress MLAs, Chouhan was better suited than other aspirants.
The BJP has to win at least 15 of the 24 vacant seats if it wants to have a stable government in the state; it currently has a thin majority.
After two and a half months of taking oath, Chouhan has many challenges before him.
The first is to tackle the Covid-19 pandemic, which has affected more than 10,000 people in the state.
The political challenges are even more daunting.
To take everybody along
The BJP formed the government with the help of 22 Congress defectors, many of whom were ministers in the Congress government. Now Chouhan has to accommodate them.
That's one reason for the delay in the much-talked-about cabinet expansion. There has been speculation of expansion since May.
Political commentator and senior journalist Sandeep Pouranik said: "Only 29 ministerial berths are available and there is a vast pool of candidates, including 22 turncoats. Naturally, they seek rewards."
"Chouhan is struggling to strike a balance. Apart from Congress entrants, there are heavyweights within the party who are hopeful of a ministerial berth. That's the reason Chouhan had to withdraw the expansion plan twice," said BJP leader.
Pressure from the aspirants is mounting.
"According to the deal with Jyotiraditya Scindia and his loyalists, Chouhan has to accommodate at least 10 turncoats. For this, he has to pacify some old friends. He reportedly offered the speaker's post to Gopal Bhargava but he rejected it," said a former BJP minister.
Tension within the party came out in public when Rewa MLA Rajendra Shukla approached actor Sonu Sood to bring back some local workers stranded in Mumbai.
This when his own party and Chouhan had been claiming the government would ensure the return of every migrant worker.
Sources said Shukla -- considered close to Chouhan -- had been dropped from the list of probables.
From the turncoat camp, former ministers Imarti Devi, Mahendra Singh Sisodia, Prabhuram Chaudhary, and Pradyumn Singh Tomar are the major claimants.
Besides Shukla and Bhargava, BJP aspirants include Scindia's aunt Yashodhara Raje, Vishwas Sarang, Bhupendra Singh, Ajai Vishnoi, and Satyendra Pathak.
The by-polls
The date for the by-election is yet to be announced but the party has already set up an election management committee and an election resource committee.
The management committee includes four central ministers who hail from Madhya Pradesh -- Narendra Singh Tomar, Prahlad Singh Patel, Thawar Chand Gehlot, and Faggan Singh Kulaste.
Chouhan, Scindia, and state BJP chief V D Sharma are also part of it.
Of the 24 by-polls, 16 are set to take place in the Gwalior-Chambal region, which is Scindia's stronghold.
The Congress, too, is also leaving no stone unturned. BJP leader Balendu Shukla has now switched over the Congress.
Once close to the late Madhavrao Scindia (Jyotiraditya's father), Shukla is said to be displeased with Jyotiraditya's entry into the saffron party.
Just a few days ago, former Lok Sabha MP Premchand 'Guddu' also rejoined the grand old party.
The Congress is planning to field big guns, such as Ajay Singh Rahul (son of former CM Arjun Singh), Meenakshi Natrajan, and Guddu in the by-elections.
According to sources, Nath, state Congress chief, is in touch with several unhappy BJP leaders to switch sides and fight on the Congress ticket.
"Be ready to be surprised after the by-polls," said state party spokesperson Syed Jaffer.
BJP leader and former minister Deepak Joshi, son of Kailash Joshi (first BJP CM of Madhya Pradesh), recently said his options were open.
Leaders like Prabhat Jha and Jaibhan Singh Pawaiya are also not happy with Scindia's inclusion in the BJP.
Pawaiya reportedly told Chouhan he would not campaign for Congress defectors, even as the party has included both in its election-related teams.
BJP leader Pankaj Chaturvedi, however, rejected these claims.
"The Congress is day-dreaming. It doesn't even have leaders to contest the by-elections. As far as dissidence in the BJP is concerned, there is no such thing."