'Should the Congress take Jyotiraditya's departure as good riddance?', asks Mohammad Sajjad.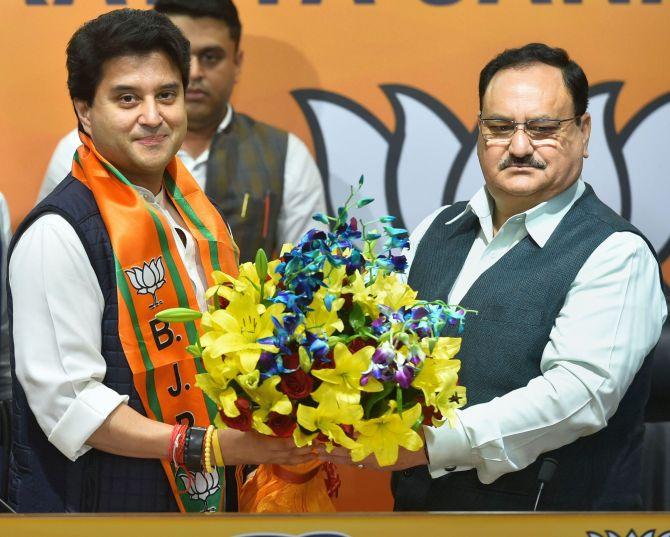 With Jyotiraditya Scindia's dramatic switch from the Congress to the BJP, recent and distant histories of the erstwhile royal dynasty to which he belongs have started to emerge.
This is not happening for the first time.
Before a by-election in May 2017, then Madhya Pradesh chief minister Shivraj Singh Chouhan and Kailash Vijayvargiya, then the BJP's national secretary, accused the Sindhia dynasty of Gwalior for having joined hands with the British and contributing to the defeat in the First War of Independence.
The BJP stalwarts had chosen to forget that every other Scindia scion was with the BJP -- Vasundhra Raje and her sister Yashodhra Raje, younger sisters of Jyotiraditya's father Madhavrao Scindia.
In 1857, the Scindia ruler was Jayajirao (1834-1886).
Hindutva icon Vinayak Damodar Savarkar, in his 1909 book, Indian War of Independence, 1857, was much more unrestrained than Chouhan and Vijayvargiya; he referred to Jayajirao as a cobra, traitor, coward...
Referring to the relationship between Jayajirao and the Jhansi queen Laxmibai, Savarkar wrote, 'the cobra shows not such rage when it is trodden upon as Laxmi showed at the sight of this traitor'.
Savarkar is equally harsh against Scindia's minister Dinkar Rao who ditched the peshwa, Tatya Tope.
In another significant essay, historian Iqtidar Alam Khan notes that Gwalior's defeat at Dholpur in 1844 brought the Scindia army under British control. With the outbreak of the Sepoy Mutiny in May 1857, the British used Scindia contingents to suppress the rebels at Agra and Etawah.
For this, Major Macpherson paid Rs 4.5 lakhs to Scindia.
When Jhansi rose in revolt on June 7, 1857, Scindia took over the administration of parts of Jhansi.
This created some anger among the Scindia's sepoys.
Scindia was much concerned about his rebellious chiefs of Chanderi, Raigarh and other provinces and approached Brigadier Ramsay to help him suppress them.
By June 14, 1857, the carefully planned rebellion of Scindia's sepoys became prominent.
Based on Macpherson's report and on other contemporary primary evidence, Iqtidar Khan records that Jayajirao 'Scindia was not at all sincere' in helping out the rebel sepoys; 'he was all the time in league with the British', and assured Macpherson that till September he would keep his army tied down to Gwalior, rather than letting them join the rebel sepoys of north India.
This is how Scindia contributed to suppressing the 1857 revolt.
'Scindia was too clever as well as too resourceful a person to be handled in the same manner in which the sepoy leaders were able to handle Bahadur Shah at Delhi'.
Khan further writes, 'For the next four months [June-September 1857] that the contingent was still at Gwalior, there continued a war of wits between Scindia and the rebel leaders.'
'While the rebel leaders again and again pressed Scindia to lead them against the British, he went on putting them off on various pretexts.'
Scindia went on to instigating sepoys and their priests to keep their ranks divided, thereby extending substantial help to the British by not letting the sepoys join the rebel sepoys in Agra, Delhi, Kanpur and vicinities.
The sepoys, on November 27, 1857, at Kanpur, inflicted a humiliating defeat upon General Windham, the hero of the Crimean War.
This victory was celebrated by Frederick Engels in his column in the New York Daily Tribune (February 20, 1858).
The sepoys eventually lost Kanpur to British General Campbell on December 6, 1858.
This defeat is apparently attributed partly, at least, to Jayajirao Scindia's role.
Interestingly, Savarkar pays glowing tribute to Bahadur Shah Zafar, who according to Savarkar, made an ardent appeal to all the native rulers to unite against the British, and for which the Mughal emperor was also 'willing to resign from all Imperial powers and authority'.
Fast forward to post-Independence history!
Jivajirao Scindia (1916-1961), the second last ruler of Gwalior, was more inclined towards the Hindu Mahasabha, but the Congress persuaded him to contest the 1957 election.
Eventually, his wife Vijaya Raje Scindia (1919-2001), contested from Guna and won by defeating the Hindu Mahasabha's V G Deshpande by a big margin.
In 1967, she contested the Lok Sabha election as a nominee of C Rajagopalachari (1878-1972)'s Swatantra Party.
Simultaneously, she also contested the Vidhan Sabha election in Madhya Pradesh as a nominee of the Bharatiya Jana Sangh (the parent of the BJP; the Rajmata was a founder vice-president of the BJP).
The Gold Control Act and abolition of privy purses were said to have been the reasons for her quitting the Congress.
But her decision was 'mainly because of her ideological commitment to right-wing politics,' Nilanjan Mukhopadhyay writes in his latest book, The RSS: Icons of the Indian Right.
In 1966, Vijay Raje was snubbed by Indira Gandhi and denied a ministership. In 1967, she took away 36 Congress MLAs, leading to fall of the Dwarka Prasad Mishra-led Congress government in Madhya Pradesh.
In her autobiography, Rajpath se Lokpath Par, Vijaya Raje absolved her husband's ancestor Jayajirao by painting him as a 'patriot' rather than as a 'traitor'.
From May 1968, she began to take active interest in the Vishwa Hindu Parishad and helped it spread across MP, Gujarat and Rajasthan.
Her daughter Vasundhara Raje, then Rajasthan chief minister, had Subhadra Kumari Chauhan's celebrated Hindi poem Jhansi Ki Rani removed from school textbooks in the state as one line of this poem refers to Jhansi and the Marathas having been ditched by Scindia in 1857.
In all fairness, the present generation of Scindias should not be held accountable for the (mis)deeds of their ancestors!
In 1971, Vijaya Raje contested the Lok Sabha election from Bhind whereas her son Madhavrao contested the Lok Sabha election from Guna, both of them as Jana Sangh nominees.
In 1980, Madhavrao joined the Congress and handled portfolios like railways, civil aviation and human resources development.
In 1989, when Arjun Singh had to step down as MP chief minister, Madhavrao was a hopeful candidate, but Motilal Vora eventually got the top seat.
In 1996, Madhavrao quit the Congress and formed a regional outfit, the Madhya Pradesh Vikas Congress.
When Sonia Gandhi assumed the helm of Congress affairs, after P V Narasimha Rao was marginalised and Sitaram Kesri passed away, Madhavrao came back to the Congress.
Jyotiraditya could have launched a regional outfit if he felt marginalised within the Congress.
Does he have that capability of running his own regional outfit like Mamata Banerjee and Sharad Pawar have done? Perhaps, not! He owes his political rise only to the dynasty he is a scion of, and to the Congress which offered him ministerial berths thrice.
Yet, he apparently could not develop enough clout to take away a significant number of Congress MLAs in Madhya Pradesh.
As per reports, he barely has 17 MLAs with him.
Thus, given this thin clout, and given the 'charisma' of Narendra Damodardas Modi and Amit Anilchandra Shah built up with heightened majoritarian muscular nationalism of minority persecution, aided with brazen misuse of State power in connivance with crony capitalism and Deep State surveillance and vendetta against political opponents, one would hardly expect that Jyotiraditya will get a respectable position within the BJP and its government, more so, when he does not come from the RSS.
His political switch therefore smacks of self-serving opportunism rather than any ideological content deriving either from the pluralist Congress or of the exclusionary, divisive BJP.
Jyotiraditya's lack of ideological conviction manifested in his approval of the BJP's abrogation of Article 370 and imposition of ruthless persecution in Kashmir.
Jyotiraditya has maintained a silence on contentious and oppressive legislation and decisions issued by the Modi regime such as the CAA-NPR.
Given these, should the Congress take Jyotiraditya's departure as good riddance?
---
Professor Mohammad Sajjad teaches history at the Centre of Advanced Study in History, Aligarh Muslim University.