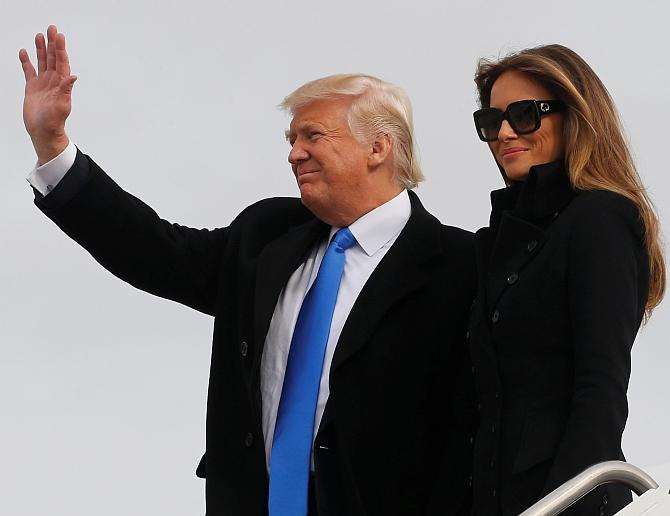 United States President Donald Trump on Thursday said he will visit Saudi Arabia, Israel and the Vatican on his first overseas trip as president later this month.
A visit to Saudi Arabia would lay the foundation of a new relationship with the Muslim community, Trump told religious leaders at a Rose Garden event in Washington, DC.
Trump said his visit to Saudi Arabia will include a gathering of leaders from 'across the Muslim world' to unite against extremism.
"It is there that we will begin to construct a new foundation of cooperation and support with our Muslim allies to combat extremism, terrorism and violence, and to embrace a more just and hopeful future for young Muslims in their countries," said the US President.
Declaring May 4 as the National Day of Prayer, Trump said freedom is not a gift of government.
"It is a gift from God. We are a nation of believers. Faith is deeply embedded into the history of our country," he said.
Soon thereafter, Trump signed an executive order which makes clear the federal government will never ever penalise anyone 'for their protected political beliefs'.
"I am proud to make a major and historic announcement this morning, and to share with you that my first foreign trip as president of the United States will be to Saudi Arabia, then Israel, and then to a place that my cardinals love very much, Rome," Trump announced.
"These visits will take place ahead of the NATO G-7 meetings and will begin with a truly historic gathering in Saudi Arabia with leaders from all across the Muslim world. Saudi Arabia is the custodian of the two holiest sites in Islam," he said.
"Our task is not to dictate to others how to live, but to build a coalition of friends and partners who share the goal of fighting terrorism and bringing safety, opportunity and stability to the war-ravaged Middle East. We all pray that we can make a difference. We pray for peace," said the US President.
Observing that America is a nation of believers, Trump said faith is deeply embedded into the history of the country, the 'spirit of our founding and the soul of our nation'
The US is not only a nation of faith, but also a nation of tolerance.
"As we look at the violence around the world -- and believe me, it's violent; I get to see it perhaps better than anybody -- we realise how truly blessed we are to live in a nation that honours the freedom of worship," Trump said.
"Today, my administration is leading by example as we take historic steps to protect religious liberty in the United States of America. We will not allow people of faith to be targeted, bullied or silenced anymore. We will never ever stand for religious discrimination. Never ever," he said, adding that tolerance is the cornerstone of peace.
Later in a statement, White House Press Secretary Sean Spicer said Trump has accepted the invitation of King Salman bin Abd Al-Aziz to visit Saudi Arabia later this month.
"The visit will reaffirm the strong partnership between the United States and Saudi Arabia and allow the leaders to discuss issues of strategic concern, including efforts to defeat terrorist groups and discredit radical ideologies," Spicer said.
Trump has also accepted the invitation of President Reuven Rivlin and Prime Minister Benjamin Netanyahu to visit Israel, where he will further strengthen the United States-Israel partnership, he said.
The two leaders will discuss a range of regional issues, including the need to counter the threats posed by Iran and its proxies, and by the Islamic State and other terrorist groups, he said.
They will also discuss ways to advance a genuine and lasting peace between the Israelis and Palestinians, he added.
Spicer said Trump has also accepted the invitation of President Mahmoud Abbas of the Palestinian Authority to meet with him to discuss ways to advance peace between the Israelis and Palestinians, as well as efforts to unlock the potential of the Palestinian economy.
Travelling next to Italy, Trump will meet with Pope Francis at the Vatican to discuss cooperation between the US and religious communities in areas of joint concern.
He will also meet, in Rome, with President Mattarella of Italy, who will later host the G-7, to discuss multilateral cooperation and bilateral relations between the United States and Italy.
"From Rome, the President will continue on to previously announced visits to Brussels for the NATO summit and meetings with EU and Belgian leaders, and to Sicily for the G7 meeting," Spicer said.