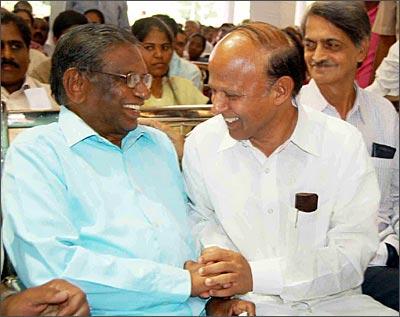 Prominent intellectuals, academicians, writers and activists from the Telangana region on Saturday urged former Telugu Desam Party leader T Devender Goud to work with organisations and groups that are already fighting for a separate Telangana state.
"If you can't work with them in coordination, at least ensure they don't work against each other," said Telangana ideologue Professor K Jayashankar, who was one of the dozen speakers at the 'Telangana Sadhana Sadassu,' which had been organised by Goud.
Stressing that Goud quitting the TDP and joining the Telangana agitation had strengthened the movement, he said,  "This is an opportunity as well as a challenge for all the protagonists of Telangana to work together to achieve their goal".
 
Freedom fighter and former minister Konda Lakshman Bapuji gave a call for direct action by the people of Telangana, on the lines of the Quit India movement, to achieve Telangana statehood before the 2009 elections.
 
Renowned irrigation expert R Vidyasagar Rao warned that the waters of Telangana region, which came from river Godavari and Krishna, were being looted systematically for the benefit of Andhra region.
"There is a need to create awareness among the people about its dangerous implications," he said. He urged Goud to ensure that only sincere people with complete dedication to Telangana get tickets of his party in the next elections, so that the people of Telangana are not betrayed once again.
 
Goud, who had resigned from the TDP earlier this week, said that he will launch a movement for a 'new and democratic Telangana state', with a clarion call to the people to fight for their democratic rights and make Telangana state a model for the entire country.
He also appealed to the Andhra region to separate from Telangana 'like brothers' and work for their development separately. 
 
"The 2009 election will not only result in the formation of the Telangana state but will also decide who will sit on the throne of Delhi and who will rule this country," he said. "In an era of coalition rule, a political party with even ten Members of Parliament will have a decisive say at the Centre. We will take our fight to Delhi," he told the meeting.
 
While Goud kept his plans regarding the formation of a new political party under wraps -- saying he would like to get more suggestions and guidance -- former minister E Peddi Reddy said that the formation of a new political party will be announced in a couple of days.
 
Before the conference, Goud, Peddi Reddy and many others paid tribute to the Telangana martyrs, at their memorial near the state assembly.
 
Referring to the warnings from some quarters that Telangana state might be affected by the Naxalite menace, Goud said, "Why were the Naxalite and other such movements born on this soil? It is because of the decades of injustice and exploitation."
Image: Devender Goud (Left) with Professor K Jayashankar.
Photograph: Snapsindia