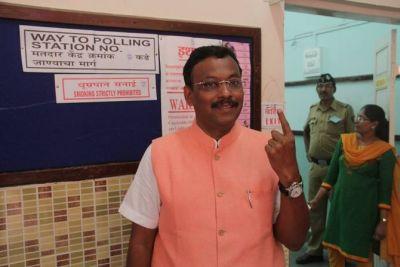 Maharashtra Chief Minister Devendra Fadnavis defended the state education minister and Bharatiya Janata Party leader Vinod Tawde, who is caught up in a row over his educational qualification.
"This is a non-issue. Tawde has never hidden any fact," Fadnavis said, when asked about the controversy.
After a news-channel reported that Tawde's BE electronics degree was 'bogus', Tawde clarified on Monday that he was a student of Pune's Dnyaneshwar Vidyapeeth during 1980 to 1984, and the course was not recognised by the government.
"Other than this course, I have studied up to 12th class and I have never hidden that. Even in my poll affidavit, I have mentioned all aspects of my education," Tawde said. "Had I mentioned that I did a course from Mumbai University, Pune University or Shivaji university, that would have amounted to cheating. But I did not do such a thing."
But the opposition Congress demanded his resignation, making it clear that it would capitalise on the issue during the monsoon session.
Leader of Opposition in the Assembly, Radhakrishna Vikhe Patil, said a complaint should be lodged against the minister and he should be asked to step down.
"Tawde should immediately resign from the post and a complaint should be filed against him," Vikhe Patil said. He also said that Congress would use the issue to stall the monsoon session proceedings beginning next month.
Mumbai Congress president Sanjay Nirupam held 'Tawde Hatao' (remove Tawde) agitation at Azad Maidan here. "Tawde should resign and he should be arrested, as in the case of Delhi law minister Jitendra Singh Tomar," Nirupam said.
Vikhe Patil also demanded that Fadnavis himself should resign over the last week's Malvani hooch tragedy in Mumbai, in which 102 people died.
"The CM and (revenue minister) Eknath Khadse should resign over the hooch tragedy. Tawde, a cabinet minister, has a bogus degree, (water supply) Babanrao Lonikar has given a false (election affidavit and (power minister) Chandrashekhar Bavankule tried to shield sand mafia. All of them should resign, otherwise we will not allow the proceedings of the legislature in coming monsoon session," the Congress leader said.
He also demanded that a case of culpable homicide should be registered against the Mumbai Municipal Commissioner, Police Commissioner, Excise Commissioner and Additional Chief Secretary of home department over the hooch incident.
None of the officers visited the place even when the death toll crossed 100, Vikhe Patil alleged.