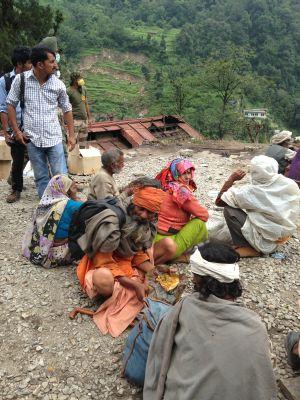 As the last remaining family members of the missing leave for their homes, the task is still cut out for Dr Dayal Saran from CID and his team of forensic officers involved in collecting DNA samples of the unclaimed bodies and making a database for identification.
"We will be collecting DNA samples of the dead bodies. Mainly we will be extracting hair with the root, a piece of skin and teeth. We will make a database of the data gathered, and then begin with the identification process," Saran told PTI at Chardham helipad in Guptkashi.
Dr Saran was in Guptkashi along with his five-member team waiting for a helicopter to take them to Kedarnath.
"The entire operation to collect DNA would take about two days. After that the bodies will be disposed of. Police are also with us, they will be completing the formalities of preparing 'panchnamas'," he added.
The 'panchnama' contains details of bodies which may help in identification later on.
Waiting to leave with the forensic and police teams were two priests -- Anil Shastri and Dinesh Bhagwari. They have been entrusted with the responsibility of carrying out the final rites of those who will now forever rest in Dev Bhumi.
"The Hindu religion prescribes that the dead shall be given a proper cremation. It is important for us as well as the relatives of the deceased to know that their loved ones were cremated according to the rituals," Shastri said.
As the rescue work has ended, the local administration is gearing up to clear the debris as the first step towards the reconstruction of the area. Proper disposal of the bodies is a major part of that operation as there are fears of epidemic.
Sub-Divisional Magistrate Laxmi Raj Chauhan said that no cases of serious communicable diseases had come to their notice. The medical officer at Guptkashi hospital, Dr Suraj Bhandari, confirmed that diarrhoea cases which had come to them were local ones and not from Kedarnath area.
"There is no threat of any diseases spreading. My team is there. In fact they will remain there till further notice. Whatever ailments are being reported are those which are common during monsoon. The cases are being treated. There is no cause for worry," Bhandari said.
Image: Flood survivors at the temporary helipad constructed at Gaurikund