Two survivors of the fatal train accident in Odisha's Balasore, shared their horrific experience after being brought to Howrah.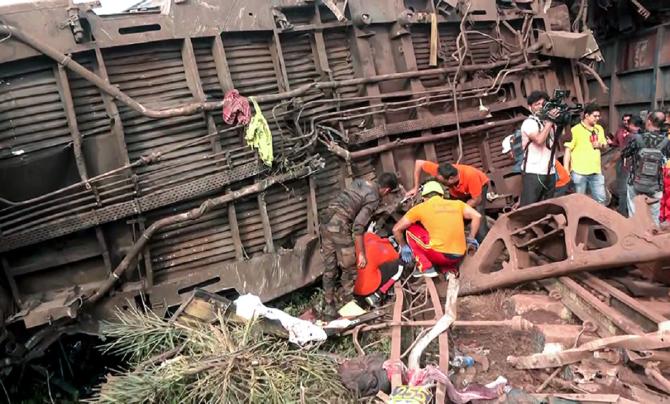 One of the survivor told ANI, "I have never seen such a horrific incident earlier. I was going to Chennai from Bihar. I have not informed my family yet."
"I was going to Chennai from Bihar. I was in S3. The compartment was derailed after the collision. We were rescued and we have reached Howarah," another survivor said.
Another woman from Malda district said that her son was killed in the accident.
"My son died in the Balasore train accident yesterday. He was going to Chennai. My son was 26 years old, and had two children," she said.
Meanwhile, as per the official figures, 261 people have died and around 900 are injured after the three-way rail accident that took place on Friday evening.
The horrific accident involved Bengaluru-Howrah Superfast Express, the Coromandel Express and the goods train on three separate tracks at Bahanaga Bazar Station in Balasore district.
Seventeen coaches of the passenger trains were de-railed and severely damaged.
The scale of tragedy was evident from the visuals of the accident site with some bogeys thrown wide off from the track, crushed or in mangled condition and belongings of passengers strewn around.
Prime Minister Narendra Modi on Saturday chaired a meeting to take stock of the situation. He will also visit the site of the accident in Balasore and then go to the hospital in Cuttack, sources said to review the situation.
Railway Minister Ashwini Vaishnaw, Union Education Minister Dharmendra Pradhan, West Bengal Chief Minister Mamata Banerjee also reached Balasore.
Odisha Chief Minister Naveen Patnaik visited the site of the tragedy.
Vaishnaw said a detailed high-level inquiry will be conducted and the rail safety commissioner will also do an independent inquiry.
He said rescue operation has been completed and restoration work has started.
"We will thoroughly investigate this incident and will ensure such incidents don't happen in future," he said.
The minister said it was a big tragic accident and added that the Railways, National Disaster Response Force, State Disaster Response Force, and state government were involved in the rescue operation.
"Best possible healthcare facilities will be provided. Compensation was announced yesterday. A high-level committee has been formed to inquire about it," he said.
The Odisha government has also declared one-day mourning.
The death toll in the accident, one of the biggest in recent memory, has risen to 261.South Eastern Railway said that as per the information received till now there are 261 casualties.
Injured passengers have been taken to the Hospitals of Gopalpur, Khantapara, Balasore, Bhadrak and Soro, it said.
Several NDRF teams, five ODRAF units and 24 Fire Services and Emergency Units are engaged in rescue operations.
Over 100 medical teams with paramedical staff along with medicines have been mobilized to the accident site for medical treatment, the statement said.
The South Eastern Railway has cancelled 33 trains and diverted 36 trains to other routes.
The Indian Air Force deployed Mi-17 helicopters for the evacuation of deceased and injured in the Odisha triple train accident.
Army teams have been deployed to assist in the evacuation and treatment of injured citizens.