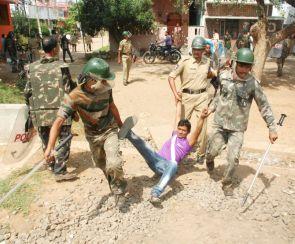 Normal life was crippled in Coastal Andhra and Rayalaseema regions today as united Andhra Pradesh supporters, including TDP, YSR Congress, observed a bandh against the Union Cabinet's approval of the draft Andhra Pradesh Reorganisation bill.
The state-run Andhra Pradesh State Road Transport Corporation buses and private transport vehicles like autos rickshaws stayed off the roads in the two regions.
Shops and commercial establishments, educational institutions by and large remained closed and attendance in government offices was thin.
The workers of TDP, YSR Congress and other united Andhra supporters organised road blockades, rallies and other forms of protest. No major incident of violence was reported.
The Andhra Pradesh Non-Gazetted Officers, who held prolonged strike against division of Andhra Pradesh earlier, the YSR Congress, and Seemandhra TDP leaders gave separate calls for bandh against the division.
The APNGOs leader P Ashok Babu said the pro-united Andhra employees would intensify their agitation again.
He said political parties in Seemandhra should set aside their differences and unite to fight against division of AP.
He called for observing protests on December 9 as it was on December 9, 2009, that Centre had first announced formation of Telangana.
An alert was sounded by police, and additional security forces rushed to the Coastal Andhra and Rayalaseema areas ahead of the Union Cabinet's approval of division of AP on Thursday.
A report from Vijayawada said TDP MLA D Umamaheswara Rao and his followers were taken into custody by the police when they staged protest at Benz Circle in the city.
APSRTC sources in Vijayawada said all bus services, including the long distance ones, were suspended due to hurdles put up by the agitators on highways. Only the night services were allowed to reach their destinations.
Vijayawada Chamber of Commerce and Industry president V Ramachandra Rao said though the chamber had not given any bandh call, the businessmen voluntarily closed their shops.
In the port city of Visakhapatnam, bandh against the Centre's decision evoked a partial response. Schools, banks and business establishments remained shut.
Representatives of Samaikya Andhra Vidyut Employees JAC said they will chalk out an action plan at a meeting in Hyderabad on December 9 and 10 against bifurcation.
A report from Rajahmundry said normal life was thrown out of gear in East Godavari district. Over 900 state-run buses remained stationed in eight depots as the APSRTC employees decided to stop the services, an official said.
Security was stepped up at the residences of Union Ministers, MPs, political party offices, vital installations and other places.
Meanwhile, YSR Congress said the bandh was total. "The bandh has been a big success with people voluntarily participating in various forms of protest against the Delhi's arrogance and expressing solidarity with Y S Jaganmohan Reddy," a YSRCP spokesman said.