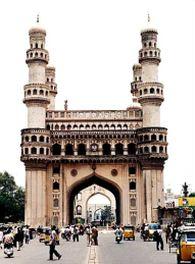 Apart from debating the Rayal-Telangana issue, the Group of Ministers that meets on Wednesday night at 8 pm, will also look into the demand to make Hyderabad a Union Territory.
The new point of debate has come up following a representation made by ministers, Pallam Raju, J D Sheelam, K Sambasavia Rao and Chiranjeevi. They have told the GoM and Home Minister Sushil Kumar Shinde that they would welcome the proposal to carve out a separate Telangana state provided Hyderabad is made a UnionTerritory. Though the home minister has not made any assurances, he said he would look into the demand.
Many in Andhra Pradesh feel the proposed Rayal-Telangana state was proposed despite there not being any takers for it. It was more of a political decision by three Congress leaders in Delhi. The people of Andhra have been opposing the bifurcation and they couldn't care less about the Rayal-Telangana issue. The leaders from the region say the only agenda is to block the bifurcation. We will protest if it is Telangana or Rayal-Telangana, they say.
The Bharatiya Janata Party, Telangana Rashtra Samithi and the Communist Party of India have openly said they oppose a Telangana with 12 districts. The Congress should stick to the original plan of creating the state with ten districts and if this is not done then they will not vote for it in Parliament, which effectively means it is curtains for the bill.
The YSR Congress party has said there should be no separate Telangana. "While we oppose the formation of a Rayal-Telangana, our primary agenda is to stop the bifurcation of Andhra Pradesh at any cost," say YSR Congress leaders.
Strangely when this decision regarding Rayal-Telangana was being considered, there was no pressure on the high command. It was a move that was thought out by a handful of Delhi leaders who felt that the Congress would gain if it added two districts of Rayalaseema. If that happened, both regions would have equal number of seats (21 MPs, 114 MLAs). Moreover, Jagan's clout in Rayalaseema would be reduced and the votes in Telangana would get divided affecting the TRS, which has no support at all in Kurnool and Ananthpur.
There is only one party that favours a Rayal-Telangana and that is the Majlis-e-Ittehad-ul Muslimeen. The party feels that it could capitalise on the minority votes in Ananthpur and Kurnool apart from those in the Telangana region. The MIM feels that the next election in Telangana would depend on the sentiment and not on minority politics.
If they manage to get into the two Rayalaseema districts it would suit their interests as there is no Telangana sentiment here.