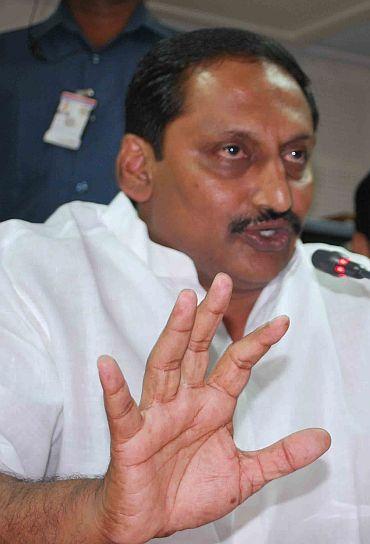 Andhra Pradesh Chief Minister N Kiran Kumar Reddy on Friday said he was not convinced about the bifurcation of the state and claimed that he has not changed his position on it.
"I have not changed my stance. I am not convinced," he told reporters at a press conference in Andhra Bhawan in New Delhi. Reddy has been against the bifurcation of the state.
The chief minister, however, said he was not against the sentiments of Telangana people but said there were several issues like employment, Hyderabad and flood-prone districts which are yet to be resolved.
Echoing a similar view, Union Human Resource Development Minister M M Pallam Raju expressed concern over the pace at which the bifurcation process was being carried out. "I am not comfortable with the pace at which it is going. There has to be a proper way if the bifurcation is happening," he said.
The HRD minister said 5.25 crore Telugu people living in coastal Andhra and Telangana regions cannot digest the speed at which the bifurcation process is going on.