Nine years after he sacrificed his life to capture 26/11 terrorist Ajmal Kasab, Tukaram Omble's daughter says that citizens must realise that losing security personnel is not only the family's loss but also that of the country.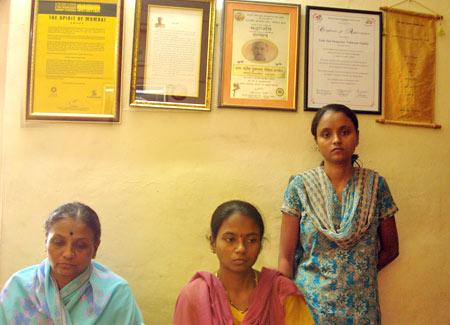 IMAGE: Tukaram Omble's wife

Tarabai and his two daughters (pictured right) Vandana and Vaishali. Vaishali says that they have kept his belongings untouched and not a day goes without thinking of him.

Photograph: Rediff Archives
The daughter of policeman Tukaram Omble, who was killed while trying to capture terrorist Ajmal Kasab, says her family still awaits his return, nine years after the deadly Mumbai terror attacks.
"We feel papa will come home any moment, although deep in our heart we know that he will never be amongst us now," says a teary-eyed Vaishali Omble, the eldest daughter of the Mumbai terror attacks hero.
"We always think that papa has gone out on duty and will return home. We have kept his belongings at the place they used to be in our home. Our family is proud of his supreme sacrifice," said Vaishali Omble, who has completed her M Ed (Masters in education) and aspires to be a lecturer.
Omble, an assistant sub-inspector, was killed by Kasab's bullets in the early hours of November 27, 2008.
In a daring act, he had pounced on Kasab without thinking much about the consequences. His bravery had made it possible for the police to overpower Kasab, the only 26/11 terrorist to be captured and hanged.
"Not a day has gone by in the last nine years that we have not remembered him," said Vaishali Omble, who stays at the Worli Police Camp with her mother Tara and sister Bharti, who is an officer in the state GST department.
"For how long will police or armed forces personnel continue losing their lives in the name of supreme sacrifice," she asked.
"This should stop somewhere. There should be a change in this scenario. Every citizen should always be alert and foil incidents in which we are losing our men," she said, ahead of the 26/11 attacks anniversary.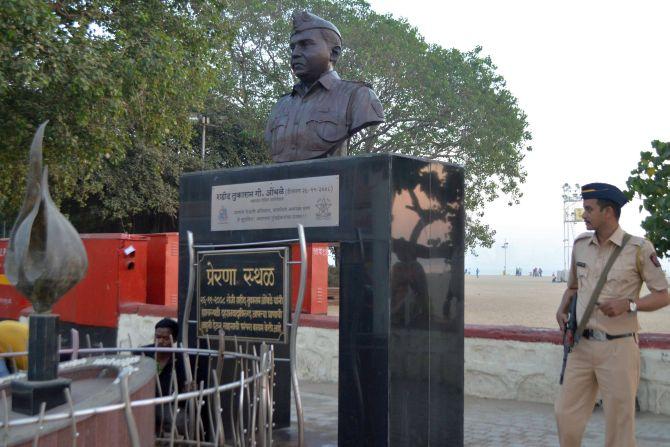 IMAGE: A cop stands guard at the bust of Tukaram Omble in Mumbai's Marine Drive area.
Photograph: Sahil Salvi/Rediff.com
Vaishali Omble said citizens should know their responsibilities and must understand that when policemen or armed forces personnel get killed in the line of duty, it is not only the family's loss but also that of the country.
"Satara district in western Maharashtra from where my family hails has a long history of martyrs. Among the recent ones are Central Reserve Police Force head constable Ravindra Dhanawade, who was killed while fighting terrorists in Kashmir in August and Colonel Santosh Mahadik, who died while fighting terrorists in Kashmir in 2015. The list is unending, which disturbs me a lot," she said.
"We treat every member of a martyr's family like our own family and we help them overcome the grief," she said.
Vaishali Omble gives tuitions to students from class 8 to junior college, which keeps her busy and makes her forget the pain of losing her father.
On November 26, 2008, 10 Pakistani terrorists arrived in Mumbai by sea route and opened fire indiscriminately at people on different locations, killing 166, including 18 security personnel, and injuring several others, besides damaging property worth crores.