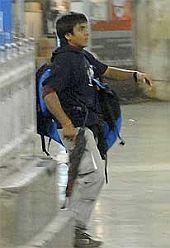 Ajmal Amir Kasab, convicted for his role in the 26/11 terrorist attacks in Mumbai, was hanged till death at 7.30 am in Pune's Yerwada Jail on Wednesday.
Maharashtra Home Minister R R Patil has confirmed the execution.
After nearly a four-year-long legal battle, on August 29, the Supreme Court had confirmed the death penalty awarded to the LeT operative by the trial court and later upheld by the Bombay high court.
Upholding Kasab's conviction, the apex court had said that he killed without "the slightest twinge of conscience".

Kasab was very discreetly moved from the Arthur Road jail in Mumbai to the Yerwada jail in Pune a week back.

At the Yerwada jail, he was kept in an isolated cell and none of the inmates were aware of such a prisoner being shifted there. 

Kasab was kept under tight security until the time of his hanging.

All rules as per the jail manual were followed. He was even told to make a will and asked if he wished to contact any of his relatives. 

His body was kept hanging for half an hour.

He was later certified dead by the medical examiner.

Although Kasab's faith states that he shall be buried, in this case it would be cremated by the jail authorities if there is no claim by any of his relatives. There shall be no public glare of the cremation and in all possibility it is likely to take place this evening itself.


Why President rejected Kasab's plea:
The President, who is the ultimate authority to decide on death sentences, took various factors into consideration before handing out the death penalty.
The first factor that was taken into consideration whether Kasab's case fell under the bracket of the rarest of rare cases.
Another factor that was taken into consideration was the personality of the convict. While Kasab's conduct may have been good in jail, it was still not good enough to override the crimes committed by him.
The other factors were:
Whether the convict was suffering from a mental disorder when committing the offence?
Had the court expressed any doubt regarding the evidence when handing out the sentence?
Had any fresh evidence cropped up to substantiate the claim of the appellant?
Was evidence considered before the sentence was handed out?
Was the death sentence given after a long delay in the trial and investigation?
There has been much talk about the delay while handing out the death sentence for Kasab. However in this case, the President fast tracked the case despite having some 21 other mercy petitions pending before him.
In this case, the President took into consideration the sentiments of the people and felt that this was a fit case to be fast tracked.