Muthuvel Karunanidhi Stalin does not face any threat to his full-fledged succession as DMK chief, just now. If he were to face any threat, it would only be over his 'non-performance' as the party boss, reports N Sathiya Moorthy.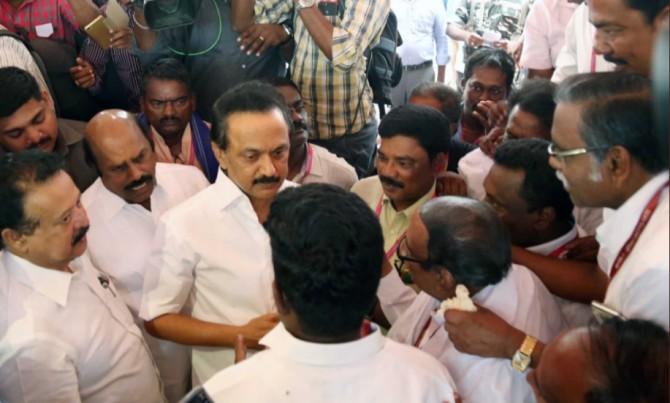 The death of nonagenarian Muthuvel Karunanidhi has created a political vacuum in southern Tamil Nadu, yes, but for the Dravida Munnetra Kazhagam that he headed for 50 long years, it may still be business as usual.
Even as rumours about Karunanidhi's health and wellbeing were running thick and wide early on, his son and party working president M K Stalin discounted the reports and recalled instead how on July 27, 1969, the DMK had elected the former as party chief.
Likewise, even before Karunanidhi's recent health reversal, the DMK had called for a party conclave for mid-August. According to reports, the idea was to elevate Stalin as full-fledged party chief, reserving for Karunanidhi as 'emeritus' honour of some kind.
Clearly, the party wanted the full force of authority resting on Stalin, as the DMK began negotiating seat share with allies of the existing Congress kind, and prospective ones like the MDMK, for the Lok Sabha polls due by May 2019.
Born Dakshinamurthy, at 94, Karunanidhi was not the oldest of Dravidian political leaders. His right-hand man and DMK general secretary, K Anbazhagan, is one year older to him -- as the former CPM Chief Minister of neighbouring Kerala, V S Achuthanandan, too, is.
But Stalin, at 65, is still the oldest of heirs-apparent in Indian politics, he having been identified as a future successor to Karunanidhi, as far back as the mid-to-late '70s, and promoted as such, but in stages.
The credit should go to Stalin who, unlike other siblings and nephews, has held back patiently, and using all the time (made) available to him, to expand his base and acceptance levels, first among the cadres, and then among sections of the state's non-committed voters, possibly in a more positive way than Karunanidhi, MGR and Jayalalithaa put together.
With elections 2019 now before the party, there was a more immediate need for the DMK to have a single-point leader-level contact, to avoid confusion, in alliance negotiations and seat allocation, among other issues.
The party could not afford rival claimants from within the 'first family' especially, and those outside using familiar 'family routes' for individual seats, considering that alliance talks will also require some give-and-take.
Almost since the turn of the century, Stalin, then as party treasurer, has been at the centre of the DMK's political and electoral decisions. With the passage of time, especially since Karunanidhi's long hospitalisation for a spinal surgery ahead of elections 2009, Stalin's role has only been increasing, but with the fear of a Karunanidhi veto hanging over his head, still.
It was thus that ahead of the 2011 assembly polls, a two-track approach to alliance talks with actor-politician Vijaykanth's DMDK led the DMK nowhere, until the latter struck a deal with the Opposition AIADMK under Jayalalithaa.
Coming in the midst of the 2G scam and the rest, the ruling DMK lost power, and Stalin had to shoulder some of the blame, especially in terms of alliance negotiations and candidate selection for the party.
Insiders however claimed that multiple access to multiple hierarchies was the main cause in this limited context, though the 2G kind of scams, which the patriarch could not -- or, did not -- curb and control, were the real undoing.
If this is about competition that does not exist outside of the DMK's 'first family', what about those from inside? Sulking in sadness over his father's death, Stalin's brother and former Union Minister, M K Azhagiri, is no more a threat.
After blowing hot and cold with his older son, Karunanidhi himself ended up sacking Azhagiri from the party for a second time a few years ago -- but this time, not to revoke it, or not even wanting to hear him out, so to say.
This had happened when Karunanidhi was in his full senses, which means that Azhagiri could not take his complaints to any other leader or forum, then and more so, now.
Even when Azhagiri's daredevil political and electoral antics were in full bloom, Stalin alone counted in the DMK's general council, the highest decision-making body.
Even at the height of his glory, Azhagiri at best had a handful of supporters in the 1000-plus grouping, where long years of service to the party mattered more to members than his easy accessibility and daredevilry against political rivals.
Better or worse still, all of Azhagiri's popularity and daredevilry occurred when Karunanidhi was chief minister (2006-11). He overnight became silent and distanced once Jayalalithaa returned to power in elections 2011.
Against this, Stalin, who entered active politics as a student in the early '70s -- again when his father was chief minister – stood up against political and electoral adversaries, first during the Emergency, and then through the 13 long years of 'vanvas', including the unbroken 10-year chief ministerial stint of breakaway AIADMK rival, M G Ramachandran (1977-87).
Compared to Azhagiri, and earlier their cousin, the late Murasoli Maran to a greater or lesser extent, Stalin does not face any threat to his full-fledged succession, just now. If he were to face any threat, it would be only over his 'non-performance' as the party boss without any excuses to extend as when Karunanidhi was around, or if he were to lose another round of big elections -- to the state assembly in 2011 and 2016, and to the Lok Sabha in 2014.
Early on, Azhagiri posed an open threat to Stalin within the party. That was not the case with Murasoli Maran, who was a loyal confidant of his maternal uncle, but had problems equating himself with cousins, Stalin, Azhagiri or both. Maran's untimely death in 2003 cleared the decks.
Kanimozhi faced a problem of the kind vis-à-vis her half-brothers in turn, for a time, and was seen as trying to play one against the other. Father Karunanidhi made it easy for her by sacking Azhagiri. From then on, though only in stages, Stalin and Kanimozhi seem to be relatively comfortable with each other, with the latter becoming the eyes and ears for the former in 'distant Delhi', though in one slow step after the other.
The other 'insider threat' for Stalin emanated from the Maran brothers, with nephew and former telecom minister Dayanidhi especially being seen as projecting himself as more important than he actually was, especially when Karunanidhi was up and about -- even when the latter was wheel-chair bound.
Yet, Stalin would need to guard against the more recent trend of an over-enthusiastic section within the party seeking to promote his actor-cum-aspiring-politician son, Udayanidhi Stalin, in DMK circles, at least in lower-level functions, outside of Chennai.
In a way, it was his inability to control such a trend that sullied Karunanidhi's name and fame as a confident leader who ensured political stability in and for the DMK through five long decades and more.
There is the otherwise unmentioned apprehension in some DMK circles that a new, Stalin-centric 'kitchen cabinet' might end up taking the place of the one that Karunanidhi presided over, comprising almost everyone of his children, barring the first-born, the forgotten yesteryear actor, Mu Ka Muthu.
Stalin's dutiful wife Durga is seen accompanying him whenever he travels outside Chennai to attend to his personal needs. Possibly, she has taken the lead from her ailing mother-in-law Dayalu, who was known to be at Karunanidhi's side as he grew old.
The same cannot always be said of their son-in-law Sabareesan, whose name has been occasionally popping up in intra-party conversations in the DMK, as the power behind Stalin, at times in positive references and at times, negatively, too.
N Sathiya Moorthy, veteran journalist and political analyst, in Director, Observer Research Foundation, Chennai Chapter.