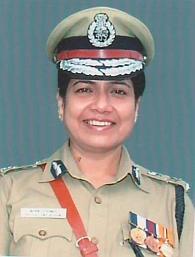 The Supreme Court on Friday restrained senior Indian Police Service officer Archana Ramasundaram from discharging her duty as the additional director in the Central Bureau of Investigation, saying that her appointment "prima facie" seems to be illegal and against the statute.
A bench headed by Chief Justice R M Lodha questioned the Centre's decision to appoint her, as her name was not recommended by the selection committee.
"Once the committee decides you should give effect to it. This is the law and you have to carry out the law. It amounts to nullifying the statute. She cannot be permitted to work," it observed.
The court said that government cannot "superimpose" its decision on the appointment of the officer in the Central Bureau of Investigation.
In the meantime, senior advocate Ashok Kumar Ganguly, appearing for the officer, submitted that she has already joined the CBI.
"We are informed by A K Ganguly that Ramasundaram has already joined as additional director as per the Centre's May 7 order. Having considered the statutory provision of the DSPE Act (the Delhi Special Police Establishment) with regard to appointment of officers above the superintendent of police rank, we find that the petitioner has made strong prima facie case that she was not recommended by the selection committee."
"In the circumstance, we do not find it justifiable for Ramasundaram to continue to function as the additional director of the 0CBI for the time being. We accordingly restrain the respondent (the CBI) from allowing Ramasundaram to function as the additional director till next date of hearing," the bench said in its order.
Ramasundram, a 1980 batch officer from the Tamil Nadu cadre, had served in the CBI as deputy inspector-general and later as its first woman joint director and handled various cases pertaining to the economic offences between 1999 and 2006.
Solicitor General Mohan Prasaran contended that the committee had forwarded just name of one officer while it was supposed to give a panel of names out of which the government would have selected. He told the court that he would place before it the files containing details of procedure by which she was appointment.
The bench then posted the case for further hearing on July 14 and made it clear that Ramasundaram would not discharge the function till then.
The court passed the order on a petition filed by journalist Vineet Narain who had submitted that her appointment was arbitrary as the apex court's verdict was disregarded.
The appointment of Ramasundaram came under judicial scrutiny as the Supreme Court had on April 28 sought the Centre's explanation for taking the decision disregarding recommendation of the selection committee.
The petitioner had contended that the appointment was also done in violation of the Central Vigilance Commission Act and the Delhi Special Police Establishment Act.
He had contended that the government appointed Ramasundaram by overlooking the selection committee's recommendation regarding R K Pachnanda. "The appointment of Archana Ramasundaram is in violation of Section 4C of the DSPE Act as the government has not appointed the candidate recommended by the committee and instead appointed a person whose name was not recommended by the committee," according to the petition said.

Image: Archana Ramasundaram