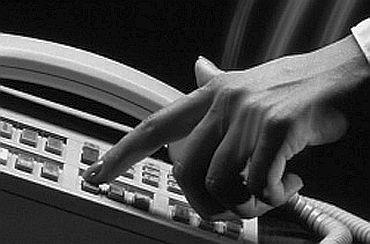 The Congress on Monday upped the ante against Narendra Modi over the snooping issue alleging a "reign of terror" in Gujarat where it claimed that 93000 unauthorised interceptions were made in just seven months.
On a day social activists joined in by representatives of four political parties including Congress petitioned President Pranab Mukherjee over the issue, party spokesperson P C Chacko questioned the silence of Modi and went hammer and tongs against Leader of Opposition Arun Jaitley over his remarks that the Congress was using disgruntled officers of Gujarat to mount an attack on Modi.
"By attacking our leaders, I do not think Jaitley or anybody else can escape. What happened in Gujarat was a reign of terror. 93,000 unauthorised interceptions were made in Gujarat in seven months. BJP's prime ministerial candidate will have to answer. The BJP cannot escape from it," he told reporters at the AICC briefing.
Slamming Jaitley for his "audacity" to accuse the Congress of using disgruntled officers to attack Modi, Chacko said it appears that the tweets and taunts have really disturbed the BJP and wondered, "How many disgruntled officers are there in Gujarat?"
Jaitely had on Sunday said that while the Congress' top leaders remain in background, others attack Modi through their tweets and taunts, which was interpreted as the BJP leader's jibe at Congress General Secretary Digvijay Singh.
Alleging that this time something has happened in which "Modi is directly involved...Modi has been caught," Chacko said that the person who has been made the PM candidate of the party should not be allowed to escape without giving answers.
Mahila Congress chief Shobha Oza, who was part of the delegation that went to the President to demand an independent judicial probe into the matter, said, "Modi like a spider has been caught in the net woven by himself," and questioned "does he have a moral right to continue as chief minister after this".
Giving clear signals that the Congress will seek to build momentum, Oza said the party will show black flags to Modi when he comes out of Gujarat after the assembly elections.
"We have thrown the issue in public domain and now the public will decide... a public opinion is naturally being built. We will keep fighting for justice," she said.
Oza also said the Congress will have "zero tolerance" on the issue of women's exploitation and sought to reject the criticism that her party was politicising the issue and treating it differently from other cases of women's exploitation in Congress-ruled states.
Chacko said if social organisations and activists are also supporting a cause taken by the Congress, it means that his party was standing up for a right cause.
Former UPCC chief Rita Bahuguna Joshi said, "Who said is not important. What was said is important. It is not important who is charging whom but the facts that have come out are not frivolous."
"Jaitley cannot say it was frivolous. A person like Jaitely, who himself is a lawyer and had raised the issue of telephone tapping on himself so assertively has dubbed this incident as absurd... Congress will not allow it to be covered up. We are very angry the way, BJP is dealing with the issue."
Chacko said that whether is the snoop-gate involving Modi or the rape case against Tehelka journalist Tarun Tejpal, the Congress applies the same yardstick. "Whether it is Tejpal or Modi, we see it the same way. We will raise our voice against all such cases," he said.
The Congress spokesperson alleged that the Modi government "put in the dustbin" a code of conduct prepared by senior officers in the state for phone tapping.
Oza said in the Tejpal case, the Goa government has already taken action and Home Minister Sushilkumar Shinde had also spoken to the governor to ensure that justice is done in the case. "The BJP says that they can treat the issue (snoop-gate) lightly. Modi has maintained complete silence on it. Does he want to endorse with his silence all that has happened and the facts that have come out before the country? But people of the country are not going to remain silent," she said.
Oza said the difference between the Congress and the BJP is that her party treated such issues seriously and those who committed the "sin" were jailed, when asked why Congress fielded Bhanwari Devi murder accused Haryana Mahipal Maderna's wife in elections.