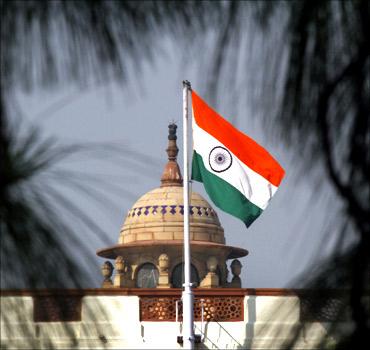 The Supreme Court on Friday suggested to the woman, who was tailed by Gujarat police five years ago, to approach the high court against the state government-appointed probe after the Centre said it was not going ahead with its commission of inquiry into the issue.
A bench headed by Justice Ranjana Prakash Desai made the suggestion when it was hearing a joint petition filed by the woman, who was tailed by the police allegedly on the orders of Chief Minister Narendra Modi, and her father for stopping the Centre and state government from going ahead with their commissions.
Earlier, the bench recorded the statement made by Solicitor General Mohan Parsaran that 'there is no proposal to appoint any commission of inquiry'.
While allowing withdrawal of the petition, the bench made it clear that it was 'not making any comments on the merits of the case'. However, during the brief hearing, the bench observed that "We are little concerned about what she said as a woman and we don't want to go into any other consideration".
The counsel for the woman and her father agreed with the bench's suggestion to move the high court.
Earlier in the week, the government dropped its decision to go ahead with appointing a judge for the probe after United Progressive Alliance constituents -- National Conference and Nationalist Congress Party opposed the move of naming a judge.