Ram Navami was celebrated across the country on Thursday with grand processions and special pujas, but the festivities were marred by the deaths of 14 devotees in separate incidents in Madhya Pradesh and Rajasthan, and clashes and arson in some parts of the country.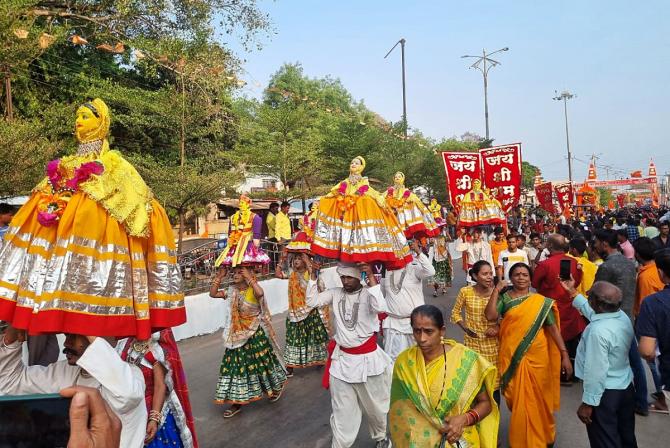 Eleven people died during a havan at Beleshwar Mahadev Jhulelal temple in Madhya Pradesh's Indore after they fell into a well as its cover caved-in under the weight of a huge crowd, while three others got fatally electrocuted during a Ram Navami procession in Rajasthan's Kota.
In Delhi, a large number of people defied a police order and took out a procession in Jahangirpuri, which witnessed riots last year during Hanuman Jayanti celebrations, while stones were pelted at two marches in Gujarat's Vadodara too.
President Droupadi Murmu, Vice President Jagdeep Dhankhar and Prime Minister Narendra Modi wished people on the auspicious occasion.
"Maryada Purushottam Lord Ram's life was based on sacrifice, tapasya, restraint and resolve," Modi tweeted.
Ten women and a man died after the roof of a well collapsed during a havan, a fire ritual, at Beleshwar Mahadev Jhulelal temple in Indore's Patel Nagar, a senior official said.
An eyewitness said the roof of the well caved-in as a huge huge crowd of devotees gathered on it.
In Rajasthan, the procession at Kotradeet village of Kota turned tragic as three people were electrocuted to death and four others got injured while attempting to to take out a juggling iron ring stuck in a high power line.
The incident occurred at around 5.45 pm when the procession was being taken out with display of stunts. The iron ring with which the youngsters were displaying stunts got stuck in a high tension overhead power line.
During their attempt to take out the ring, seven persons sustained injuries, three of whom died, official said. Violence broke out between two groups when a procession was taken out in West Bengal's Howrah city. Several vehicles were torched and shops were ransacked on Thursday evening. Police said a number of people were detained in this connection.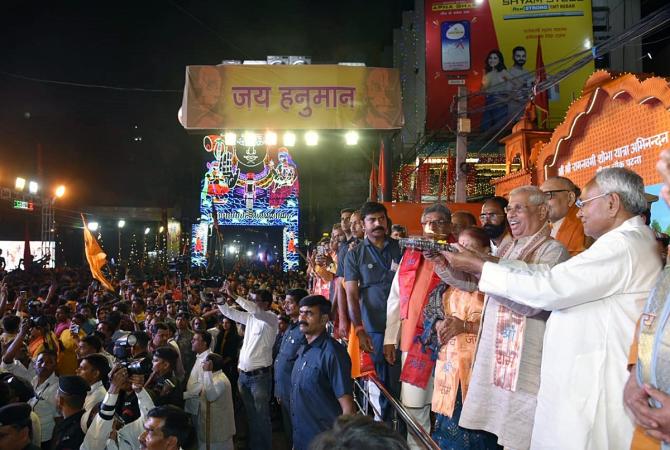 The police used force to disperse the mob. A large contingent of police was deployed in the locality where the situation is stated to be under control.
Chief Minister Mamata Banerjee, who is on a dharna, said strict action will be taken against the culprits.
Elsewhere in West Bengal, leaders of the BJP and RSS led processions in different parts of the state with the RSS organising about 1,000 small and large rallies across.
Chanting slogans of 'Jai Shri Ram', thousands of people took part in those processions in Howrah, Kharagpur, Barrackpore, Bhadreswar, Siliguri and Asansol.
Drumbeats, saffron flags and large cutouts of Lord Ram featured prominently in these processions. Some of those participating in the processions were carrying swords and trishulas.
BJP leader Sajal Ghosh, who participated in one such rally in Howrah's Ramrajatala, said there was a need to use such weapons against the evil.
"Lord Rama had used weapons to vanquish the demons," said Ghosh, a corporator of Kolkata.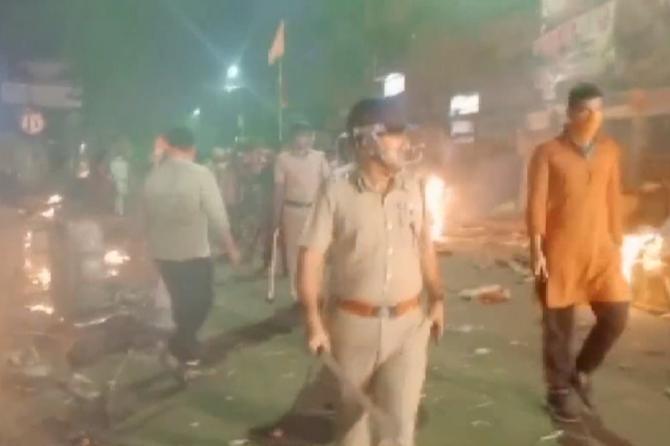 Bharatiya Janata Party national vice-president Dilip Ghosh performed puja at the 300-year-old Ram Mandir in Ramrajatala.
In the Aurangabad city of Maharashtra, at least 12 people, including 10 policemen, were injured after a mob of around 500 people went berserk and hurled stones and petrol-filled bottles when the personnel tried to control the situation following a clash between two groups near a Ram temple, officials said on Thursday.
The incident, in which 13 vehicles were torched by the miscreants, occurred during the intervening night of Wednesday and Thursday in the city's Kiradpura locality that houses the famous Ram temple, they said.
The police used tear gas and fired some plastic bullets as well as live rounds to control the mob, the officials said, adding that eight teams have been formed to identify and arrest the perpetrators.
About 25 lakh people took a dip in Saryu river in Ayodhya and visited temples in the city to mark the Ram Navami festivities, administrative officials said.
They said lakhs of devotees thronged the temple town on the occasion of Chaitra Ram Navami amid tight security arrangements by the administration.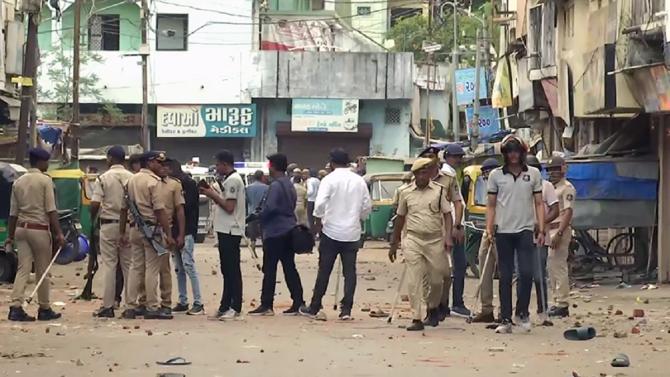 The celebrations got off early in the morning. Special prayers were performed in all the temples of Ayodhya at midday.
The festival was celebrated with fervour and enthusiasm across Telangana with devotees offering prayers and also attending the celestial wedding of Lord Ram and Sita performed in temples.
Hundreds of devotees witnessed the 'Sri Sita Rama Kalyanam' at the famous Lord Ram temple at Bhadrachalam, about 300 kms from Hyderabad. Police made elaborate security arrangements for the 'sobha yatras' (processions) on the occasion of Ram Navami in Hyderabad.
But in neighbouring Andhra Pradesh, a fire broke out at Venugopala Swamy temple in West Godavari district, but nobody was injured. "It was a short-circuit and there was no loss of life or injury," West superintendent of police U Ravi Prakash said.
The small Hindu population in Srinagar also celebrated the festival by taking out a Shobha Yatra amid tight security.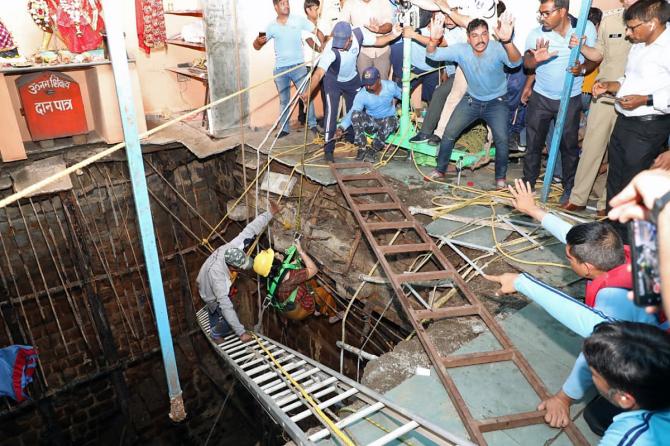 "We have been taking out this yatra and 'Jhanki' every year for the past 16 years. Earlier, it was stopped due to turmoil in the valley," said Pawan Chetanyadas, the organiser of the Yatra, said.
In poll-bound Karnataka, political parties used the occasion to catch the attention of voters by setting up 'Prasad' counters in various parts of the state.
The festival was celebrated in Jharkhand amid elaborate security arrangements including drone surveillance.
Saffron flags and banners depicting Lord Ram and Lord Hanuman were displayed in many parts of the state, while devotees sang bhajans, chanted mantras and read Ramcharitamanas and Hanuman Chalisa to commemorate the birth of Lord Ram.
Speaking at a conclave in Delhi on the occasion, Defence Minister Rajnath Singh said, "Lord Ram is not merely an embodiment in stone, wood or soil, he is the centre of our culture and faith. Lord Ram is our identity as well as that of our country."
The Delhi police said they deployed riots controls personnel in Jahangirpuri after a group took out ''Shree Ram Bhagwan Pratima Yatra'' as part of the Ramnavami Mahotsav despite it being denied permission.
"We also conducted Aman committee meetings in the area and patrolling was being done by the police," deputy commissioner of police (northwest) Jitendra Meena said, adding the even passed off peacefully.
However, celebrations were not peaceful in Gujarat's Vadodara city where stones were hurled at two Ram Navami processions, leaving some persons injured.
While the first incident took place near Panjrigar mohalla in Fatehpura area in the afternoon, the second took place in nearby Kumbharwada in the evening.
While no one was injured in the Fatehpura incident, some persons including women were injured in the stone pelting by a mob in Kumbharwada, the police said.