Prices of essential commodities have skyrocketed in Manipur since ethnic violence started some three weeks ago, as import of products from outside the state has been affected, with several items being sold at double the normal price.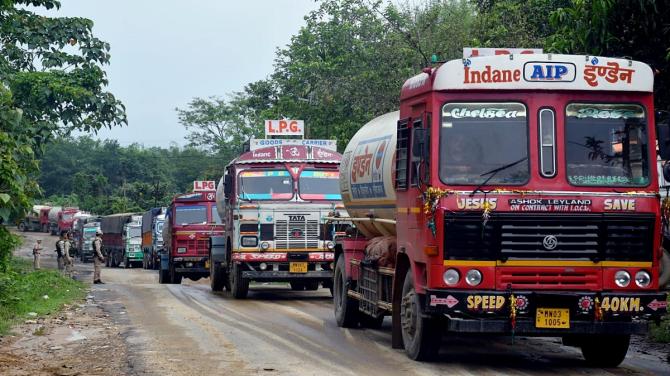 In most parts of the landlocked northeastern state, items such as rice, potato, onion and egg besides LPG cylinders and petrol are selling at rates much above the ones fixed by the government.
"Earlier, one 50 kg bag of superfine rice costs Rs 900 but now it has gone up to Rs 1,800. Prices of potatoes and onions also increased by Rs 20 to Rs 30. In general, prices for all the essential commodities brought from outside have gone up," said Manglembi Chanam, a government school teacher in Imphal West district.
She said LPG cylinders are being sold in the black market for Rs 1,800, while a litre of petrol costs Rs 170 in many parts of Imphal West district.
"Prices of eggs have increased as well, with one crate containing 30 eggs costing Rs 300 instead of the usual Rs 180. Were it not for the security forces escorting trucks carrying essential commodities, the price rise would have been more. Even potatoes had reached Rs 100 per kilo before security forces came into the scene," Chanam said.
Truck movement to the Imphal Valley had stopped due to roadblocks and fear among transporters as clashes broke out in Manipur after a 'Tribal Solidarity March' was organised in the hill districts on May 3 to protest against the Meitei community's demand for Scheduled Tribe status.
"As a result, the stock of essential supplies in the state dwindled and began to reach critical levels which resulted in planning movement through NH 37," a defence official said.
Movement of trucks on NH 37 commenced on May 15 and security forces remain committed to restoring complete normalcy, the spokesperson said.
Prices of key commodities also increased in districts which was not much affected by the violence between Meitei and Kuki community people that left over 70 people dead.
Rebecca Gangmei, 41, who runs a grocery shop and an eatery in Tamenglong district headquarters, said, "Prices of essential items particularly rice witnessed a steep rise though there has been no violence in our district. Only the prices of meat have not seen much changes as it is not imported and taken from locals."
Pamchuila Kashung, an assistant professor in the government college in Ukhrul district, said she is lucky as she stays near Nagaland from where essential items come.
"Despite that, prices of some items have increased, particularly rice," Kashung said.
Some people also said prices of tobacco products too have risen manyfold.
An official of the consumer affairs department said the government fixes prices from time to time and anyone selling products at higher rates is liable to be punished.
The state government has issued a list of revised wholesale and retail prices of as many as 18 food items days after the violence broke out.
Though the violence in Manipur began on May 3, it was preceded by tension over the eviction of Kuki villagers from reserve forest land, which had led to a series of smaller agitations.
Meiteis account for about 53 per cent of Manipur's population and live mostly in the Imphal Valley. Tribals -- Nagas and Kukis -- constitute another 40 per cent of the population and reside in the hill districts.
The ethnic clashes claimed over 70 lives and some 10,000 army and para-military personnel had to be deployed to restore normalcy in the northeastern state.