In fresh violence in Manipur, two houses were torched by a mob in Imphal East district after four armed men, including a former MLA, forced people to shut their shops on Monday, police officials said.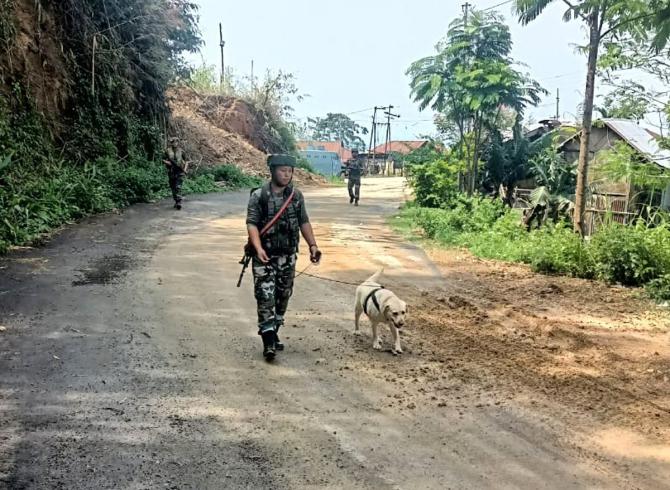 However, no casualty was reported due to the arson.
The empty houses were used for providing rented accommodation to people.
The mob also beat up one of the miscreants while others managed to flee. Three of them were later taken into custody.
Chief Minister N Biren Singh said one of the three arrested men was a former MLA of the northeastern state which was shaken by clashes between Meitei and Kuki community people since May 3.
However, he did not identify the ex-legislator.
Armymen deployed in the area who rushed to the scene used force and fired teargas shells to disperse the mob resulting in minor injuries to a few people.
Locals protested the incident by burning tyres on the road.
Following the incident, curfew hours in Imphal East district which had earlier been relaxed were tightened.
The Defence PRO said, "Four armed people threatened shopkeepers in New Chekon area to down their shutters and subsequently moved to New Lambulane area of Imphal East district.
Three of them were apprehended with two single-barrel 12-bore guns. They were handed over to the police."
In a press conference held late in the evening, the chief minister appealed to the people to stop torching houses of innocent people.
"We will initiate legal action against those involved in illegal activities... We have also decided to acquire 20 more companies of security personnel from the central forces," he said.
Around 10,000 Army and Assam Rifles jawans are currently deployed in the state. Security forces are conducting aerial surveillance by unmanned aerial vehicles and Cheetah helicopters.
Action will also be taken against those who are involved in inciting hate and enmity on social media inside and outside the state in due course of time. FIRs will be registered and they will be punished, he said.
While internet services have been on suspension since the violence started, it is alleged that the warring Meitei and Kuki community people living outside the state are spreading hatred in their social media posts.
"We need to engage in talks by sitting together to bring in normalcy and restore peace," the chief minister said.
Another person was also arrested on the intervening night of Sunday and Monday, the defence PRO said.
He allegedly fired injuring three people in a village in Imphal West district.
Clashes broke out in Manipur after a 'Tribal Solidarity March' was organised in the hill districts on May 3 to protest against the Meitei community's demand for Scheduled Tribe (ST) status.
The violence in Manipur was preceded by tension over the eviction of Kuki villagers from reserve forest land, which had led to a series of smaller agitations.
Meiteis account for about 53 per cent of Manipur's population and live mostly in the Imphal Valley. Tribals -- Nagas and Kukis -- constitute another 40 per cent of the population and reside in the hill districts.
The ethnic clashes claimed over 70 lives and some 10,000 army and para-military personnel had to be deployed to restore normalcy in the northeastern state..