Forty-two-year-old Angom Shanti shares space with hundreds of others in a temporary relief shelter in Manipur's Bishnupur district where they lack basic facilities like mattresses, mosquito nets, electricity or even separate bathrooms for men and women.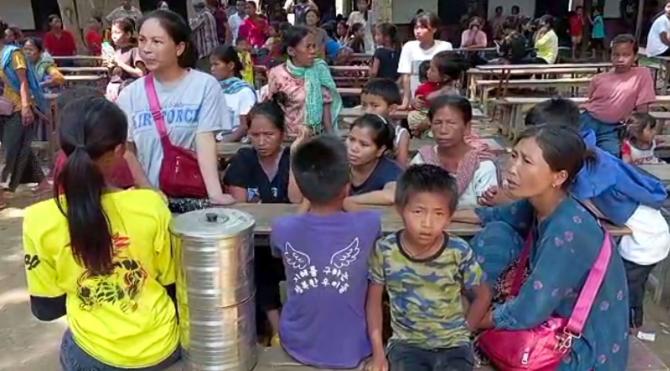 Around 800 people, including children and the elderly, are living in pitiable conditions in relief shelters near Thangjing temple and Moirang Lamkhai which are being run by three organisations.
Families that lived in houses with courtyards, trees, livestock and granaries, now sleep on the floor on traditional bamboo mats with only hanging bed sheets separating them from other displaced families.
"Our future is bleak. We have no homes to return to. Our homes have been reduced to ashes. We don't know what our fault was. Most of us fled with only the clothes that we were wearing," Shanti, the mother of three children, said.
She lived in Torbung Bangla area which was among the first to be affected by the communal violence that erupted on May 3 during the 'Tribal Solidarity March'.
Shanti shares space with 175 others in a community hall where they do not have electricity in the sweltering heat. In the adjacent guest house, another 365 people are taking shelter whereas 112 more are staying at a nearby 'mandap'. All of them are non-tribals.
Narrating the incident of May 3 that led to retaliatory attacks spiralling into communal violence at many places in the northeastern state, 72-year-old Biren Kshetrimayum of Torbung Govindpur said, "Around 1,000 tribals armed with sticks and some with sophisticated firearms started attacking us without any provocation. They ransacked and burned our houses, shops and everything they could lay their eyes on."
After attacking Torbung Bangla and Torbung Govindpur, the mob proceeded to Kangvai and Phougakchou and resorted to vandalism, he said.
The relief camps are being run by three organisations -- Bishnupur Legal Aid Services, Matai Society and Sri Sathya organisation.
They are getting help from locals who are donating food, and the organisations have arranged potable water and some medical facilities.
Forty-seven-year-old Sakhitombi Maibram, one of the organisers complained of a lack of help from the government.
"We did not receive much help from the state administration. The local MLA provided us with potable water. We have a severe shortage of medicines and children are facing acute problems of diarrhoea and high fever," she said.
Tension was visible on the faces of the displaced people and many of them broke down while narrating their ordeal. They had no hope of returning to their gutted houses or shops and were uncertain about their future. They were also worried whether their livestock, which they have left behind, will survive or escape into the wild.
Most of the affected people in the camp were farmers or small shop owners. Many of them expressed anguish over the government's failure to provide security to them in the first place.
At Phougakchou Ikhai, police personnel said there have been incidents of hill-based militants opening fire on police vehicles passing through the affected areas and showed the bullet holes on their jeeps.
The death toll in the ethnic violence which has engulfed Manipur increased to 54, officials said even as unofficial sources placed the figure at several scores dead and more than 150 injured.
Life limped back to wary normalcy in Imphal Valley as shops and markets reopened and cars started plying the roads.
Violence first erupted in Torbung area in Churachandpur district of Manipur during the 'Tribal Solidarity March' organised by the All Tribal Student Union Manipur (ATSUM) on May 3 to protest the demand of Meiteis for Scheduled Tribe (ST) status.
The march was organised by tribals -- including Nagas and Kukis -- after the Manipur High Court asked the state government last month to send a recommendation to the Centre within four weeks on the demand for ST status by the Meitei community.
During the march in Torbung, an armed mob allegedly attacked people of the Meitei community, leading to retaliatory attacks in the valley districts, which escalated the violence throughout the state, police said.
Multiple sources said the fighting between communities had left several scores of people dead and nearly a hundred injured. However, the police were unwilling to confirm this.
Meiteis account for about 53 per cent of the population and live mostly in the Imphal Valley. Tribals, who include Nagas and Kukis, account for another 40 per cent of the population and live mostly in the hill districts which surround the valley.