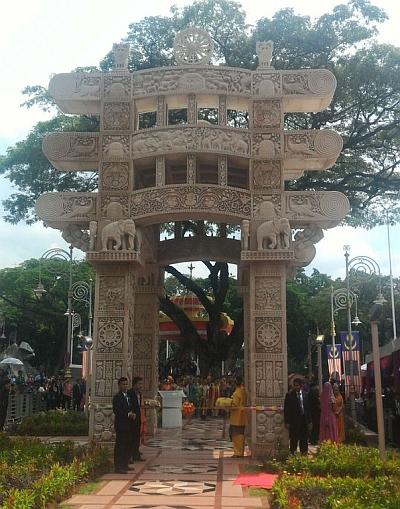 An intricately carved gateway, built at a cost of over $1 million and representing hundreds of years of Buddhist and Islamic art forms in India, was inaugurated by Prime Minister Narendra Modi in 'Little India' in Kuala Lumpur on Monday.
The Torana Gate is a gift from India to mark the launch of Kuala Lumpur's 'Little India' project as a symbol of friendship between the two countries.
Inaugurating the Torana Gate, Prime Minister Modi said: "This will be a milestone in our relations with Malaysia. Torana Gate is not an art piece sculpted in stone. It is a connection between two great countries & will become a tourist attraction."
Modi's Malaysian counterpart Najib Razak described the gate as a symbol of India-Malaysia friendship.
"Torana Gate is a symbol of India-Malaysia friendship. It offers a gateway to one of the oldest civilisations," he said.
The project was delayed due to the need to conform the architectural design and features of the massive stone pillar.
The intricately carved Torana, inspired by the Toranas of the great Buddhist sculpture of Sanchi, has carvings and relief work representing ancient Indian art as well as the Islamic art form.
Kshitij Jain, the chief designer and architect of the Torana, said, "Toranas, built by the great Mauryan dynasty ruler, Ashoka, in first century BC, essentially depict symbols related to Buddhism.
"There is the Bodhi Tree, the lotus flowers, the jatakas tales and many other such illustrations, but we did not just replicate them as it would not match the inclusivity and acceptance that India stands for.
According to a statement from the Federal Territories Ministry, 'Little India' was chosen as a suitable site for the gate because the place was amongst the earliest Indian community's settlement in this country.
"The Torana Gate herein augments the cultural characteristics of the local people of Indian origin. It could serve as yet another tourist attraction of domestic and foreign significance.
"Torana Gate is not only a symbol of the friendship between India and Malaysia, but it is also a symbol of unity and understanding amidst established ethnic diversity in Malaysia," said the statement.