Kaavan, the world's loneliest elephant, will finally get a chance to live in a place he can call home.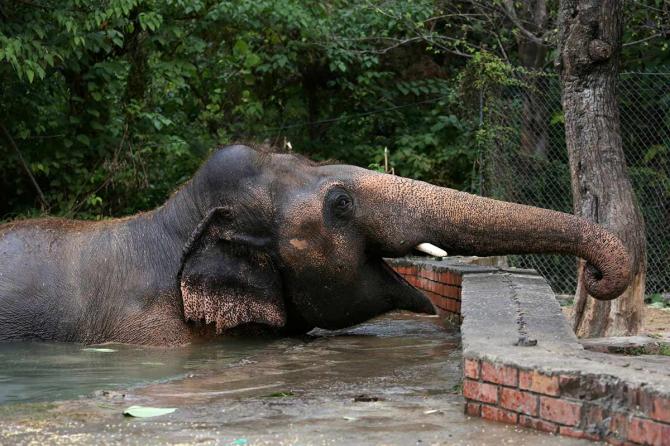 Following years of public outcry and campaigning by Oscar-winning American singer and actor Cher, Kaavan the elephant has reached to a sanctuary in Cambodia from Pakistan.
The 35-year-old bull elephant's miserable condition in an Islamabad zoo had sparked an uproar from animal rights groups in the country and abroad.
A special cargo plane was arranged to transport Kaavan to a wildlife sanctuary in Cambodia on Sunday, November 28.
Dubbed by the press as the world's loneliest elephant, Kaavan was the only Asian elephant in Pakistan.
However, Kaavan may never have ended up in Pakistan had it not been for a Bollywood film and the whims of one little girl.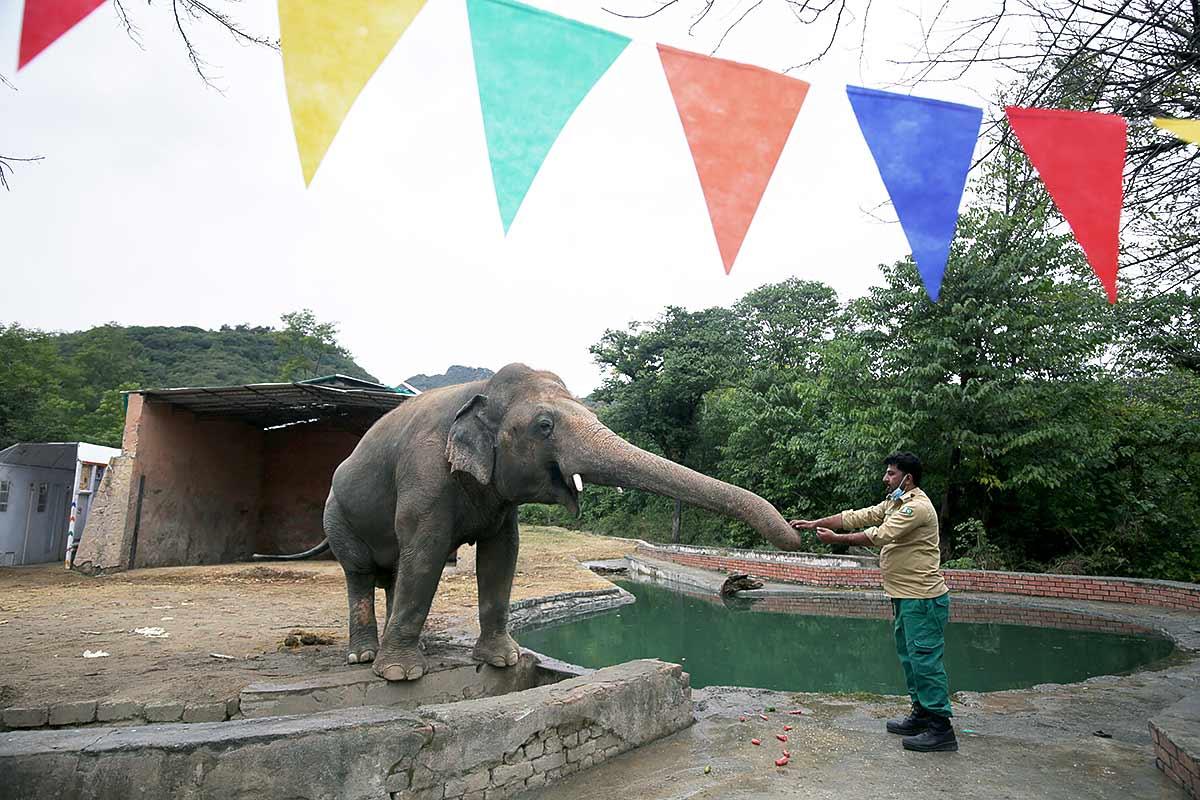 Zain Zia, the daughter of Pakistan's then-military ruler Gen Ziaul Haq, fell in love with elephants after watching Rajesh Khanna's Haathi Mere Saathi.
"I looked up at the sky and prayed, Allah Mian, give me a haathi mera saathi (dear God, give me an elephant to be my friend)," Zain told BBC.
Her father fullfilled her wish by bringing a little elephant from Sri Lanka's Pinnawala Elephant Orphanage.
Zain insisted her father to keep the little jumbo at their home, but Ziaul Haq said that the animal belonged to the government and must go to the zoo.
The little elephant was Kaavan.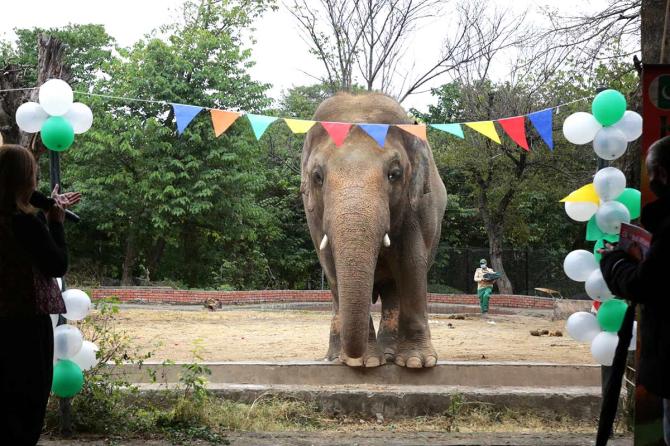 However, at the at Marghazar Zoo in Islamabad, Kaavan was kept in substandard conditions or chained.
At the zoo, Kaavan's job was to stand at the fence to entertain the crowds during opening hours, raise his trunk as a begging bowl when his mahout, or handler, prodded him with a bull hook, passing him the money the crowd gave him.
Kaavan's nights were spent idling around his small half-acre enclosure, about the same size as half a football pitch and containing a hut with concrete floor.
When volunteers from Four Paws International animal rights group compiled a report later, they found "a dry moat with narrow concrete walls; compacted soil; no other natural loose substrate, no trees, logs, bushes, rocks, tires or any other structures".
Activists also said Kaavan was not properly sheltered from Islamabad's searing summer temperatures.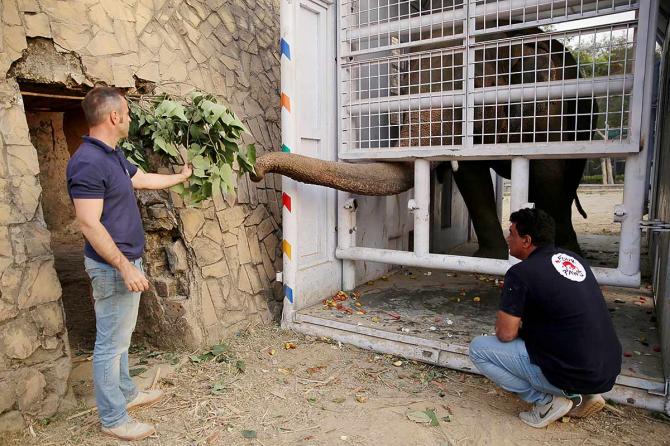 Kaavan had been living in poor conditions in a small enclosure at Marghazar Zoo in Islamabad for more than three decades.
Kaavan -- already bereft of the natural environment he needed -- had been acting increasingly aggressively.
He spent prolonged periods in chains from 2000.
His condition got worse when his companion, Saheli, an elephant brought in from Bangladesh in early 1990s, died in 2012.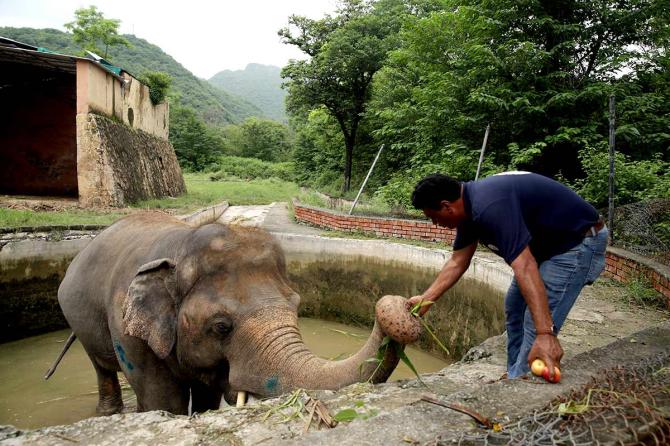 His mahout warned that he was dangerous and allowed no one, including himself, to get close to the lonely elephant.
By the time the team from FPI arrived in 2016, they found an "aggressive" animal suffering from "zoochosis".
Kaavan was sick. He was also worryingly overweight, a result of the high sugar diet his keepers fed him.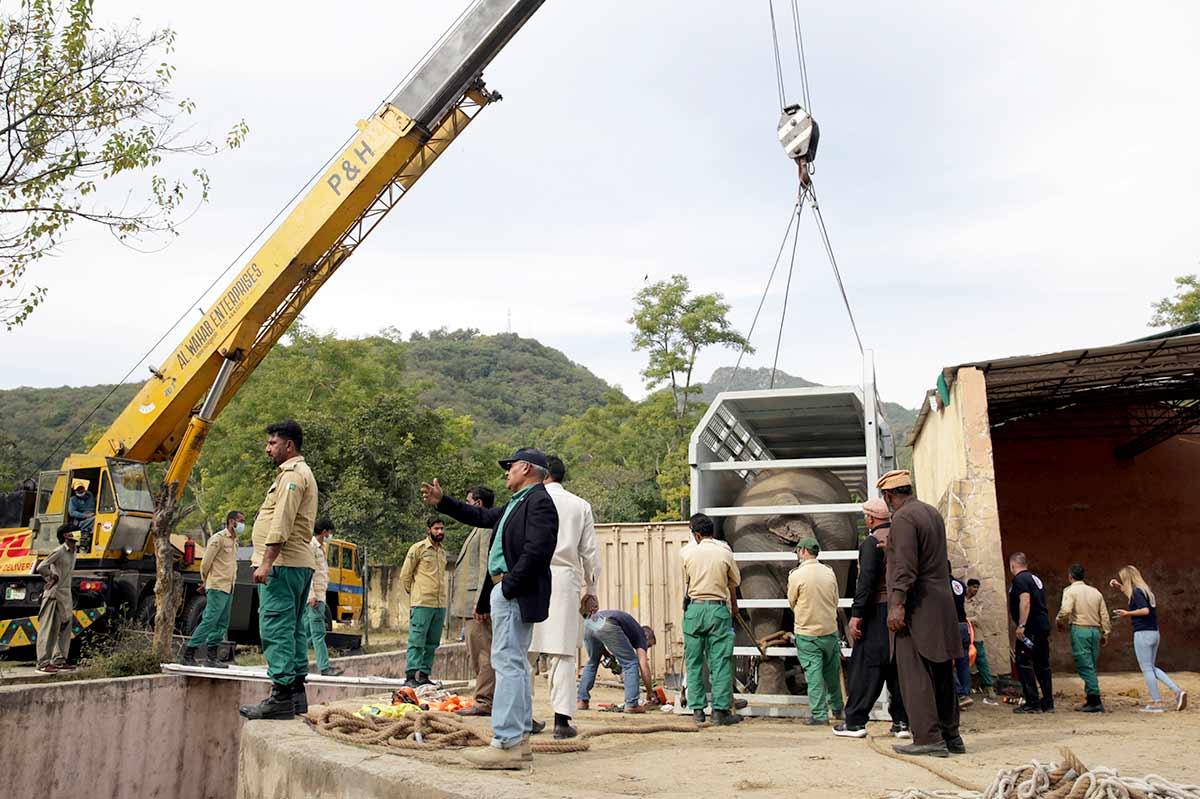 Cher first learned of Kaavan's plight in 2016.
The Oscar-winning actress and singer, who cofounded Free the Wild, a wildlife protection charity, hired a legal team to press for the elephant's freedom.
When the court order freeing him was announced in May 2020, the singer called it one of the "greatest moments" of her life. In the months since, she has chronicled his progress on her Twitter account, where she has 3.8 million followers.
Four Paws International -- an animal welfare group -- was invited to the country a second time and a new plan was hatched -- to fly Kaavan across Asia to Cambodia, where he could live out the rest of his years in a "protected contact" sanctuary.
There was only one problem.
Kaavan was an angry 30-something elephant with a weight problem. Neither the anger nor the weight leant itself to an easy journey to Cambodia.
In the end, Dr Amir Khalil, the Egypt-born head of the FPI team, stumbled his way into a solution.
With Dr Khalil, a team of vets and experts from Four Paws have spent months working with Kaavan to get him ready for the trip to Cambodia, which has included training the elephant to enter the massive metal transport crate that will be placed in a cargo plane for the seven-hour flight.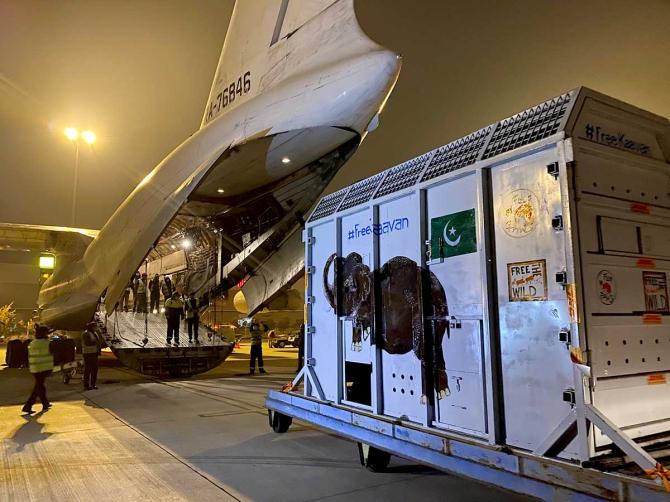 And on Sunday, after 35 years suffering at the hands of what Dr Khalil describes as a combination of "wrong management, lack of experienced staff, humanity mixing with business and money, and less attention to the welfare of animals", Kaavan got freed. .
Kaavan may still have problems overcoming his psychological issues and adjusting to a natural environment, but his friend Dr Khalil says, he "finally has a chance to be an elephant, and to live in a place he can call home".