'My elephants saved my life.'
'They love me more than my family members who only love my property.'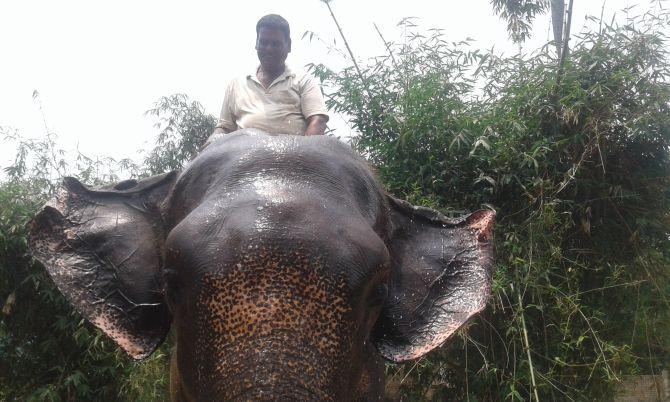 Akhtar Imam, who is in his early 50s, is an elephant owner with a difference.
He love to be a sewak for his two elephants, and not their owner.
In a rare gesture to his elephants, Imam recently gifted nearly 10 bighas of land worth crores of rupees to them, angering his family and relatives.
Imam says he gifted his property to his elephants for their maintenance, including food and other facilities, as it is a very costly affair.
Of his two elephants, Moti, aged 20, lives at Imam's sprawling residence in Mir Ghayas Chak in Janipur on the outskirts of Patna amid green cover including bamboo trees.
Rani, aged 15, lives at his other home in Gaya district.
In a conversation with Rediff.com contributor M I Khan, Imam explains why he gifted his property to his elephants.
Please remember one thing, they are my pet elephants, not captive.
They are my family members and a part of my life.
As they are family members I have decided to give a share of my property to them.
I have gifted nearly 10 bighas of farm land property under the Muslim personal law, which guarantees transfer of property by means of Hiba, to my elephants, Moti and Rani, for their maintenance including food and other facilities.
I decided to do so after much thought because I fear that if I die tomorrow, there will be problems for them.
Now they will be neither abandoned nor orphaned like many captive elephants.
Since childhood I have had a fascination for taking care of the elephants that my father owned.
I have seen several captive elephants turn orphans and get abandoned after their owner died and the family ignored them.
I don't want such hardships for my Moti and Rani, who are no less my family.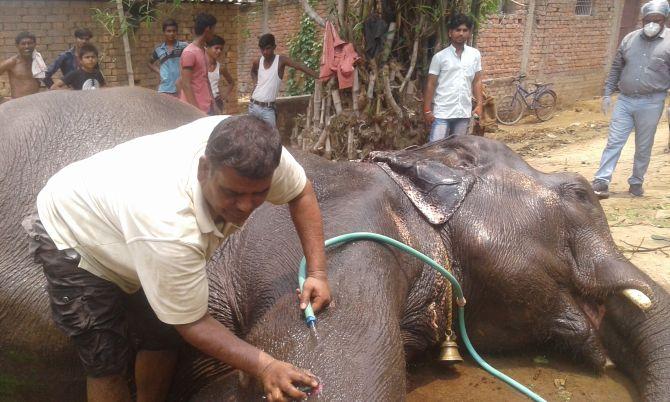 Two weeks ago, I decided to gift property worth crores of rupees to Moti and Rani. I made my will and gifted it to them on an official document with a non-judicial stamp of Rs 1,000.
Sometimes I feel the property that I gifted my elephants for their maintenance is not adequate to take care of them.
Yes, my family members are not only unhappy and angry over it, they have turned enemies over my selfless love for my elephants and my decision to gift my land to them.
My family, including my wife, sons and close relatives, are against keeping elephants and their maintenance.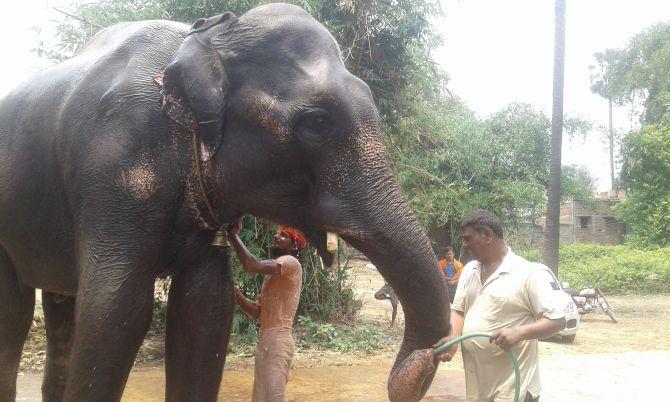 My elephants saved my life once. They love me more than my family members who only love my property.
If I am alive today, it is thanks to my elephants. They saved me by raising an alarm when some criminals with pistols tried to enter my room to shoot me.
They probably wanted to kill me, but their plan was foiled by my elephants.
My elephants alerted me by making an unprecedented sound when I was asleep. I woke up and saw that they had chased the criminals away.
It is a lifetime memory. I am thankful to my elephants, and whatever I am doing for them to take care of them is my small gesture to them.
My family wanted me to transfer all my property -- including houses and farm land -- to them. I had already transferred half of my property to my family. The remaining half is for my elephants, who are also my family.
I thought if my wife, daughter and sons deserve a share of my property, why not my two elephants?
I have disowned my elder son who threatened me time and again to sell my elephants. Once he tried unsuccessfully to sell one of my elephants through a broker and that hurt me.
I have made it clear in my will that if I die tomorrow the property gifted to my elephants will be managed by a trust that I founded eight years ago to take care of abandoned and orphaned captive elephants.
I am the managing trustee of the Asian Elephant Rehabilitation and Wildlife Animal Trust, headquartered at Bodh Gaya. After my death, the property gifted to my elephants will go to the trust.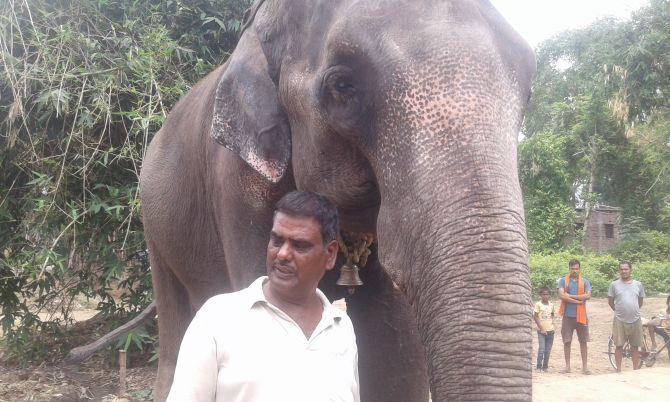 After my elephants die, the income from the property will be managed by the trust that will take care of abandoned captive elephants and ensure their proper burial with dignity after their death.
I am trying to set up a Hathi Gaon (an elephant's village) for abandoned and orphaned elephants.
I have secured land on lease near a forest in the Barachatti area in Gaya and in Uttarakhand to set up a Hathi Gaon.
The Bihar government had agreed to develop it on a PPP (public-private-participation) model for the conservation of elephants. But the file did not move and government officers ignored and neglected it.
I am committed to fulfill my dream by setting up a Hathi Gaon one day with or without the government's help and support.
If the government does not help me to set up a Hathi Gaon, I will go around the country to seek donations from people for it.
Whenever an elephant is found dead or killed by smugglers or in accidents, that makes news for a day or two, but later forgotten. The big question is: Why are elephants dying or being killed?
Human activities are spreading day by day and damaging the natural habitat of elephants.
Population explosion in recent decades has created more trouble for elephants as their food and water sources are being snatched away by human beings.
Smugglers are killing elephants for their ivory and bones and I am working to save them.
I have learnt from my experience that elephants and other animals are different, but they are not dangerous. Human beings are more dangerous than animals. A human being can betray and cheat others.
At present there are 30 to 35 captive elephants in Bihar because their owners have either sold their elephants and gifted them due to the high cost of maintenance.
Look, I am working on the ground for the conservation of elephants, unlike many who operate from their air-conditioned, high tech, offices.
I have buried and cremated orphaned elephants.
I have treated blind, lame and seriously injured elephants.
Sitting in Delhi, some so-called animal activists are doing a drama of saving wild animals and working for their conservation. I am sorry to point out that they are more dangerous for wildlife because their only concern is to make money.
I turned vegetarian 20 years ago because my elephants don't like the smell of non-veg food. I have spent a major part of my life with elephants. They are more honest, loyal and dedicated than human beings to those who take care of them.
Elephants never lie, they are not hypocrites.
I understand elephant language, their likes and dislikes.
I am on the hit-list of smugglers who want to eliminate me as they consider me a hurdle. I am regularly threatened and harassed by them because I am actively working against their rackets. I have requested the Bihar government for security.
Photographs: M I Khan