Do your Christmas decorations come with dancing ballerinas?
If your answer is no, then look no further because the White House has totally put everyone else holiday efforts to shame.
United States First Lady Melania Trump unveiled this year's White House Christmas decorations, choosing the theme 'Time-honoured traditions' -- a nod to 200 years of traditions at the executive mansion -- for her design aesthetic.
The decorations include 53 Christmas trees, 71 Christmas wreaths, more than 12,000 ornaments and a 160 kg gingerbread reproduction of the White House.
The exterior of the White House is all done up in wreaths topped with red bows. The White House looks resplendent with its Christmas decorations which were shown to the media ahead of the holidays.
Photograph: Alex Wong/Getty Images
US First Lady Melania Trump walks down the East Colonnade lined with white, frosted branches. We can't help but say those trees look a bit creepy, don't they?
Photograph: Johnathan Ernst/Reuters
Ballerinas leaping helped launch Christmas at the White House. The dancers echoed the first themed Christmas at the White House, Jacqueline Kennedy's "Nutcracker Suite" in 1961.
Photograph: Johnathan Ernst/Reuters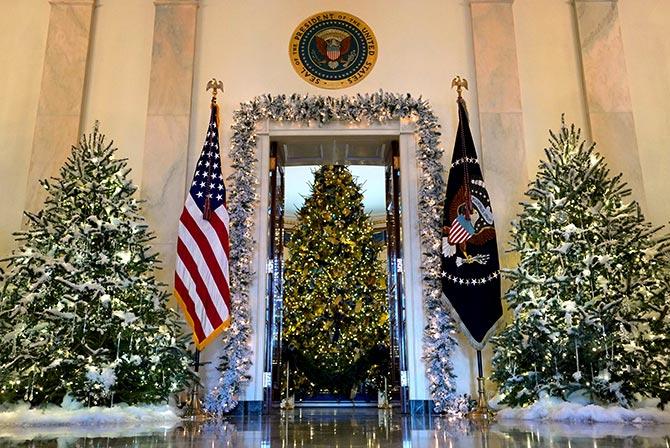 The official White House Christmas tree is seen from the Cross Hall of the White House in Washington. The Blue Room's Christmas tree stands at 18 feet, 6 inches tall.
Photograph: Kevin Lamarque/Reuters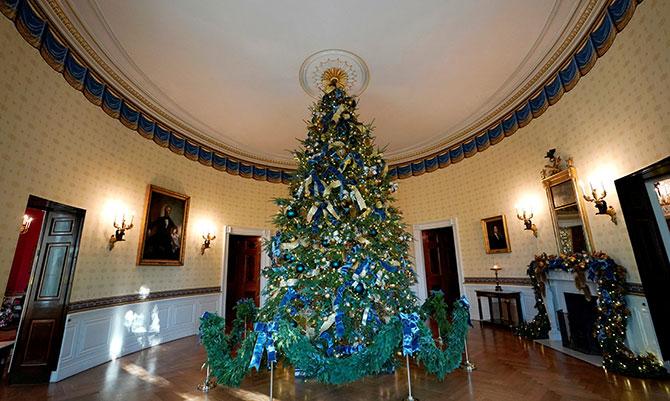 The official White House Christmas tree looks magnificent! The Wisconsin-grown pine is adorned with ornaments representing all the states and territories, along with blue and gold bows.
Photograph: Kevin Lamarque/Reuters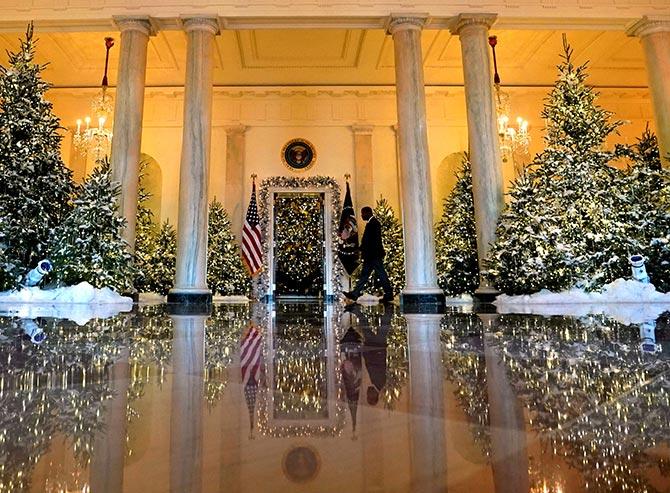 The Grand Foyer and Cross Hall are decorated with multiple Christmas trees covered in crystal ornaments and artificial snow inspired by the "Nutcracker Suite" theme of the 1961 White House holiday decorations. The Grinch would have his work seriously cut out in this house.
Photograph: Kevin Lamarque/Reuters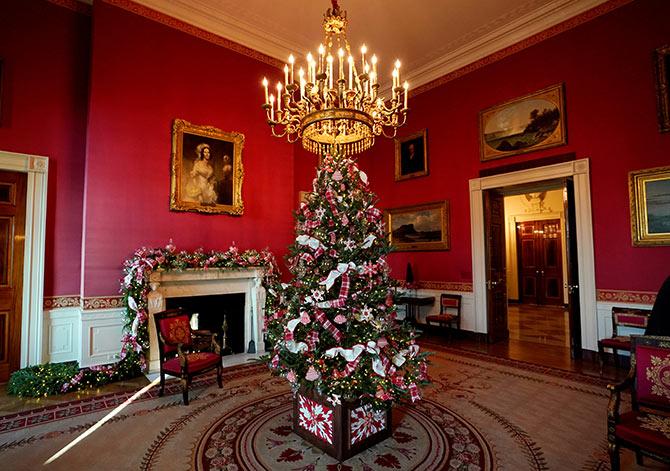 The Red Room has the colour-scheme of your dreams. The room contains a smaller Christmas tree and decorations made of holiday treats and candies.
Photograph: Kevin Lamarque/Reuters
What we would do to get our hands on those yummy Christmas candy on display in the Red Room!
Photograph: Kevin Lamarque/Reuters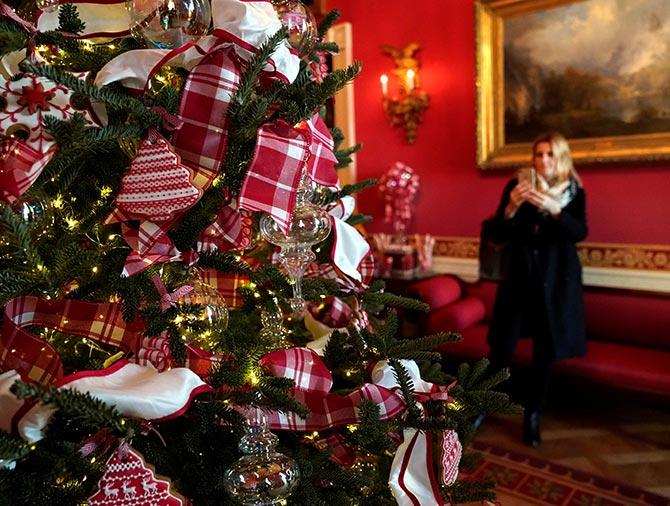 US First Lady Melania Trump has paid close detail to every part of the decoration. In fact, she chose every detail of the decor and did a final check after returning from the family's Thanksgiving at their estate in Palm Beach, Florida.
Photograph: Kevin Lamarque/Reuters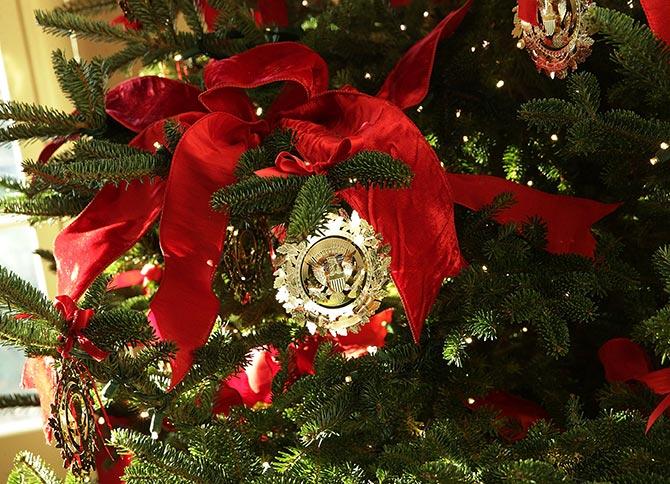 The first family's official Christmas ornament. The ornament is a gold-toned bauble featuring the presidential coat of arms surrounded by a wreath of holly.
Photograph: Alex Wong/Getty Images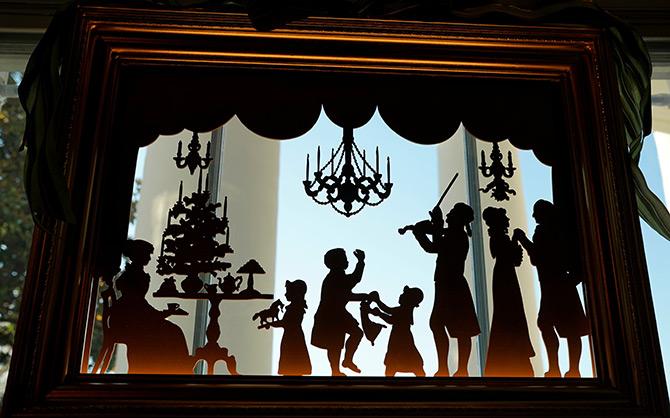 A vignette representing former first families celebrating Christmas adorns the Green Room of the White House.
Photograph: Kevin Lamarque/Reuters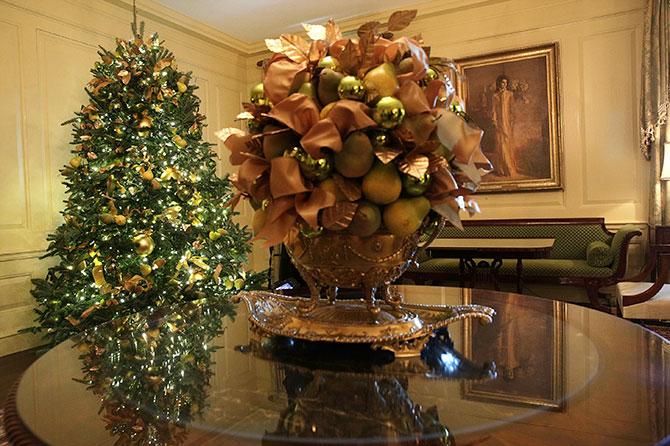 More than 150 volunteers from 29 states spent 1,600 hours over the holiday weekend decking the White House halls.
Photograph: Alex Wong/Getty Images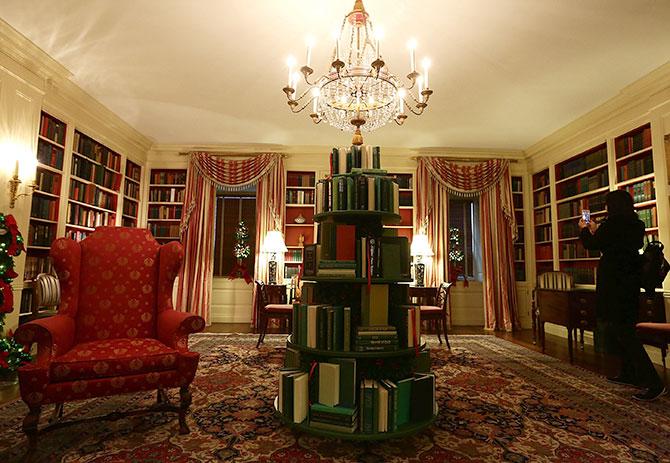 The library at the White House with a tree made of books. The Trumps put out an 1866 edition of Charles Dickens' a Christmas Carol, protected by glass. Former US President Franklin Delano Roosevelt had read the story at the White House each year he was in office, the White House noted.
Photograph: Alex Wong/Getty Images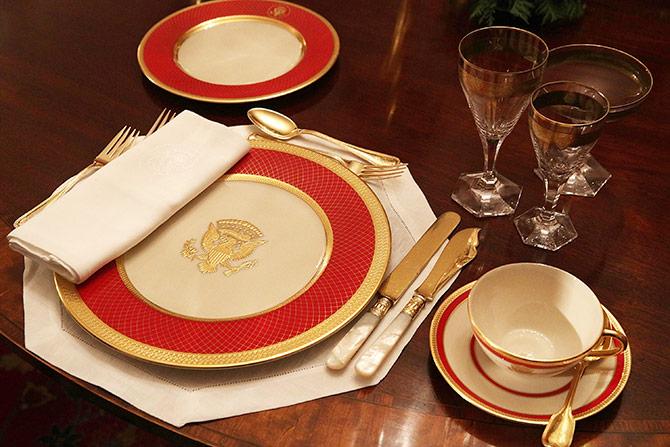 Former US President Ronald Reagan's china adorns the dining table at the White House. That's a nice nod to being Republicans!
Photograph: Alex Wong/Getty Images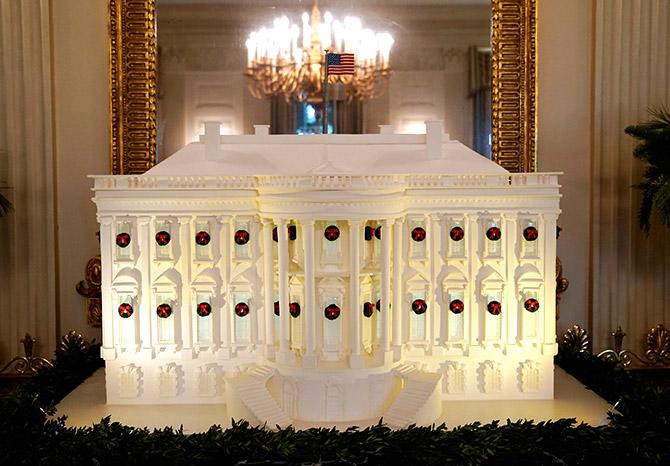 The gingerbread White House stands in the East Dining Room. The delectable sweet weighs around 160 kilogram and offers a view of the White House from the South Lawn, with wreaths on every window and a US flag flying from its sugary rooftop.
Photograph: Kevin Lamarque/Reuters