Jai Ram Thakur was on Wednesday sworn in as the 14th chief minister of Himachal Pradesh along with 11 other ministers at a ceremony at the historic Ridge Ground.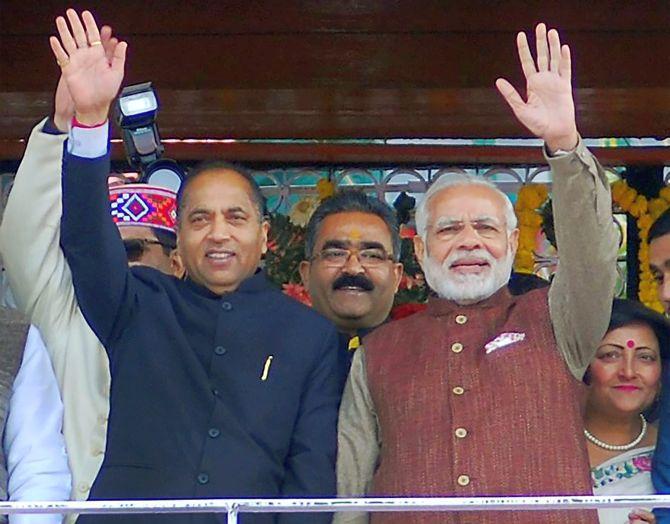 Governor Acharya Devvrat administered the oath of office and secrecy to the 52-year-old Thakur, a five-time MLA from Seraj, and other ministers which included six new faces.
The ceremony was attended by Prime Minister Narendra Modi, Bharatiya Janata Party chief Amit Shah, BJP veteran L K Advani and a host of union ministers.
The cabinet is complete as all 12 berths have been filled while two MLAs would be accommodated as speaker and deputy speaker.
Rajiv Bindal will be the speaker of the legislative assembly.
Jai Ram is the first chief minister from the second largest Mandi district and the 14th chief minister and sixth person to adorn the office of the chief minister.
Suresh Bharadwaj and Gobind Singh Thakur took oath in Sanskrit while the others took oath in Hindi. Sarveen Chaudhry is the lone woman in the cabinet.
The new ministers include Mohinder Singh, Krishan Kapoor, Suresh Bharadwaj, Anil Sharma, Sarveen Chowdhary, Ram Lal Markanda, Vipin Parmar, Virender Kanwar, Gobind Thakur, Rajiv Saizal and Vikram Singh.
Besides, the chief minister, two ministers are from his home district of Mandi, four from the largest Kangra district, one each from Shimla, Solan, Kullu, Una and Lahaul and Spiti districts.
Bilaspur and Hamirpur, home districts of Union Health Minister J P Nadda and former chief minister Prem Kumar Dhumal, Chamba and Sirmaur districts have been left unrepresented.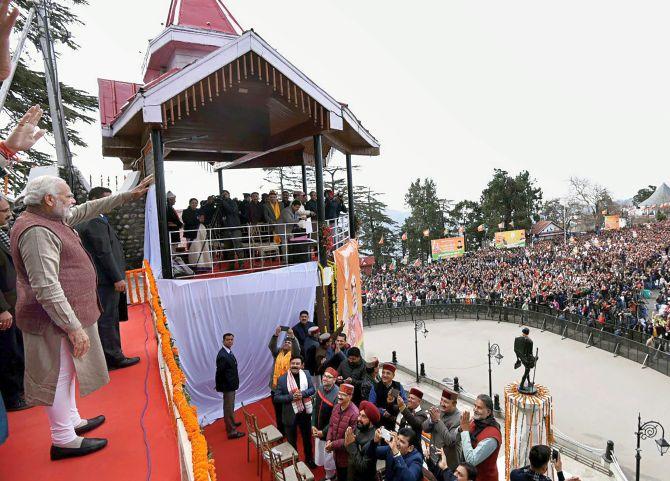 The BJP had won 20 seats in Kangra and Mandi districts and also won 13 out of 17 seats reserved for Scheduled Castes and two out of three Scheduled Tribe seats.
Some senior party leaders and former ministers including Romesh Dhawala and Narinder Bragata have not been given berth in the cabinet.
There are six Rajputs including the chief minister, Mohinder Singh, Vipin Parmar, Virender Kanwar, Gobind Thakur and Vikram Singh, three Brahmins including Suresh Bharadwaj, Anil Sharma and Ram Lal Markanda, who is both tribal and Brahmin and two OBCs.
Thakur had earlier served as minister from 2009 to 2012.
He was state BJP chief from 2006 to 2009.
Mohinder Singh is seven-time MLA and served as cabinet minister twice in 1998 and 2007 in the BJP government headed by Prem Kumar Dhumal while Krishan Kapoor is four-time MLA from Dharamsala and was cabinet minister in the Dhumal government during 1998-2003 and 2007-12.
Sarveen Chowdhary is also a four-time MLA and former minister in the BJP government.
Anil Sharma, who deserted the Congress on the eve of election is four-time MLA from Mandi and served as minister in the Virbhadra Singh cabinet in 1993 and 2012 while Dr Ram Lal Markanda, a three-time MLA was minister in the Dhumal government during 1998-2003.
Suresh Bharadwaj from Shimla is senior party leader and a four-time MLA. He was also Rajya Sabha member and state BJP chief.
Virender Kanwar, four-time MLA from Kutlehar, Vipin Parmar, Gobind Thakur, Rajiv Saizal and Vikram Singh are among the new faces.
The BJP had won 44 out of 68 seats in the state assembly and after the shocking defeat of BJP's chief minister face Prem Kumar Dhumal from Sujanpur, the race was open for the top post and Jai Ram Thakur was elected leader.
Thousands of people from Mandi, the home district of chief minister thronged the venue and danced to the tunes of traditional folk music.
Apart from Union ministers Rajnath Singh, Nitin Gadkari and JP Nadda, chief ministers of BJP-ruled states like Yogi Adityanath, Manohar Lal Khattar, Devendra Fadanvis and Sarbanand Sonowal were present on the occasion.
Photographs: PTI Photos