Canadian Prime Minister Justin Trudeau met with Indian Prime Minister Narendra Modi on Friday morning -- the only high-level engagement of his week-long trip to India.

Issuing a joint statement following high-delegation talks, PM Modi said, "There should not be space for those who misuse religion for political motives and promote separatism."
Highlights from Trudeau's visit to India:
Trudeau's first visit to India has been clouded by talk of a frosty reception on account of the Canadian government's perceived soft approach to Sikh extremists demanding Khalistan.
Here are snapshots from Day 6 of Trudeau's visit.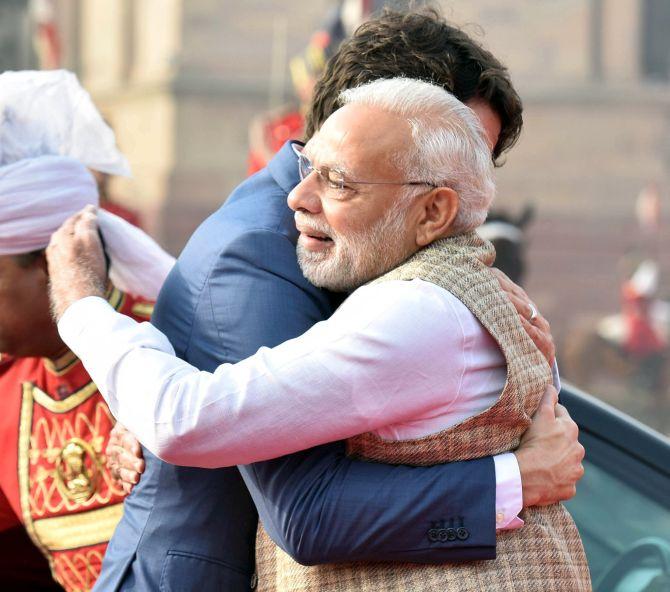 Justin Trudeau was embraced by Indian Prime Minister Narendra Modi outside the Presidential Palace in New Delhi on Friday morning.
Photograph: Press Information Bureau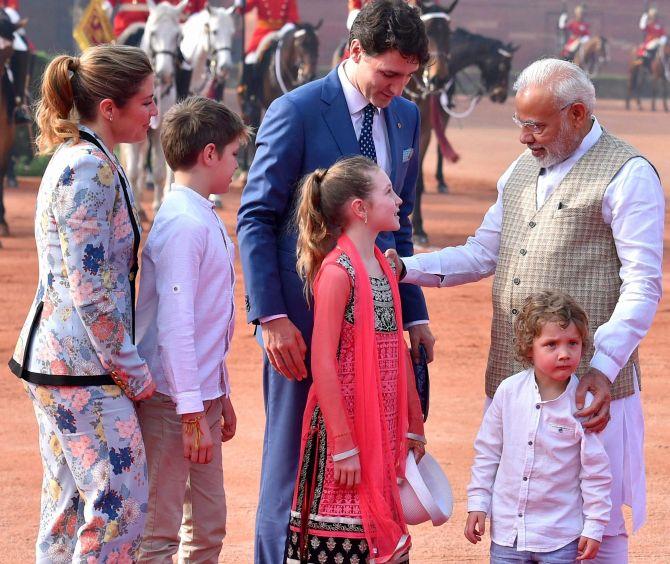 The intimate moment between the two men came after Modi failed to welcome Trudeau to India when he arrived on Saturday in a move widely regarded as a snub. At the ceremonial welcome, Modi speaks with Ella-Grace, Canadian Prime Minister Justin Trudeau's daughter as his family members looks on.
Photograph: Atul Yadav/PTI Photo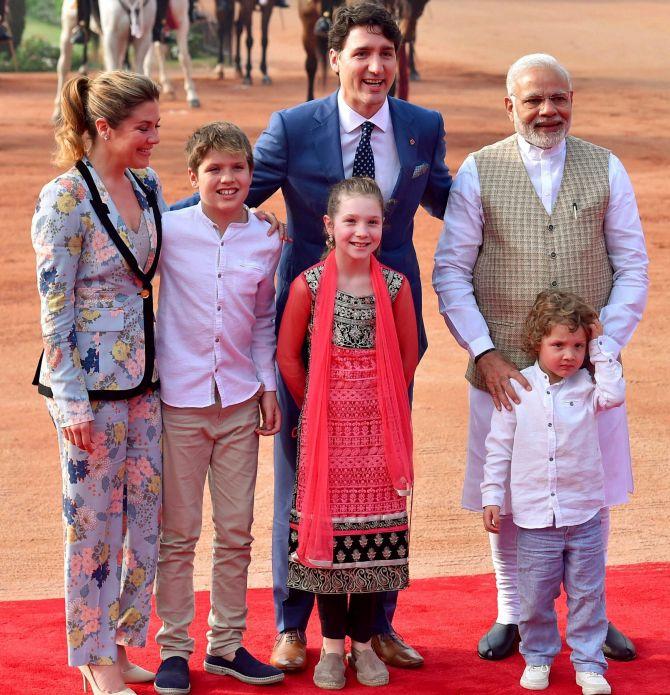 While Justin wore a suit, we can't help notice Sophie Gregoire Trudeau's sharp fitting floral suit. We must say after some of the tacky Indian wear Trudeau has been criticised for, this is a welcome change.
Photograph: Atul Yadav/PTI Photo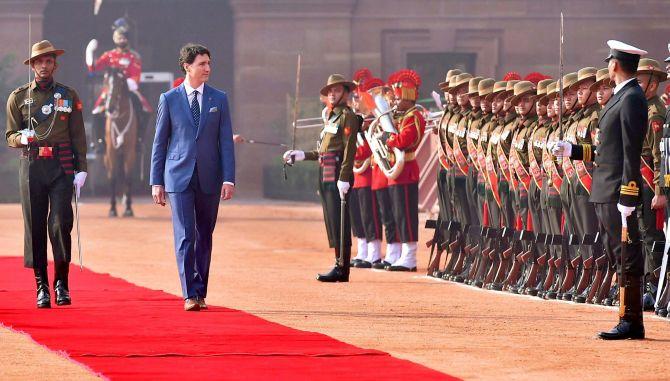 Canadian Prime Minister Justin Trudeau inspects guard of honour during his ceremonial reception at Rashtrapati Bhawan.
Photograph: Atul Yadav/PTI Photo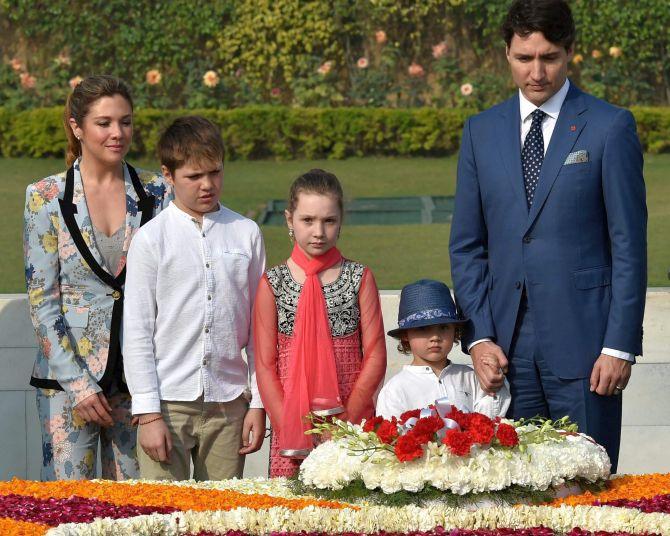 Canadian Prime Minister Justin Trudeau with his family members pay tribute at Mahatma Gandhis memorial Rajghat in New Delhi. Earlier, the Canadian premier and his family had visited Gandhi's ashram in Sabarmati, Gujarat.
Photograph: Manvender Vashist/PTI Photo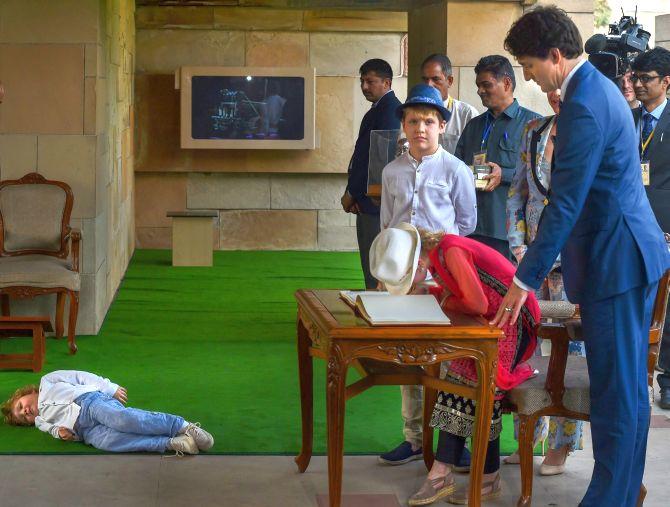 Canadian Prime Minister Justin Trudeau's daughter Ella-Grace signs the visitors book as his sons Xavier and Hadrien (playfully lying on the floor) look on, at Mahatma Gandhi's memorial Rajghat. Photograph: Manvender Vashist/PTI Photo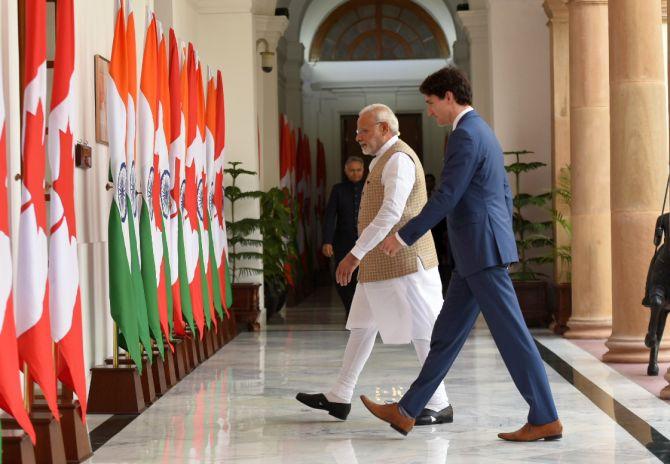 Modi and Trudeau held extensive talks at Hyderabad House. The two sides inked six pacts, including on energy cooperation.
Photograph: Press Information Bureau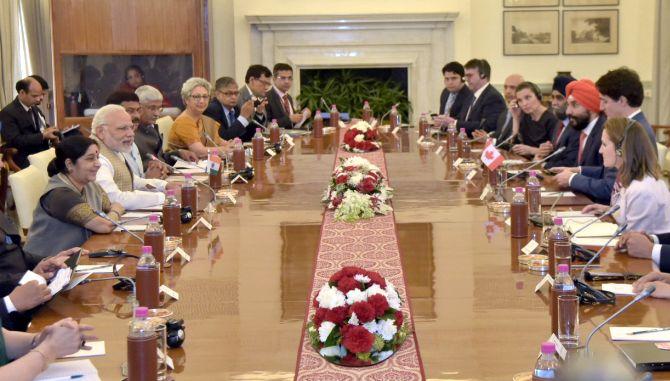 Modi, following his nearly two-hour long meeting with Trudeau, said during a joint media event with the Canadian prime minister, that it is important that the two countries work together to fight terrorism.
Observing that Trudeau has visited various parts of India in last few days, Modi said the Canadian leader must have experienced the diversity of the country.
On his part, Trudeau described India as a natural partner for commercial cooperation. Modi said they have also asked the officials of their countries to re-double their efforts to finalise the bilateral free trade agreement.
Photograph: Press Information Bureau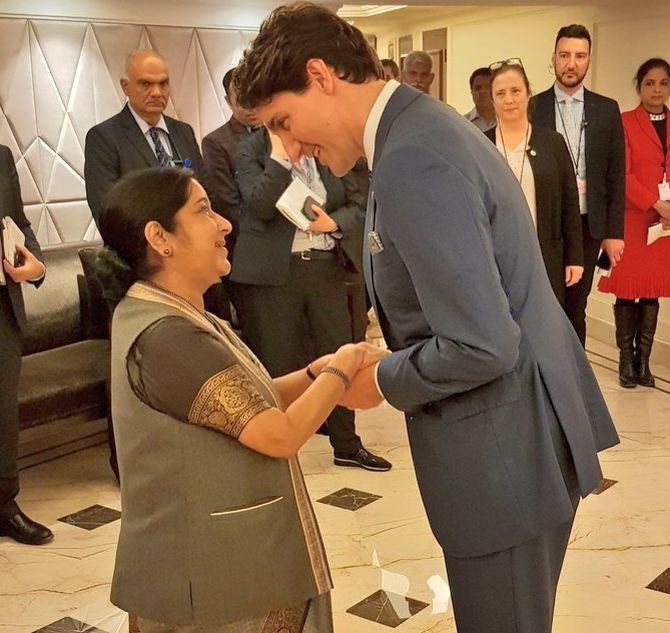 External Affairs Minister Sushma Swaraj called on the Canadian prime minister and discussed various issues of mutual interest. Swaraj had a warm meeting with Trudeau and discussed ways to strengthen and deepen the partnership between the two countries. The MEA tweeted, "Picture speaks for itself! EAM @SushmaSwaraj had a warm meeting with the Prime Minister of Canada @JustinTrudeau."
Photograph: @MEAIndia/Twitter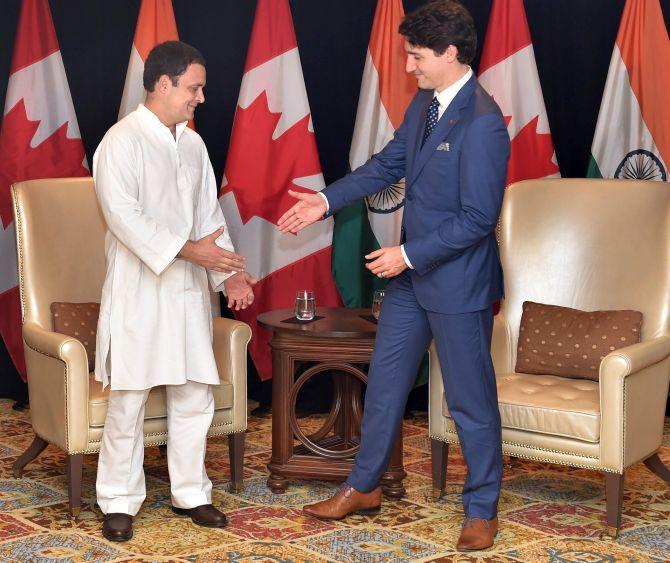 Congress chief Rahul Gandhi met Canadian Prime Minister Justin Trudeau and discussed a range of issues concerning the two countries.
According to sources, the two shared their commitment towards liberal values.
Issues pertaining to economic development and new technologies were also discussed during the around 40-minute meeting, they said. Sources said the two leaders talked about bridging the gap of inequalities in society and how important pluralistic values were and how destructive divisive politics can become and hurt society.
The two leaders also talked about how important are inclusive democracies, besides jobs creation.
Photograph: Manvender Vashist/PTI Photo