The United States remained a tinderbox of anger and emotion as violent protests erupted for a sixth day across the country over the custodial killing of African-American George Floyd, resulting in the death of at least five people, the arrest of thousands and placing of curfew in nearly 40 cities, while forcing US President Donald Trump to take shelter in a White House bunker.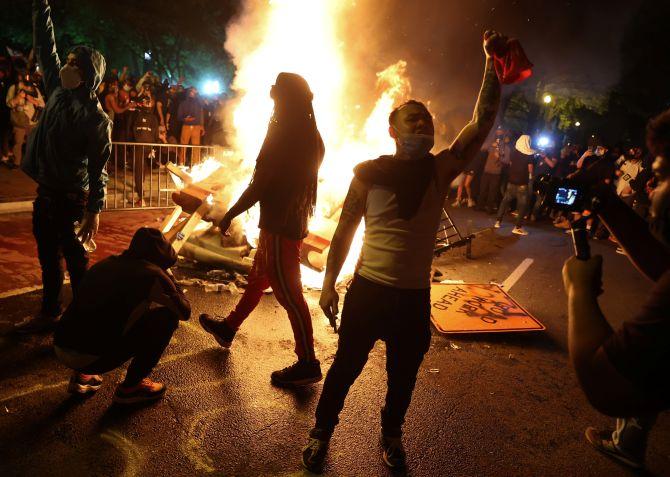 Considered to be the worst ever civil unrest in the US in decades, the violent protests have engulfed at least 140 cities across America in the days following the death of Floyd, a 46-year-old man who was pinned to the ground in Minneapolis on Monday by a white police officer who kneeled on his neck as he gasped for breath.
Some of the protests have turned violent, prompting the activation of the National Guard in at least 20 states.
"At least five people were killed in violence that flared as demonstrations in parts of the country devolved into mayhem," The Washington Post reported.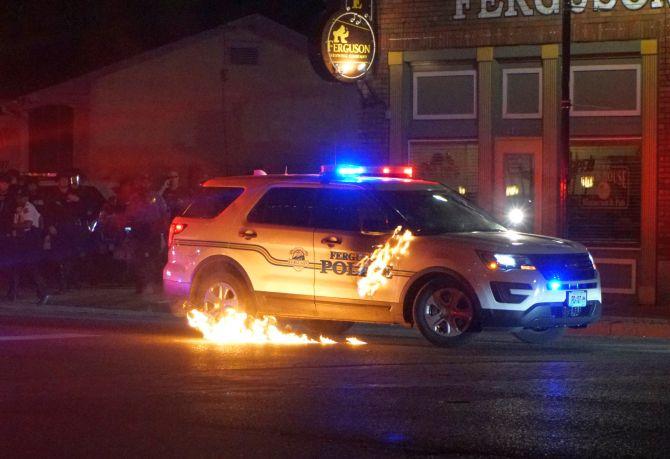 Police have arrested at least 2,564 people in two dozen US cities over the weekend. Nearly a fifth of those arrests were in Los Angeles, it said.
The unrest initially began in Minneapolis in Minnesota but has now spread across the country, with reports of violence coming in from across major cities including Los Angeles, Chicago, New York, Houston, Philadelphia and Washington DC.
"The United States remained a tinderbox of emotion, anger and continued violence on Sunday, the sixth day of nationwide unrest since the death of yet another black man at the hands of the police," The New York Times reported.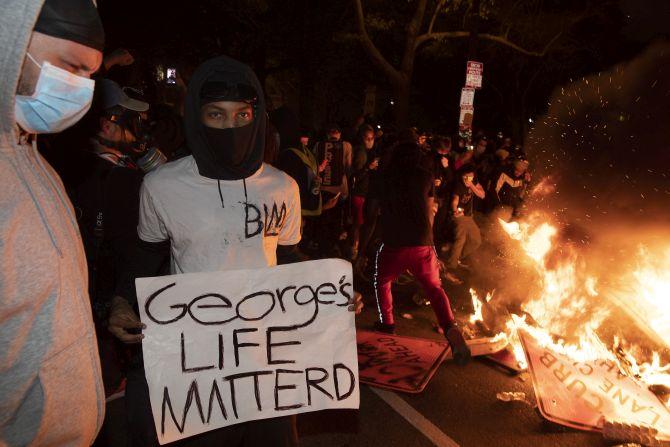 In Birmingham, protesters started to tear down a Confederate monument that the city had previously covered with a tarp amid a lawsuit between the state attorney general and the city.
In Boston, a police SUV was set ablaze near the State House, sending up a column of black smoke after a large group of protesters had mostly dispersed.
In Philadelphia, police officers in riot gear and an armoured vehicle used pepper spray to try to repel rioters and looters.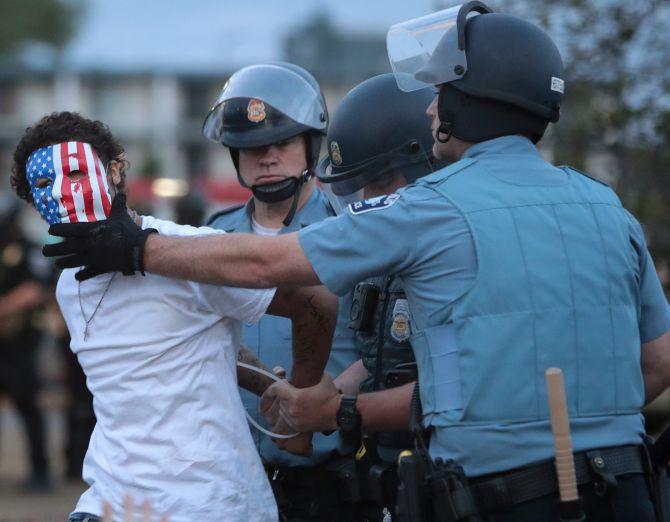 In New York, demonstrators marched across the Brooklyn and Williamsburg Bridges, snarling traffic. The Manhattan Bridge was briefly shut down to car traffic. Chaos erupted in Union Square, with flames leaping up two stories from trash cans and piles of street debris, the Times said.
"It is the first time so many local leaders have simultaneously issued such orders in the face of civic unrest since 1968, after the assassination of the Rev Dr Martin Luther King Jr," the report said.
The police fired tear gas near the White House on Sunday night to dissuade protesters who had smashed the windows of prominent buildings, overturned cars and set fires, with smoke seen rising from near the Washington Monument, it said.
For the past few days, thousands of protesters have gathered outside the White House raising slogans against President Trump.

According to CNN, US President Trump was briefly taken to the underground bunker for some time during the protest outside the White House, while First Lady Melania Trump and their son
Barron were also taken to the bunker.
US President Trump made no public appearances on Sunday, but in a series of tweets he blamed the media for fomenting hatred and anarchy in the country.
"The Lamestream Media is doing everything within their power to foment hatred and anarchy. As long as everybody understands what they are doing, that they are FAKE NEWS and truly bad people with a sick agenda, we can easily work through them to GREATNESS!" he said.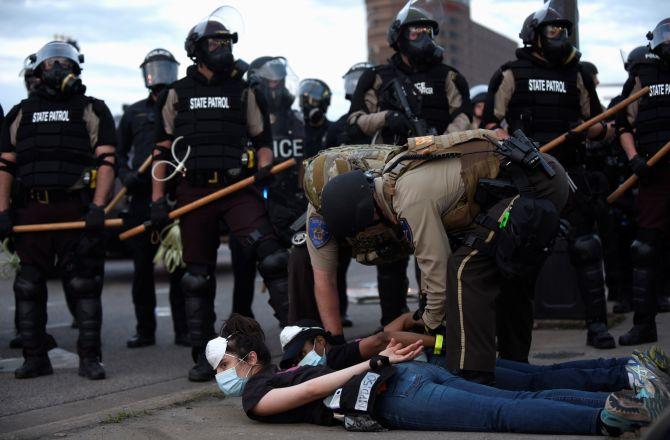 Earlier in the day, he announced that his administration will be designating ANTIFA as a Terrorist Organization. ANTIFA is regarded as a militant, left-wing, anti-fascist political activist movement in the US. It comprises autonomous activist groups that aim to achieve their political objectives through the use of direct action rather than through policy reform.
US Attorney General William Barr said that the violence instigated and carried out by the organisation and other similar groups in connection with the rioting is domestic terrorism and will be treated accordingly.
The Trump administration alleges that it appears the violence is planned, organised, and driven by anarchistic and far left extremists, using ANTIFA-like tactics, many of whom travel from out of state to promote the violence.
Former US Vice President Joe Biden, who is the presumptive presidential nominee of the Democratic party, visited a protest site in Delaware on Sunday.
"We are a nation in pain, but we must not allow this pain to destroy us. We are a nation enraged, but we cannot allow our rage to consume us. We are a nation exhausted, but we will not allow our exhaustion to defeat us," Biden wrote on social media postings on Sunday.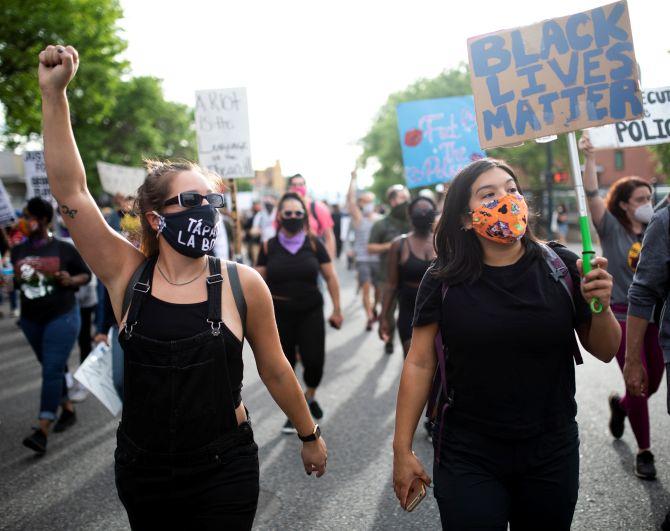 Floyd's funeral to be held in Houston
George Floyd will be laid to rest in his hometown of Houston, following a public visitation in Minneapolis.

Houston Mayor Sylvester Turner announced the funeral plans on Saturday, though there are currently no public details about when it will take place. The mayor broke the news as part of a larger plea for peace amid a weekend where Houston police arrested hundreds of protesters.
"This is our house. This is the same city that George Floyd grew up, And his body will be returning to this city. To his city," Turner said.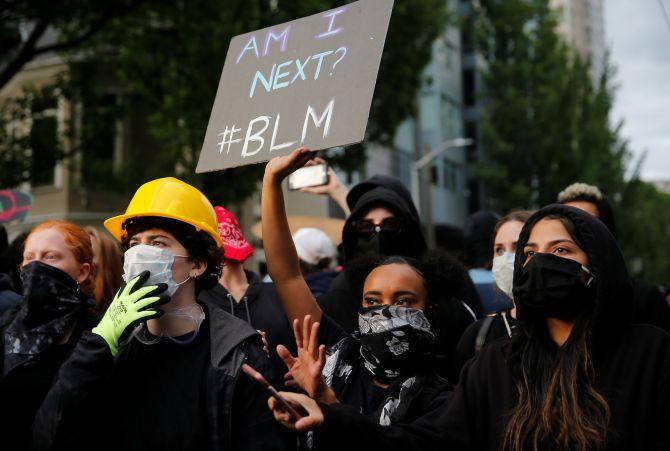 Floyd died in Minneapolis on Monday after a white police officer pinned him to the ground. Video footage showed the officer kneeling on Floyd's neck as he gasped for breath. His death has triggered nationwide protests.
Officer Derek Chauvin has been fired, and on Friday was arrested and charged with third-degree murder and manslaughter, the authorities said.
Born in North Carolina, Floyd was raised in Houston and stood out as a star athlete at Jack Yates High School in the southeastern part of the city. He moved to Minneapolis in 2014, but most of his family, including his two daughters, are still in Houston.
Houston Police Department chief Art Acevedo is seeking to honour Floyd by giving his funeral a police escort.
"Give us that honour," Acevedo said during a rally on Sunday.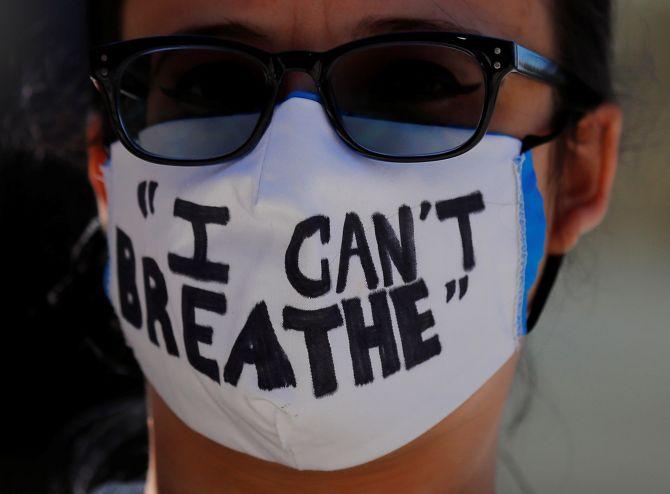 The department will use a high level of security to transport Floyd's body, comparable to when an officer dies in line of duty, the chief said, adding that he will provide more details at a rally reportedly scheduled for Tuesday, June 2 where protesters will march to City Hall.
Funeral arrangements are still being planned, said officials at the Fort Bend Memorial Planning Center in Rosharon. It posted a flyer on Facebook with a picture of Floyd, stating funeral arrangements are forthcoming.
Details of a funeral have not been released.
Floyd's family and attorneys have yet to confirm funeral arrangements. The family has asked for peace in honour of Floyd whose body is coming home on Tuesday.
Meanwhile, Governor Greg Abbott declared a State of Disaster for all Texas counties following several protests in cities throughout Texas over the death of Floyd.
Under this declaration, the governor has the ability to designate federal agents to serve as Texas Peace Officers.
"Every Texan and every American has the right to protest and I encourage all Texans to exercise their First Amendment rights. However, violence against others and the destruction of property is unacceptable and counterproductive," said Abbott.
"As protests have turned violent in various areas across the state, it is crucial that we maintain order, uphold public safety, and protect against property damage or loss. By authorising additional federal agents to serve as Texas Peace Officers we will help protect people's safety while ensuring that peaceful protesters can continue to make their voices heard," he said.
Black Lives Matter protests spread to UK
Thousands of people gathered across London on Sunday to protest against the killing of an unarmed black man by a police officer in the US as the Black Lives Matter protests spread to the UK.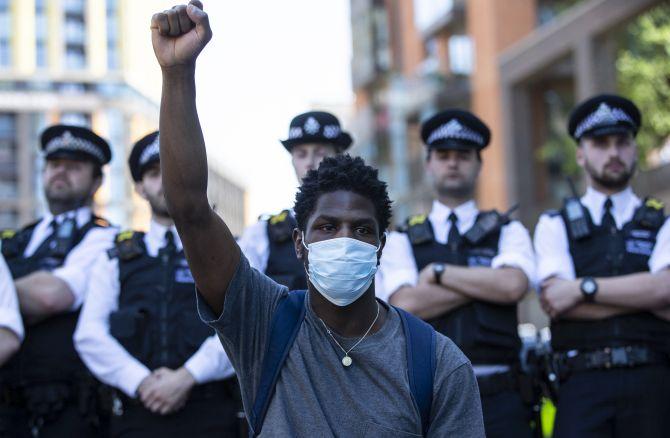 Protesters held up signs saying "Justice for George Floyd", who died in a police custody while an officer kneeled on his neck to pin him down.
The protests were held at Trafalgar Square in central London and outside the US Embassy in Battersea, south London.
Protesters appeared to be breaking lockdown rules, not staying two metres apart.
The Metropolitan Police reminded people that the coronavirus social distancing rules remain in place and made 11 arrests related to the protests.
"The arrests vary in offences from possession of an offensive weapon to assault on police, obstructing a public carriageway to breaches of COVID-19 legislation," the Met Police said.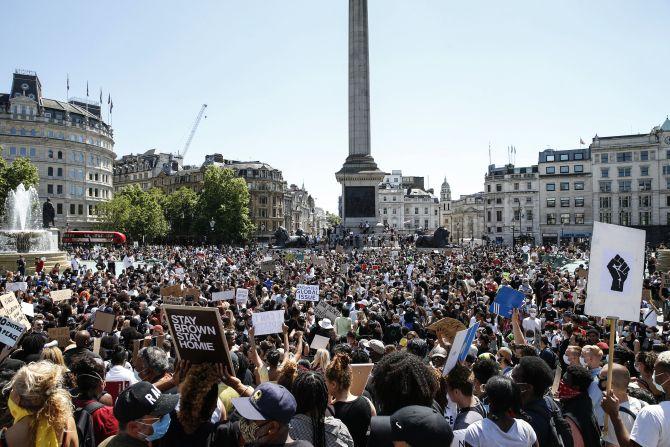 "Government restrictions to control the spread of the coronavirus remain in place. Police are encouraging our communities to comply with the regulations to keep everyone as safe as possible," the statement said.
The Black Lives Matter protests were spread across other parts of the UK as well, including a march in Manchester.
The protests follow five days of violent demonstration in the US since the killing of Floyd.
-- Aditi Khanna/PTI
IMAGES: People hold placards as they join a spontaneous Black Lives Matter march at Trafalgar Square to protest the death of George Floyd in Minneapolis and in support of the demonstrations in North America. PHOTOGRAPHS: Hollie Adams/Getty Images
-- With additional inputs from ANI and Seema Hakhu Kachru/PTI