From citizenship rights to hate crimes and police brutality, no wave of persecution in the US has left Indians completely untouched, says Monali Sarkar.
A brief history of the moments that shaped the Indian-American community's battle against hate...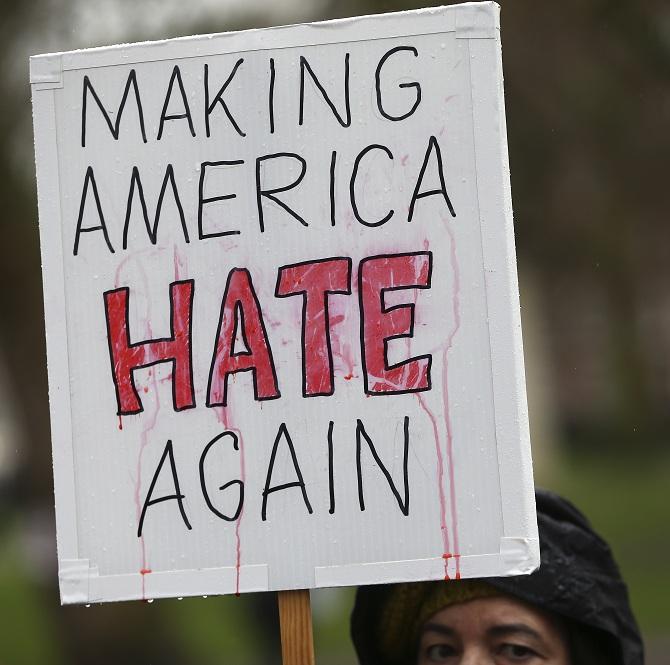 Indian-Americans were left reeling on the night of February 23 after a white racist, Adam Purinton, opened fire on two Indians at a bar in Kansas City in the United States.
Yelling 'Get out of my country', the Navy veteran killed Srinivas Kuchibhotla, 32, an engineer working at the Garmin headquarters, and injured his friend Alok Madasani.
Purinton also shot Ian Grillot, who tried to stop him.
This was the latest in the spate of racially motivated crimes that have erupted all over the US in the past year -- an uptick in violence aimed at South Asian (Muslim, Sikh, Hindu), Middle Eastern, and Arab American communities during the 2016 election cycle that has been documented by civil rights organisations.
In a political climate that has seen many Indians and Indian Americans distance themselves -- and even support -- US President Donald Trump's actions against Muslims, this incident has driven home the reality that no religion, no colour is immune to such actions.
And no number of assurances about how much 'Trump loves Hindus and India' are enough.
As Lakshmi Sridaran, director of National Policy and Advocacy, South Asian Americans Leading Together (a civil rights organisation), warned in her column -- 'When they came for the Muslims, where were you?' -- on Rediff.com, 'The reality of racial and religious profiling in this country is that it is simply enough to be perceived as Muslim to be treated as one.'
We look back at the key moments of persecution that have shaped the history and narrative of Indians in America and why solidarity with others is the only way out.
The 1917 Immigration Act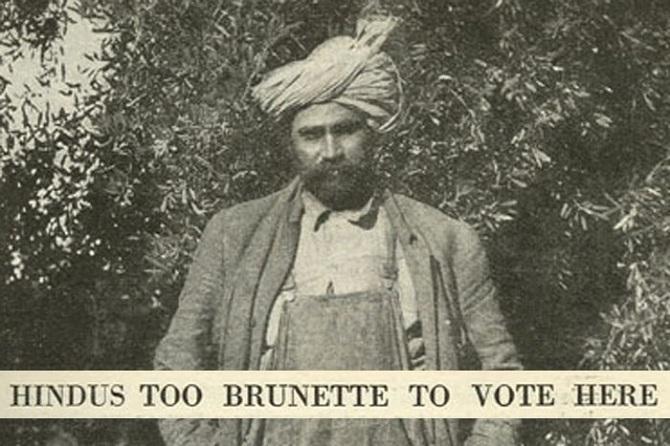 IMAGE: A clipping from a March 1923 report in The Literary Digest after the US supreme court barred South Asians from becoming American citizens, and ruled to 'denaturalise' those who had already done so.
Though not many in numbers, South Asians have been in America for centuries. And they have faced racism and hate since then.
Neil Padukone, the author of Beyond South Asia: India's Strategic Evolution and the Reintegration of the Subcontinent, described this in a column published in Rediff.com's India Abroad.
'As far back as the 1800s, north Indian traders came bearing "exotic articles from the Orient," selling silks, spices, and hookahs in New Orleans, Detroit, and even the old Southwest (think of Ali Hakim from the play Oklahoma!),' he wrote.
'Not just lacking immigration papers, but having brown skin, these Indian migrants were shown the door at White-owned hotels and neighborhoods. And the racism and antipathy didn't stop there.'
'The 1917 Immigration Act made Indians, as author Vivek Bald puts it, "equivalent in the eyes of the law to alcoholics, professional beggars, and the insane," and the Supreme Court ruled that "Indians who were already in the United States were racially ineligible to become citizens".'
'Fears of a "Hindoo Invasion" and a "Turban Tide" swept American newspapers, and as Erika Lee documents in The Making of Asian America, brown people from Washington state to Florida were denied citizenship (despite American military service, in the case of Bhagat Singh Thind), beaten by white mobs, forcibly removed from entire towns, imprisoned if they sought to marry Caucasian women, and worse.'
Where they did gain acceptance, Padukone pointed out, was in the Black majority enclaves of all of these cities.
---
Then came the Dotbusters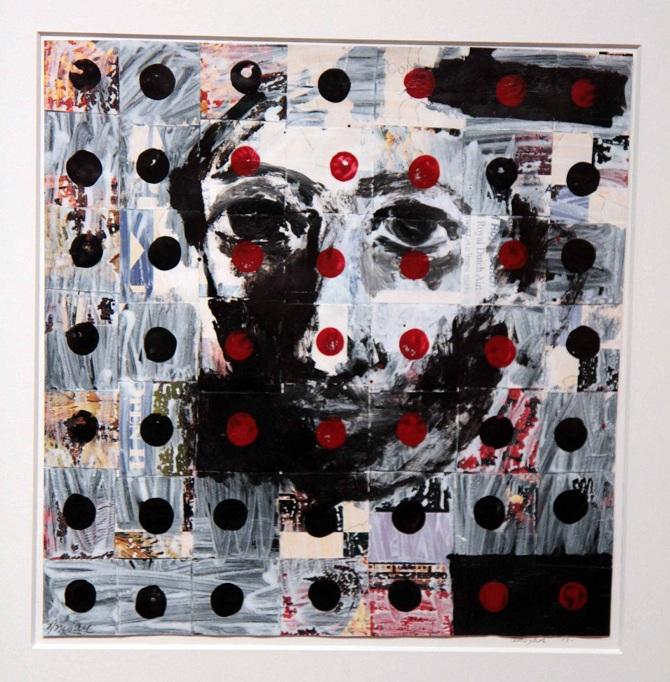 The Dotbusters were a hate group targeting Indians that emerged in Jersey City, New Jersey, in 1987.
The 'dot' referred to the bindi Indian women traditionally sport on their foreheads.
In a letter published in the Jersey Journal, they wrote, 'We are an organisation called the Dotbusters. We have been around for 2 years. We will go to any extreme to get Indians to move out of Jersey City... We plan some of our most extreme attacks such as breaking windows, breaking car windows, and crashing family parties.'
'We use the phone books and look up the name Patel. Have you seen how many of them there are? Do you even live in Jersey City? Do you walk down Central Avenue and experience what its like to be near them: We have and we just don't want it anymore. You said that they will have to start protecting themselves because the police cannot always be there. They will never do anything. They are a weak race physically and mentally. We are going to continue our way. We will never be stopped.'
They followed up the words with many racial attacks, ranging from vandalism to severe assaults.
---
A man called Balbir Singh Sodhi
IMAGE: Balbir Singh Sodhi's family donated this turban and many of his other personal effects to the National Museum of American History. Photograph: Paresh Gandhi/Rediff.com
Balbir Singh Sodhi, a gas station owner in Mesa, Arizona, became the first person of South Asian origin to be killed in a hate crime targeting Sikhs in retaliation after 9/11.
He was shot by Frank Roque, who was seeking revenge for the September 11 attacks and mistook Sodhi for an Arab because of his turban and beard.
Sodhi's death in 2001 has been followed by a long and terrifying list of hate crimes against Sikhs in America, many of them ending in the death of the victims.
---
Deaths in a gurdwara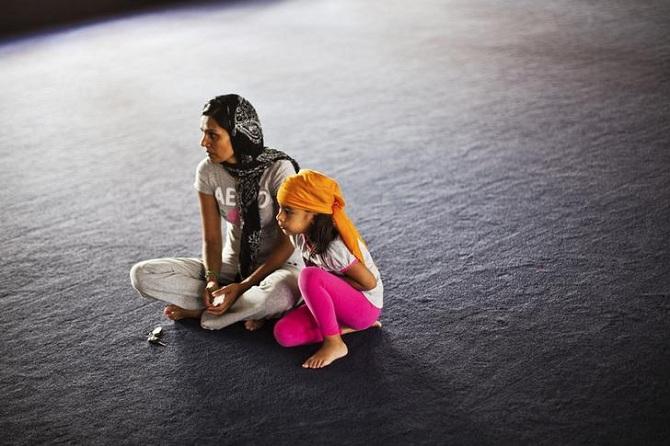 IMAGE: A Sikh mother and daughter pray for the victims of the terror attack on the Sikh Temple of Wisconsin in 2012. Photograph: Max Whittaker/Reuters
Over the years America has also witnessed arson and vandalism at Hindu temples and Sikh gurdwaras, but the worst of these attacks was the one on the Sikh Temple of Wisconsin in August 2012.
A white supremacist opened fire on the devotees in the gurdwara on a Sunday, killing six people.
A year after this incident -- and after 12 years of attacks on Sikhs since 9/11 -- the US decided that crimes committed against Sikhs, Hindus, Buddhists, Arabs and three other minority religions would be tracked as hate crimes by US law enforcement agencies.
---
His crime? Walking while brown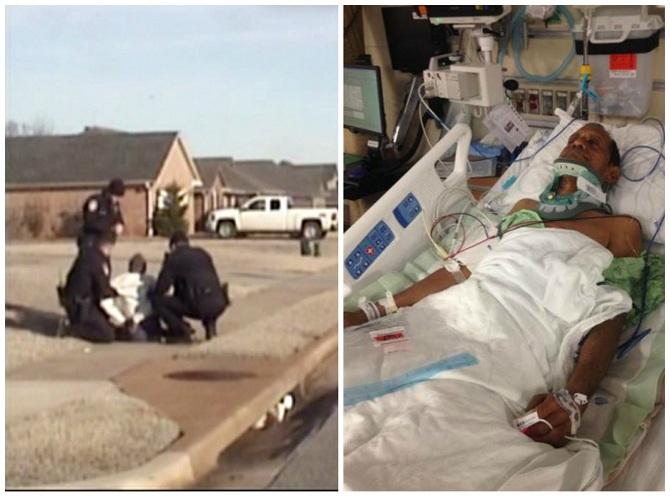 IMAGE: A police dashboard camera recorded the police brutality, left, on Sureshbhai Patel, right, who was left partially paralysed.
Sureshbhai Patel, an Indian grandfather, was walking in his neighbourhood in Madison, Alabama, in February 2015 when he was slammed to the ground and left partially paralysed by a local policeman.
Before the display of police brutality by policeman Eric Parker, Patel, who was in the US to visit his son, was recorded telling the cops who stopped him that he knew 'no English.'
Though Parker was dismissed from his job and charged, and despite the incident being recorded by police dashboard cameras, he was acquitted of all charges and even reinstated in the police force.
The incident took place at the height of the #BlackLivesMatter movement in the US, a campaign that grew out of the rise in police brutality against blacks and reiterated that browns were not immune and staying on the sidelines would not help.
Patel's incident was not an isolated one.
In December 2016, Aravinda Pillalamarri, an Indian-American woman who has lived in the US for more than 30 years, was walking in her neighbourhood in Maryland when she was stopped and asked about her immigration status.
According to a report in The Baltimore Sun, a police supervisor who arrived at the scene told her she wasn't free to leave because she 'was under criminal investigation.'
She was allowed to leave and walk to her home a few doors away only after the officers had run her name through their system.
'Only when the supervisor asked "Are you here illegally?" did my sense of colour, and of being unequal, come forth and my interest in my civil rights take a back seat to get out of the situation safely,' Pillalamarri was quoted as saying.
'Public safety does not need to come at the cost of civil rights.'