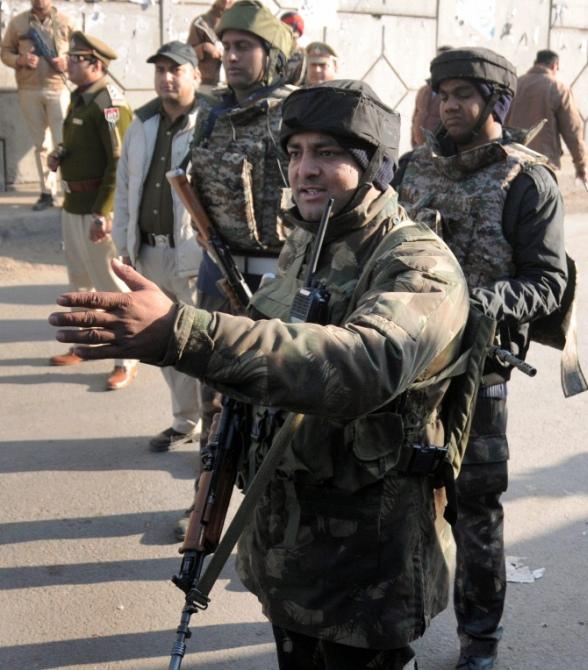 As Inter-Services Intelligence, the notorious Pakistan spy agency infamous for its clandestine support to most of the major terror attacks in India, made its maiden overt presence on Indian soil, curious citizens tried to catch a glimpse of "ISI ka Banda" (the ISI man).
The sleepy border town of Punjab was abuzz over the visit of Pakistan's Joint Investigation Team to carry out a first-of-its-kind terror probe at the IAF base with locals wanting to catch a sight of the "ISI agent" and his fellow sleuths from across the border.
After newspapers and television channels flashed stories about the visit of the five-member JIT, which also included an official of the ISI, residents of this frontier town were either glued to the TV for information on the movement of the team or decided to make a trip "as close as possible" to the air force base.
"We have only heard about some agents or ISI moles being picked up by police or intelligence agencies from this area in the past. ISI agents have also been portrayed in a number of Hindi and other regional films, but for the first time it has been officially known that an ISI man is in the town. The curiosity is obvious," Prakash Sharma, a book stall owner near the Pathankot railway station, said.
He said though news reports talked about the arrival of the Pakistani team along with Indian NIA officials as part of the probe on the terror attack on the forward air base early this year, there was no clarity as to when and how they would be travelling.
Hotel owner Surya Prakash told PTI that the visit of the Pakistani team which includes an "ISI ka Banda" has made people curious.
"There are reports that the Pakistani officials will be taken to the border area in Bamiyal near here from where it is suspected that the terrorists sneaked in to launch the attack on January 1-2. People have lined up the approach road to at least catch a glimpse of the convoy and capture it on their smartphones," Umesh Bhatia, a local medical student said.
The visiting Pakistani JIT, which landed 500 km away in Delhi on Monday, is led by Punjab's Counter Terrorism Department, Additional Inspector General of Police
Muhammad Tahir Rai and has ISI's Lt Col Tanvir Ahmed, Lahore's Deputy Director General Intelligence Bureau Mohammad Azim Arshad, Military Intelligence Lt Col Irfan Mirza and Gujaranwala CTD Investigating Officer Shahid Tanveer.
Citing Yadav's case, Bajwa accused India of carrying out"state-sponsored terrorism" in Pakistan. There cannot be a clearer "evidence of Indian interference in Pakistan", he claimed.
The Pakistanis claimed that Yadav had established a small business in Chabahar in Iran and had "directed" anti-Pakistan activities in Karachi and Balochistan.
"He converted to Islam and worked at Gadani under the cover of a scrap dealer," Bajwa said at a joint press conference with Rashid.
Image used for representational purposes only.