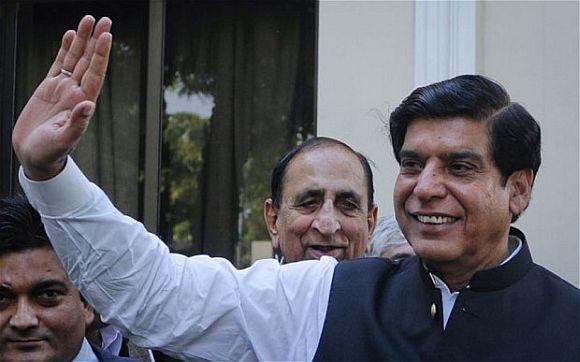 Pakistan Prime Minister Raja Pervez Ashraf arrived in Jaipur on Saturday on a day-long private visit during which he will attend a lunch hosted by External Affairs Minister Salman Khurshid but no 'substantive; discussions between the two sides are likely.
Ashraf, who is accompanied by a 40-member delegation and some family members, was received at the SanganerAirport by Rajasthan government officials. The Pakistan's prime minister's flight to India was delayed by over 50 minutes.
He will soon join Khurshid for lunch at the Rambagh Palace Hotel following which he will leave for Ajmer to offer prayers at the 12th Century Dargah of Ajmer Sharif. No substantive discussions are scheduled during the meeting of Khurshid with the Pakistan prime minister.
An official spokesperson in the ministry of external affairs had said that "The Pakistan prime minister is not visiting New Delhi and no substantive discussions are scheduled to be held in Jaipur".
Asked if a proposal for a meeting in New Delhi was made by India, he had said the visiting dignitary had expressed the desire to undertake a private visit and 'all requirements to meet his needs are met. In addition we have not received any other request'.
Ashraf's visit comes at a time when there is a chill in bilateral ties over the ceasefire violations at the LoC. An Indian soldier was beheaded by Pakistani troops while the mutilated body of another was found in January.
New Delhi had lodged a strong protest over the beheading of an Indian soldier and brutal killing of another. Ajmer Sharif Dargah Diwan, Zainul Abedin Ali Khan has said that he will boycott Ashraf's visit in protest against the brutal killing and beheading of Indian soldiers by the Pakistani army.
"I will not welcome the Pakistani prime minister during his visit here in protest against the beheading and killing of Indian soldiers by Pakistani Army on LoC. The incident hurt Indians but their (Pakistan) government is not understanding our sentiments so I took the decision," Khan had said.
Khan's boycott will be largely symbolic because he is seen as a ceremonial head. The Khadims, who control the 12th century shrine of Sufi Saint Khwaja Moinuddin Chishti, escort visiting dignitaries and assist pilgrims at the dargah.
Security in and around the shrine has been beefed up for Ashraf's visit."All the preparations are in place and policemen in adequate numbers have been deployed in the area," Inspector General of police Ajmer Anil Paliwal said. As per the schedule, the delegation in helicopters will land at Ghughara helipad at 3.30 pm and from there reach the Dargah covering a distance of 12.5 km.
They will be greeted at the main gate of the Dargah by the representatives of Dargah committee and committee of Khadims. From there he will reach the main shrine after passing from Buland Darwaja and others.
He will be welcomed by beating of drums and a turban tying ceremony will take place as per tradition, an official said. This is likely to be Ashraf's last foreign visit before the term of his government ends on March 16.
After the ziyarat, the delegation will return on the same evening by helicopters to Jaipur airport and from there fly back to Pakistan in a special aircraft. Pakistan President Asif Ali Zardari had visited the shrine on April 8 last year. He had landed in Delhi and driven straight for a luncheon meeting with Prime Minister Manmohan Singh and several other leaders.
Zardari, who was accompanied by his son Bilawal Bhutto, had then flown to Jaipur and taken a chopper to Ajmer, where he spent around 20 minutes and offered flowers and chadar at the shrine. The Pakistan president had donated $1 million to the shrine.