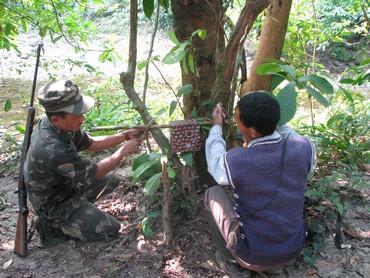 The Assam forest department is keen to arm forest guards in Kaziranga National Park with sophisticated weapons like AK series assault rifles to counter the new brand of rhino poachers who are using sophisticated weapons.
Assam Forest Minister Rakibul Hussain informed that rhino poachers armed with sophisticated weapons pose a serious threat to the rhino population in Kaziranga and other protected areas in the state which has witnessed killing of 11 rhinos so far this including seven in Kaziranga Park, three in Manas National Park and one in Orang National Park.
The Assam government recently formed a special forest protection battalion armed with self-loading rifles to protect wildlife in the State. Out of the 300-strong battalion, one hundred personnel are being deployed in the KNP where poachers are creating a havoc of sorts that has induced opposition political parties in the state to demand for the resignation of the forest minister.
Hussain added that a committee with senior police and forest officials had been formed to ensure better coordination in anti-poaching operations at the KNP and neighbouring areas.
The committee is comprised of superintendents of police of Nagaon, Golaghat and Karbi Anglong districts and a chief conservator of forest department. Kaziranga National Park in spread over an area that forms parts of Golaghat, Nagaon and Sonitpur districts of Assam, while Karbi Anglong hill district strikes along the southern border of the park, that is a United Nations Educational, Scientific and Cultural Organisation World Heritage Site.
The Assam government with permission from the Central government has amended the Wildlife Protection Act to enhance the maximum punishment to poachers to life imprisonment.
Wildlife offences have been made non-bailable and cognisable. Under the provisions of Section 197 CrPC, forest officers and staff have been granted immunity from prosecution without prior sanction from the government so that they can go all out against poachers on the prowl.