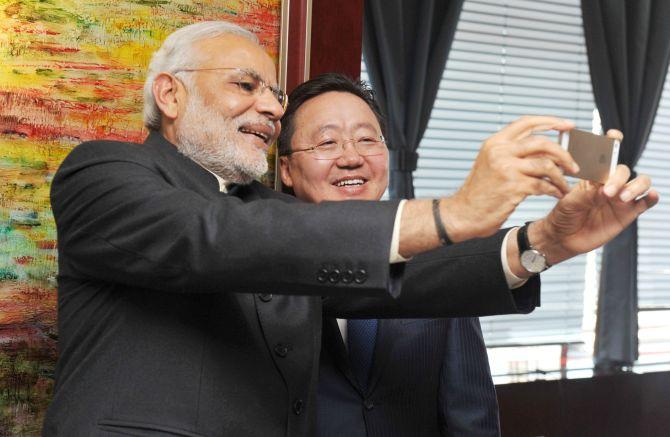 Shiv Sena on Wednesday criticised Prime Minister Narendra Modi's announcement of a credit line of $1 billion to Mongolia and asked why he can't show the same eagerness to help the distressed farmers of Maharashtra reeling under debt.
The move, Sena said, will only aggravate the pain of the farmers' soul who have committed suicide in the recent past.
"The PM has announced a $1 billion aid to Mongolia, so that relations between the two countries can be further cemented. The PM has taken moral responsibility for
development of this small nation. But, this is not a small amount. This will only aggravate the pain of souls of farmers who have committed suicide," the Sena said in an editorial in its mouthpiece Saamna.
The National Democratic Alliance's ally at the Centre said Modi has announced credit to a foreign country at a time when hapless farmers, who are reeling under debt from banks and private moneylenders are waiting for financial aid from government.
"We can call Mongolia more fortunate than Maharashtra to have received aid from India because our PM has shown them the financial soundness of the country by giving away such a huge amount," it added.
Sena also questioned the motive of the PM and asked why can't he show the same eagerness to help the distressed farmers of the state.
"What was the need for such a huge amount for Mongolia at a time when Indian currency is falling against the US dollar? Why can't the PM now show the same eagerness to help farmers of Maharashtra and those being affected by his dream of starting a nuclear energy plant in Jaitapur?" it said.
During his recent visit to Mongolia, Modi had on Sunday announced that India will provide a Line of Credit of $1 illion to support expansion of Mongolia' economic capacity and infrastructure.
Earlier too, the Sena slammed Modi over his China visit. On Monday, the Sena accused the neighbouring country of pursuing a policy of "hugging from the front and stabbing from behind".
"Our experience has shown that China believes in hugging from the front and stabbing from behind. On one hand they gave a grand welcome to Prime Minister Modi during his visit to China, and on the other, wiped off Kashmir and Arunachal Pradesh from India's map," said an editorial in the Sena mouthpiece Saamna.
Sena said India needs to realise that this act shows China will not mend its ways as far as the issue of its using India maps excluding Arunachal Pradesh and Kashmir was concerned.
Image: PM Modi takes a selfie with Mongolian President Tsakhiagiin Elbegdorj. Photograph: Press Information Bureau