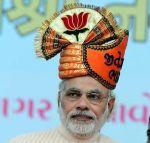 Taking a dig at Gujarat Chief Minister Narendra Modi for his 'India first' comment, Union Minister Kapil Sibal said the BJP leader should first "demonstrate" in his state that he was secular before talking about the rest of the country.
"Secularism is a question on mindset. We all want India first. That is our dream. Secularism is a way of life which Modi has no capacity to replace. Let him first demonstrate in Gujarat that he is secular before he talks of India," Sibal said when asked to comment on Modi's remarks.
In an address to the Indian-American community through video conferencing, Modi had on Sunday said, "My definition of secularism is simple: 'India First'. Whatever you do, wherever you work, India should be the top priority for all its citizens."
On Modi's comments that people will forgive "mistakes" of a government if it serves them well, Sibal said the wheels of law may be slow but they are unrelenting.
"The law will always catch up with those to seek peoples' forgiving. The wheels of law may be slow but they are unrelenting," the Union communications minister said.
Modi was denied US visa on the issue of human rights violation. Last week, the Wharton India Economic Forum cancelled Modi's keynote address to the prestigious annual event because of opposition from a section of professors and students of the University of Pennsylvania.