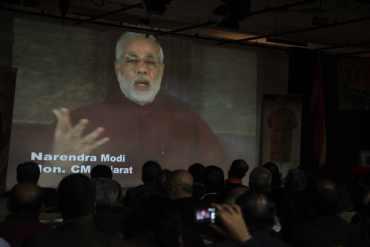 Denied a visa to visit the United States, Gujarat Chief Minister Narendra Modi on Sunday took to video conferencing to address Indian-American community, saying his idea of secularism is "India First".

Modi, who often faced questions over the killing of Muslims in the post-Godhra riots in 2002, did not refer to the controversial issue in his nearly an hour-long speech in Hindi.
"My definition of secularism is simple: 'India First'. Whatever you do, wherever you work, India should be the top priority for all its citizens," he said.
"The country is above all religions and ideologies," he argued and asked people to follow the same.
"I agree friends that as an Indian, as a citizen who loves India, you will also agree with my definition...We might do any work or take any decision, India should be supreme," he said.
"Nothing less than India's wellbeing should be our goal. And if this happens, secularism will automatically run in our blood," the Gujarat CM said.
Modi was denied US visa on the issue of human rights violation.
Last week, the Wharton India Economic Forum cancelled Modi's keynote address to the prestigious annual event because of opposition from a section of professors and students of the University of Pennsylvania. But, Modi did not touch upon the controversial Wharton issue.
The event organised by the Overseas Friends of the Bharatiya Janata Party was planned much in advance of the Wharton controversy.
Several hundred people gathered at two places -- Edison in New Jersey and Chicago -- to listen to Modi's speech.
In his address, Modi emphasised on skilled development of the youth -- who now constitute 65 per cent of the total population of the country -- and asked the Diaspora to help in holistic development of India -- tourism being one of them.

Image: Hundreds of Indian-Americans watch Narendra Modi's video conference on Sunday | Photograph: Paresh Gandhi/Rediff.com