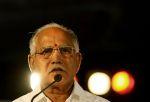 The split in the Bharatiya Janata Party in Karnataka caused by former chief minister B S Yeddyurappa quitting the BJP to form his own party has adversely affected both parties.
The BJP and B S Yeddyurappa's Karnataka Janata Party have put up a poor performance in the Karnataka urban local body elections.
The biggest setback for the BJP was loss in its strongholds of Mangalore and Bellary.
Even the B S R Congress, led by former BJP MLA from Bellary Sriramulu, could not hold on to Bellary.
The Congress was the biggest gainer, winning more than half of the seats. In all there are 208 local bodies with 4,976 seats. The Congress, at the moment, is leading in 1,441 seats while the BJP has just 660.
The Janata Dal-Secular is leading in 702 seats while the KJP and the BSR Congress are leading in 226 and 55 seats respectively. The independents have put up an impressive show and are leading in nearly 500 seats.
Out of the 208 local bodies, the Congress appears to be winning over 110.
B S Yeddyurappa's KJP has managed to win only two local bodies as of now at Shikaripura (Yeddyurappa's home town) and Alur in Hassan.
The JD-S on the other hand, as expected, has maintained its lead mainly in the Old Mysore belt.
The Congress also dealt a major blow to the BJP when it took the Sirsi seat. It also won the Davangere and Gulbarga seats. The BJP leads in Hubli-Dharwad and other parts of Northern Karnataka.
This election is seen as a precursor to the Assembly elections to be held in May 2013. There was a lot of anticipation regarding the kind of damage Yeddyurappa would do to the BJP and the results so far have proven that both parties have been hit very badly. The Congress on the other hand would look to capitalise on its performance.