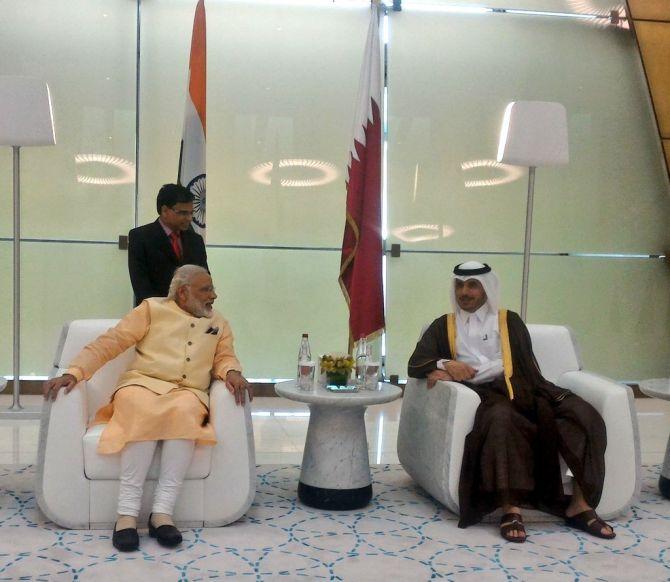 IMAGE: Prime Minister Narendra Modi with Qatar's Prime Minister Abdullah bin Nasser bin Khalifa Al Thani in Doha on Saturday. Photograph: @MEAIndia/Twitter
Prime Minister Narendra Modi arrived in Doha on Saurday on a two-day visit which is focused on giving a new push to the economic ties, particularly in the hydrocarbon sector, between India and the energy-rich Qatar.
Modi will hold detailed talks with Emir of Qatar Sheikh Tamim bin Hamad Al-Thani and address the business community of Qatar, a country which is India's largest supplier of liquefied natural gas requirements, accounting for 65 per cent of the country's total imports last financial year.
On his arrival, Modi was warmly received by Qatar's Prime Minister Abdullah bin Nasser bin Khalifa Al Thani at the airport.
'Reached Doha. India attaches great priority to strong ties with Qatar & my visit seeks to expand bilateral ties between our nations,' Modi tweeted on his arrival.
'I look forward to the various programs that will enhance economic & people-to-people ties between India & Qatar,' he said in another tweet.
He also tweeted some messages in Arabic language.
Modi will hold detailed talks with the Emir of Qatar on Sunday on a range of bilateral issues as well as regional and international matters of mutual concern.
The discussions are expected to focus on energy but various other aspects of the relationship will also come up during the talks, sources said on Saturday.
Qatar is an important trading partner for India in the Gulf region with bilateral trade in 2014-15 exceeding $15 billion (Rs 1 lakh core). Qatar is also one of India's key sources of crude oil.
At present, a number of Indian companies are involved in construction activities related to the FIFA World Cup being hosted by Qatar in 2022.
Modi, who is in Doha on a two-day trip, will also address the Indian workers while visiting a labour camp. The Indian diaspora of over 6,30,000 form the largest expatriate community in Qatar and constitutes a substantial percentage of the country's population.
The prime minister has been focusing on improving ties with the Gulf region which is crucial for India's energy security. He has already visited United Arab Emirates and Saudi Arabia.
Modi is the first Indian prime minister to visit Qatar in the last eight years. The then Prime Minister Manmohan Singh had visited Doha in 2008.
"India's historical and close relations with Qatar are marked by mutually beneficial commercial exchanges and extensive people-to-people contacts," External Affairs Ministry spokesperson Vikas Swarup had said ahead of the visit.
There has been regular exchange of high-level bilateral visits in the recent past. The Emir of Qatar had visited India in March 2015. Previously, the then Emir of Qatar had visited India in 1999, 2005 and 2012.
From here, the Prime Minister will travel to Switzerland on way to the United States.