The politics of poll bound Manipur may revolve around the economic blockade, but women traders of Mother's market in Imphal want their shops damaged in an earthquake a year ago to be repaired soon.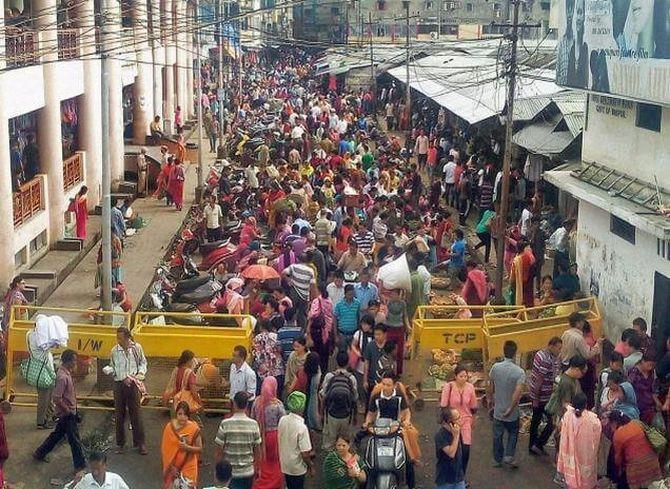 Mother's market or 'Ima Kheitel' in Manipuri is centuries old and is the largest women run market in Asia. It is not just a market but a sign of empowerment of women.
More than 5000 women sell fish, vegetables, bamboo and metal craft, dry fish, 'phaneks (sarongs)' and 'innephis' (stoles), herbs, bangles and other items in it.
But an earthquake on January 4 last year served a blow to the market as many structures were damaged.
"Our market got badly damaged in the earthquake. One year has passed but repair work is still going on and we are yet to get back our shops," Yasomati, a trader, told PTI.
Earlier there used to be scattered shacks without walls where women run the shops. Later the state government shifted it to a more organised and safer place, Khwairamband Bazaar, where it evolved into a shopping hub of traditional Manipuri artifacts for tourists.
But the 2016 earthquake destroyed a part of the market and it is still lying in rubbles.
The women traders said whichever party comes to power after next month's assembly election should ensure that they get back their shops soon and the government comes out with social security schemes for them.
"As we have shifted (after the quake) to a nearby place, our business has been hit as the area is very congested. We don't have much space," said Hansitha, a trader.
"We are not able to work after a certain age. So we want economic and social security schemes from the government," said another trader in her 60s.
Opinions on whom to vote in the election vary, but all of them are thankful to Congress president Sonia Gandhi for gifting them the RCC market shed, replacing the centuries old open air market, in 2010. It is this RCC market that suffered damage in last year's earthquake.
They are also grateful to Prime Minister Narendra Modi for giving them zero balance Jan Dhan accounts. However, they are not happy with demonetisation that had hit their business.
"We deal in cash. We don't have the provisions of cards or cheques. The note ban has affected our business till the first week of January. But now the cash flow is normal," said Irabati, a trader who sells handicrafts.
On the over 3-month long economic blockade, the entire market is of the opinion that all stakeholders should sit together and end this era of endless bandhs and blockades.
"Any blockade or bandh takes a toll on our business. It also hits the supply chain hard," said Irabati.
IMAGE: A busy market in Imphal. Photograph: PTI Photo