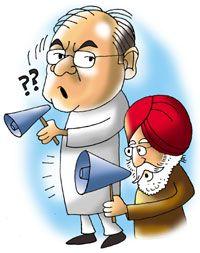 All are welcome to campaign for the BJP candidate in Amritsar, except one. Illustration: Uttam Ghosh/Rediff.com
Pitted against the former maharaja of Patiala, Captain Amarinder Singh, in Amritsar, BJP candidate Arun Jaitley is looking for support from all quarters.
But not from S S Ahluwalia, Jaitley's party colleague, it seems.
When SS expressed a desire to campaign for the Leader of the Opposition in the Rajya Sabha, Jaitley declined, politely, of course.
SS won't give up so easily. He promises to be in Amritsar from April 18, the day after his election from Darjeeling takes place. Amritsar votes on April 23.
There is a brief history to why Jaitley is unwilling to count on SS for support. SS belongs to the Sushma Swaraj camp, and Jaitley apparently denied him a Rajya Sabha berth some time ago.
Jaitley's supporters fear that given this background, SS may end up causing more harm than good.
The Jaitley camp wants the BJP central leadership to bar SS from travelling to Amritsar once electioneering ends in Darjeeling.
Wednesday's Gupshup: How Salman Khurshid is beating the election heat
Tuesday's Gupshup: Behind Paresh Rawal's rise is the wife
Monday's Gupshup: Assam Congress sends SOS for Dr Singh