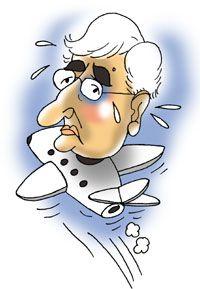 Will the external affairs minister's foreign travels end up affecting his chances at the hustings? Illustration: Uttam Ghosh/Rediff.com
External Affairs Minister Salman Khurshid's supporters are having a tough time in Farrukhabad in the minister's absence.
Khurshid is away at The Hague, attending the Nuclear Security Summit.
For Khurshid, attendance at the summit is part of his 'national duty', given that 'non-State actors' pose a serious threat to nuclear security.
Khurshid is locked in a multi-cornered contest for the April 24 election. Apart from the Bharatiya Janata Party and Samajwadi Party, the Aam Aadmi Party's Mukul Tripathi is in the fray.
Tripathi, a former journalist, is engaged in a door-to-door campaign. Khurshid's camp is relying on Louise Fernandes Khurshid, another former journalist and the minister's wife, to lead his campaign.
Given that Khurshid may travel abroad at least once more before election day, Congress leaders believe his absence could cost him dearly.
Remember, Khurshid's winning margin in 2009 was a mere 27,199 votes. He won 169,351 votes while Naresh Chandra Aggarwal of the Bahujan Samaj Party ended second with 142,152 votes. Chandra Bhushan Singh Urf of the Samajwadi Party (127,347 votes) and the BJP's Mithlesh Kumari (117,951 votes) were close behind.
Tuesday's Gupshup: Behind Paresh Rawal's rise is the wife
Monday's Gupshup: Assam Congress sends SOS for Dr Singh
Friday's Gupshup: Why Chidambaram said no to polls
Thursday's Gupshup: Will the Khans step out to campaign?