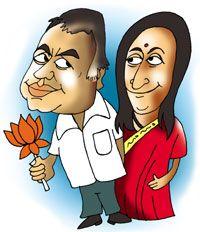 How Swaroop Sampat paved the way for her hubby in the BJP. Illustration: Uttam Ghosh/Rediff.com
That actor Paresh Rawal is a rising star in the BJP due to his proximity to Narendra Modi, is well-known.
What isn't known is that Rawal owes Modi's ascent to his wife, Swaroop Sampat, Miss India 1979 and star of the endearing 1980s telly sitcom, Yeh Jo Hai Zindagi.
Swaroop, who has a PhD in education, wanted to be part of the central government's teaching initiative and volunteered to work in rural areas, but Kapil Sibal apparently didn't respond to her request.
She then turned to Modi who promptly drafted her into the Gujarat Council for Educational Research and Training.
Modi described Swaroop as 'Gujarat's masterji', and it was through her that Rawal got to know the BJP PM wannabe.
Today, the bond is so strong that even the BJP's Maharashtra unit wanted Rawal to contest against the Congress's Priya Dutt (Mumbai North Central) or Sanjay Nirupam (Mumbai North).
Rawal has also been requested to campaign all over the country for the BJP, a move that puts him on par with Hema Malini and Shatrughan Sinha.
Monday's Gupshup: Assam Congress sends SOS for Dr Singh
Friday's Gupshup: Why Chidambaram said no to polls
Thursday's Gupshup: Will the Khans step out to campaign?
Wednesday's Gupshup: Chandigarh's date with dimples
Tuesday's Gupshup: Time to appease the Gods