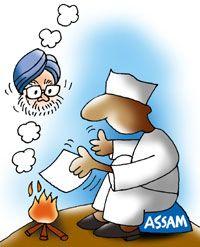 There is one part of India where the prime minister's campaign skills are missed sorely. Illustration: Uttam Ghosh/Rediff.com.
Assam goes to the polls on Monday, April 7, for five parliamentary seats, but so far there has been no sign of Dr Manmohan Singh campaigning for the Congress in the state.
The PM is a Rajya Sabha member from Assam.
Congress candidates Paban Singh Ghatowar, Rani Nara and others have sent frantic messages to Dr Singh, Sonia Gandhi and Rahul Gandhi, requesting the prime minister to campaign in their constituencies, but so far there is no sign of Dr Singh.
The BJP's prime ministerial candidate has been quick to capitalise on this. When Narendra Modi campaigned in Assam recently, he mocked the prime minister for representing the state for 23 years in Parliament without caring much for the north-eastern state.
Modi's focus on the PM's absence has become a poll issue in the state. Congress leaders claim Dr Singh is sulking and in retirement mode.
Dr Singh is reportedly upset by Congress leader P C Chacko's remark that the prime minister failed to speak up when he should have.
Fridays's Gupshup: Why Chidambaram said no to polls
Thursday's Gupshup: Will the Khans step out to campaign?
Wednesday's Gupshup: Chandigarh's date with dimples
Tuesday's Gupshup: Time to appease the Gods