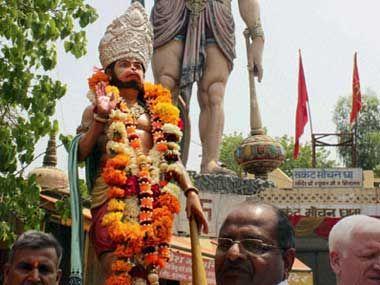 Upset over the noncompliance of a directive by the Gwalior high court, the municipal authorities of Madhya Pradesh's Bhind district issued a notice to the 'top authority' of a temple.
The notice to Lord Hanuman -- the temple's main deity -- reads: "You have illegally encroached the road which causes public inconvenience, leading to possibility of accident. Despite earlier directive to remove the encroachment, you have not complied. You were given the Gwalior high court's order. But you didn't comply. A contempt of court case has been initiated against you."
The temple, which is situated in the district's Bajariya locality, is deemed to be encroaching upon the public thoroughfare. Officers of the municipal body put up the notice on the walls of Bajaria Hanuman temple in Qila Road.
The notice which drew wide public attention and adverse comments has also become a talking point on social media. Top municipal officials later said the notice was mistakenly issued and would be recalled.
The legal notice to Lord Hanuman sparked a flurry of tweets and began trending on Twitter in India.
Image used for representational purposes only