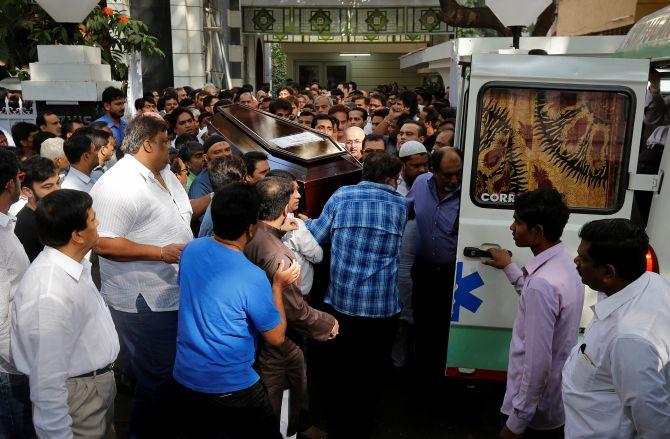 The bodies of film producer and realtor Abis Rizvi and fashion designer Khushi Shah, who were killed in a terror attack at a nightclub in Istanbul during New Year's celebrations, were laid to rest on Wednesday at their respective native places in Mumbai and Vadodara.
"The Turkish Airlines plane carrying the bodies landed in Mumbai shortly after 5 am," Bharatiya Janata Party MP Kirit Somaiya, who received the bodies at the airport, said.
From the airport, Rizvi's body was taken to his suburban Bandra house, while Khushi's mortal remains were flown to Vadodara for performing the last rites, he said.
The Turkish Airlines flight carrying the bodies left Istanbul on Tuesday night.
Rizvi's burial took place in Mumbai on Wednesday afternoon.
Khushi's body was cremated at the Khaswadi crematorium in Karelibag area of Vadodara. Her elder brother Akshay lit the funeral pyre in the presence of a large number of relatives and others.
Nishant Ramani, the business partner of Shah's father Ashwin, said that a 'besna' (prayer meeting) to mourn her death will be held in Vadodara on Friday.
Bandra resident Rizvi, 49, was the CEO of Rizvi Builders and secretary of Rizvi Education Society.
Khushi, 27, hailed from Vadodara and ran a boutique on the Juhu-Tara Road in Mumbai.
As many as 39 people were shot dead in the Turkey nightclub attack.
Citizens of Saudi Arabia, Lebanon, Morocco, Libya, Israel, Canada, a Turkish-Belgian dual citizen and a Franco-Tunisian woman were also among those killed.
Meanwhile, BJP member of Parliament Ranjan Bhatt said the family of Khushi has thanked Foreign Minister Sushma Swaraj for ensuring that her body is brought to India at the earliest.
Swaraj helped in fast-tracking the process of bringing the fashion designer's body to Vadodara, Khushi's brother Akshay told Bhatt.
"It was due to Swaraj's efforts that we received good cooperation from the Indian envoy to Turkey in completing all formalities for flying her body to Mumbai," Bhatt quoted Akshay as telling her.
Bhatt was present at the Vadodara airport when Khushi's body was brought.
Prominent people from different walks of life condoled the death of Khushi.
Gujarat Minister Rajendra Trivedi, Vadodara Mayor Bharat Shah, Municipal Commissioner Vinod Rao, District Collector Lochan Shehra, BJP MLAs Manisha Vakil, Jitendra Sukhadiya, among others, extended condolences to the bereaved family.
IMAGE: Relatives and friends of Abis Rizvi, one of the victims of Istanbul's New Year nightclub attack, carry his body to an ambulance before his funeral in Mumbai on Wednesday. Photograph: Danish Siddiqui/Reuters