Given Narendra Modi's trust in him, Praful Khoda Patel is unlikely to back down in Lakshadweep.
Aditi Phadnis reports.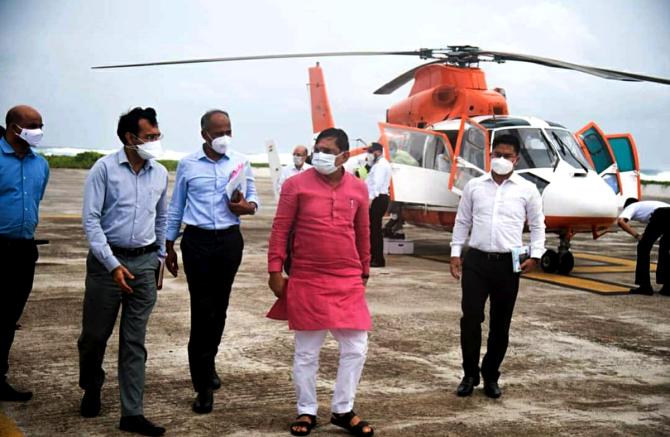 In July 2010, then Gujarat minister of state for home Amit Shah went to jail.
The Central Bureau of Investigation had taken over investigations into the death of history-sheeter Sohrabuddin Sheikh and his wife Kausar Bi in January 2010 on the direction of the Supreme Court and Shah was named in the chargesheet.
It was a five-year-old case. And though Shah was released on bail three months later, for then chief minister Narendra Modi, the immediate question was: Who could be Shah's successor.
Modi overlooked the claims of many other senior BJP leaders to strike upon Praful K Patel, who then remained Gujarat's minister of state for home for two years till the 2012 assembly elections.
Patel is not your average mass BJP leader -- he is a one-term MLA from the Himmat Nagar constituency in Gujarat's Sabarkantha district and lost the 2012 assembly elections at the height of the Modi wave -- many say because his own party sabotaged his election (he knew he would lose but refused to bow out, his supporters say).
He owes his place in the BJP and proximity to Modi to his father, Khodabhai Patel, a wealthy and successful civil contractor and builder bequeathed the business to his son.
In 2016, he was appointed administrator of Daman and Diu and Dadra and Nagar Haveli when the Centre decided to merge the Union territories into one.
His tenure there is not without controversy.
Patel's role in IAS officer and secretary of the power, urban development, and town and country planning departments of Dadra and Nagar Haveli, Kannan Gopinathan's decision to quit the service altogether rather than obey the orders of the administrator raised some eyebrows.
But worse was to follow.
Independent Lok Sabha MP from the area, Mohan Delkar, committed suicide and based on his suicide note, his son Abhinav filed a police complaint claiming that Mohan Delkar was 'harassed' by Patel and was asked to pay bribes or face criminal cases.
As administrator, Patel did what he knew best: He ordered the construction of bridges, roads, and flyovers in Daman and Diu.
There may have been some conflicts with Delkar who had been a six-term MP. The Maharashtra police is investigating the case (Delkar died in Mumbai).
When Patel was shifted to Lakshadweep, he set about reforming the island group with characteristic efficiency and zeal.
Lakshadweep comprises 10 inhabited and several uninhabited islands with a 32 sq km land mass and a population of around 80,000.
One of the prettiest islands is Minicoy, just a 30-minute helicopter ride from the Maldives.
The island group lies right in the middle of the international navigation route to South Asian countries and China.
Civil servants have mostly been posted as administrators -- the last one being the former director of the Intelligence Bureau, Dineshwar Sharma.
Invoking the Prevention of Anti-Social Activities Act was Patel's first reform, to handle narcotic smuggling and gun running.
This was a response to the activities of drug smugglers in and around the Lakshadweep islands as reported by security agencies -- though it does make you wonder why no other previous administrator thought of it.
He tried to change the social fabric of the island by reserving 50 per cent seats in panchayats for women.
From now on, anyone having more than two children will be barred from contesting local body polls.
But it was the fourth change that proved most contentious: It bans cow slaughter.
In effect, it amounts to banning beef for the people of Lakshadweep which is 97 per cent Muslim.
This has created a storm of protest from Kashmir to Kerala.
Patel's dream is to put Lakshadweep on a par with a high-end tourist revenue earner like the Maldives.
But how can you do that without even the basics?
There is no airstrip where a big plane like a Boeing can land, ruling out chartered flights.
The islands have some of the most beautiful white sand beaches. But there are no places to stay.
The total budget of the region is around Rs 1,200 crore (Rs 12 billion), of which Rs 450 crore (Rs 4.5 billion) is spent just ensuring the islands are accessible via 25 boats and three Pawan Hans helicopters.
There is no provision for renewable energy -- the 9 mw power demand is met through diesel generators.
The damage to the ecology is unimaginable.
Patel wants to replace this by solar and wind energy and build a better runway for bigger planes. You might have differences with his vision. But he certainly has one.
Like everywhere else, reform means stepping on toes and entrenched interests.
Add his Rashtriya Swayamsevak Sangh background to it, and it makes for pushback to his initiatives that are driven not just by ideology but also vested economic and commercial interests who fear competition.
Praful K Patel, however, holds the brahmastra: Prime Minister Narendra Modi's faith in him as a 'doer' and his backing.
This is why Lakshadweep will continue to be in the news, for wrong reasons or right.