'The home minister of India has given his assurance to the MP of Lakshadweep.'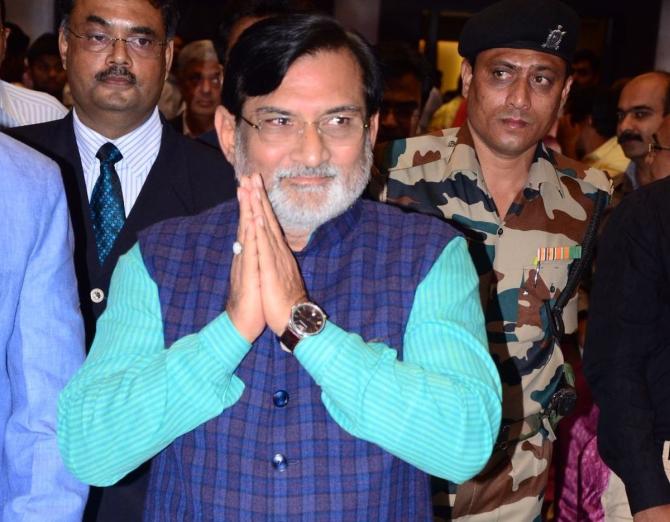 Lakshadweep MP and Nationalist Congress Party leader P P Mohammed Faizal, below, on Monday announced that Union Home Minister Amit Anilchandra Shah had assured him that the controversial new draft laws for the Union Territory will not be finalised without consulting local representatives.
Faizal, who met Shah on Monday, said he apprised the home minister of the strong local opposition to the draft laws proposed by Lakshadweep Administrator Praful Khoda Patel.
Over the last few weeks, public anger has been simmering in the Lakshadweep islands over a number of controversial proposals -- including a ban on cow slaughter, lifting the ban on serving liquor to tourists -- floated by Patel.
In an interview to Syed Firdaus Ashraf/Rediff.com, Mohammed Faizal, below, rued the fact that Praful Khoda Patel, who is also the administrator of Dadra and Nagar Haveli and Daman and Diu, has passed the laws in an autocratic manner, adding, "Today, the Daman administration is running the Lakshadweep administration."
You met Home Minister Amit Shah regarding the ongoing protests in Lakshadweep. How did it go?
The laws that have been proposed to be implemented in Lakshadweep are in draft stage. He understood the anxiety of the people of Lakshadweep after I made my presentation to him. I told him these new laws were made without the consent of the elected member bodies of Lakshadweep; be it the local panchayat members or MPs like me.
These laws were not passed in a democratic set-up. He (Amit Shah) has assured that they will not pass the bill hastily but will send this bill back to the administrator of Lakshadweep (Praful Khoda Patel). And it will be properly consulted with the panchayat people of Lakshadweep and me.
Are you hopeful that things will improve on the ground?
At this particular moment, the home minister of India has given his assurance to the MP of Lakshadweep. And this needs to be taken in that respect.
If you see, this new draft notification which was promulgated in the month of December 2020 which had the Panchayat Regulation Act and especially the Goonda Act, did not make any lead in the home ministry.
This is a clear indication that the home ministry has not taken cognisance (of this new draft law).
They have not passed the bill in a hasty manner, but kept it waiting. And I believe that they will understand the outcry of the people of Lakshadweep.
And now that the home minister has given an assurance to me on this issue, it has given me confidence. His assurance has given me confidence.
If he goes back on fulfilling the promises given then definitely, we will have to take other steps which are suitable to take. That is secondary now (though).
Your party leader Sharad Pawar is planning to meet Prime Minister Modi on the Lakshadweep issue.
Yes, he is planning to meet Prime Minister Narendra Modi on the Lakshadweep issue but due to lockdown issues he could not do so. And after my meeting with the home minister, I have updated him about the home minister's assurance. I will also seek his advice on how to go about it.
Do you think the administrator can take such drastic decisions unilaterally, without taking the home minister in confidence?
As of now, I have to think that way. The home minister is sitting in Delhi. And all these new drafts on Lakshadweep have to be approved by the home minister or the Cabinet. And when the home minister gave me an assurance that this new bill is in draft stage only. He said if this draft has to be consulted with the people it will be consulted.
He said if anything in this draft is going against the interests of the people of Lakshadweep, those Constitutional rights given to the people of Lakshadweep for their protection will be ensured.
This is the word given to me by the home minister of India.
The BJP is very particular on banning cow slaughter across India. And in Lakshadweep too the new draft law proposes it. Do you think they will go back on this?
Goa is ruled by the Bharatiya Janata Party and they have not banned cow slaughter.
Manipur and Mizoram in the North East too are BJP-ruled states and over there too cow slaughter is permitted. Have they introduced this bill? No.
Another argument made by Praful Patel in his new draft bill is that Lakshadweep has been left far behind in tourism compared to the Maldives. And that is why these laws were the need of the hour.
You have to see the archipelago of Lakshadweep and the Maldives before making such statement. Lakshadweep are very small individual islands which has a large landscape and land mass (unlike the Maldives).
Moreover, Lakshadweep's development has been made a gazette by the Government of India based on the intervention of the Supreme Court of India.
No one is against development. There are a lot of proposals for developing tourism by local entrepreneurs of Lakshadweep pending for the last five years. Why have they not been given a go-ahead for these tourism development projects?
Has this been caught in some bureaucratic tangle or has the central government till date not taken tourism in Lakshadweep seriously?
The Centre was planning seriously to develop three islands into international tourism destinations and we were very happy. It was a great proposal. They consulted all the stakeholders right from the panchayat members -- everyone.
At the same time, there were other inhabited islands where local islanders were given the opportunity to develop. It was a joint effort.
But now Praful Patel is taking decisions unilaterally and this is creating problems for the people of Lakshadweep so they are opposing.
Is it true that Praful Patel is promoting Gujarati business interests especially in the milk sector in Lakshadweep as newspaper reports say?
We have to believe that. He has stopped the dairy unit of the Lakshadweep administration. He is trying to bog down the animal husbandry department. He is not thinking what will be the fate of the farmers of Lakshadweep.
He has been appointed as administrator since the last four months but he has not even stayed for more than 20 days in Lakshadweep islands.
During his 20 days, he has come out with the most controversial draft. Has he interacted with the people of Lakshadweep? Has he understood the culture of Lakshadweep? The answer is no.
He has come up with an agenda that his own people should get the land. And to do that he has brought these enactments like he did in Dadra Nagar Haveli, Daman and Diu.
He took over the homes of 90 Adivasis and converted two schools into jails. He is putting everybody in jail who is opposing his laws. The same thing he is trying to copy in Lakshadweep.
But you are the member of Parliament from Lakshadweep, so why didn't you meet him to discuss these issues?
Availability of and accessibility to Praful Patel is very limited. He is not sitting in Lakshadweep. He sits in Daman. He interacts with Daman officers and these officers make drafts on Lakshadweep.
Today, the Daman administration is running the Lakshadweep administration.
He cannot take such decisions on his own without any support, isn't it?
That is why the entire issue has come to the central government now. They have to take a call on this.
Do you feel Lakshadweep is getting this treatment because Praful Patel wants to saffronise the islands where 97 per cent population are Muslims?
I am totally against making any such comment. Praful Patel is doing the same thing in Lakshadweep what he is doing in Daman, Diu, and Dadra Nagar Haveli.
What is your problem if these laws allow the sale of liquor in Lakshadweep? Why are you opposing liquor sales?
Praful Patel is coming from Gujarat and as a former home minister of Gujarat he must be very aware that there is a liquor is ban in Gujarat. And he comes to Lakshadweep and lifts the ban on liquor.
You don't lift the liquor ban in Gujarat but want it sold in Lakshadweep. What is the logic behind it?
To promote tourism.
Till date Lakshadweep is a dry place. Tourists come here for its natural beauty. There is an elected body and panchayat who decided this. Let the people be taken into confidence before taking such decisions.
But Praful Patel is saying, 'I will do it and you just face it.' It is very autocratic and that is why we are opposing these new laws.