'The suppression is mounting and people may react.'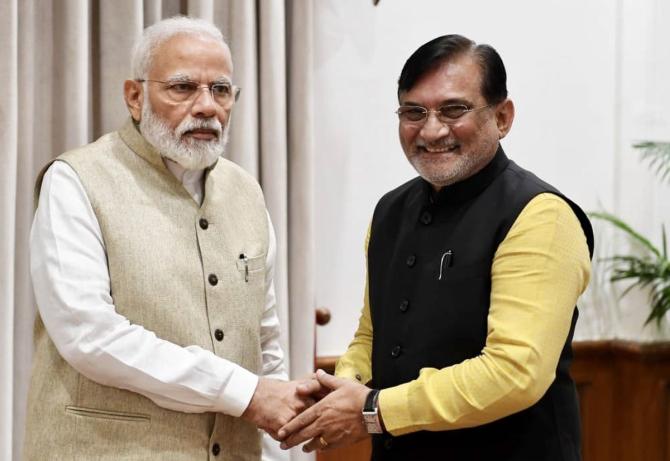 Praful K Patel, former minister of state for home in the Gujarat government headed by then chief minister Narendra Damodardas Modi, was appointed administrator of the Union Territory of Lakshadweep in December 2020.
His appointment came after Lakshadweep's then administrator Dineshwar Sharma, a former Intelligence Bureau officer who served as interlocutor for Jammu and Kashmir, passed away.
Patel soon started taking measures which upset the local Muslim population of Lakshadweep, that forms 97 per cent of the total population in the Union Territory.
So much so that Rajya Sabha MP Elamaram Kareem of the Communist Party of India-Marxist has written to President Ram Nath Kovind to recall Patel from his post.
"He (Patel) is doing everything against the culture of Lakshadweep, whose 99 per cent habitants are Muslims. And, therefore, people are objecting to these moves and things have come to a very frantic state now," Kareem tells Rediff.com's Syed Firdaus Ashraf.
What prompted you to write the letter to President Kovind against the administrator of Lakshadweep, Praful Patel?
He is a hardcore RSS (Rashtriya Swayamsevak Sangh man and started his RSS activities in Lakshadweep by imposing the Goonda Act.
He has issued a notification banning cow slaughter. Worse, he has snatched away the jobs of casual workers (in government departments) of Lakshadweep.
This was the only source of livelihood for the people of Lakshadweep and that too has been snatched away.
There is no industry in Lakshadweep and it was a big source of employment to the local people.
He is also shifting operations away between Lakshadweep port and Calicut or Cochin airport to Mangalore airport in Karnataka.
He is doing everything against the culture of Lakshadweep, whose 99 per cent inhabitants are Muslims. And, therefore, people are objecting to these moves and things have come to a very frantic state now.
You mentioned cow slaughter, but it is banned in most states, isn't it?
Lakshadweep has a 99 per cent Muslim population and no one here objects to anyone eating beef.
You cannot compare this to other parts of the country.
Cow slaughter is not banned in Kerala, so why ban it in Lakshadweep? It is also not banned all over the country and is allowed in many states which are not ruled by the BJP (Bharatiya Janata Party).
What is the rationale behind shifting businesses to Mangalore and not Calicut or Cochin side?
They want to change the culture of the Lakshadweep islands.
A majority of the population is Muslim and they have a connection with Kerala and not Karnataka. Now they (the government) want to change that.
Most of the people in Lakshadweep have families in Calicut or Cochin. Marriages happen and even for studies students from Lakshadweep travel to Cochin and Calicut.
Now he (Patel) wants to divert all these things to Mangalore in Karnataka which is ruled by the BJP.
All these moves are triggering protests in Lakshadweep.
How will the revocation of the Lakshadweep Development Authority Regulation, 2021 (external link) affect the people?
This was not a problem earlier when former administrator Sharma was ruling.
These are new things that has been implemented by this new administrator.
He is not a former bureaucrat, but a politician, a member of the BJP.
I have, therefore, written a letter to the President against the new administrator.
Worse, he is taking advantage of the Covid situation and implementing his own rules.
How is the Covid situation in Lakshadweep?
It was fine, but since Patel has assumed power, he has goofed up.
The cases are rising. Medicines are not available.
People of Lakshadweep are in a panic situation. There is nobody to hear them out.
Before Patel took charge, there was not a single case of Covid. Now there are so many cases.
You have also written against Patel lifting the ban on alcohol in Lakshadweep. Why so?
Islamic faith is against consumption of alcohol and that rule has been there in Lakshadweep.
Alcohol was permitted only in five-star hotels in view of tourism.
Now, he has lifted the ban, which is against the will of the majority of people.
How can you have Islamic laws like banning alcohol in a secular nation like India?
That is not true. There is no Islamic rule in Lakshadweep.
It is a very peaceful place and people are peace-loving.
They are secular and there is no ultra Muslim organisation in Lakshadweep.
Do you fear that Lakshadweep is being saffronised?
Patel is trying to spoil the peaceful atmosphere of Lakshadweep.
There is no extremism or unlawful activity going on in Lakshadweep.
The suppression is mounting and people may react. Therefore, the peaceful atmosphere should be maintained.
The Lok Sabha MP from Lakshadweep, P P Mohammed Faisal, belongs to the Nationalist Congress Party. The Congress has its offices and the Left parties also have a (strong) base.
There is no Islamic organisation here.