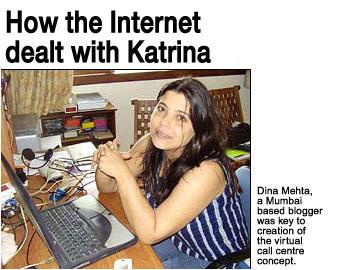 It took nature a moment to expose the vulnerable side to the world's lone superpower. By the time Hurricane Katrina was done, prevention was not one of the options. What remained was taking measure of the losses and building back what nature had demolished.
The KatrinaHelp project went into action shortly after the killer hurricane, brought to life by willing volunteers across the globe. It was put together by volunteers who made the promise of the Internet felt in December 2004 with the SEA-EAT (South-East Asia Earthquake and Tsunami) project.
| | |
| --- | --- |
| | Also Read |
| | |
KatrinaHelp used tools like
Wiki
, VoIP and blogs to get things done. Dina Mehta, researcher and Mumbai-based blogger, was one of the volunteers bringing together those offering help and those who needed it. She also contributed to the KatrinaHelp Wiki, and talked to volunteers who called in offering help on the team's virtual call centre.
Mehta worked with several volunteers across the globe towards enabling communication. Calls for help went across the web and even though there was no dearth of people willing to help, the disorderly state of affairs didn't allow for much useful communication to take place. Twelve hours into the disaster, the communications infrastructure in New Orleans and surrounding areas pretty much ceased to exist.
Angelo Embuldeniya, a Sri-Lankan based in Bahrain and one of the people directly involved with the project recalls, "One of the most serious SOS help alerts we received was from a disabled lady stranded on August 30 at the El Patio restaurant in Kenner, Louisiana. She required oxygen within three hours of the alert. The risk was tremendous. Without oxygen, she could have gone into a coma, even died. Another was from a student at Tulane University. Her parents and siblings were trapped in the attic of their home in Jefferson Parish and the water had already begun seeping in. This was a mere 24 hours into the disaster, and we were still communicating via email, wiki, blog, messengers and the Yahoo Katrina conference room."
Embuldeniya worked with both ham radio operators and amateur operators, along with rescue crews and volunteer networks. "What really got me thinking of getting a communications link set up in affected areas, apart from the desperation to contact folks, was the fact that messaging to cell phones was still possible. This was a lesson I had learnt along with others in the TsunamiHelp wiki and blog team, where we had SMS reporters and citizen journalists sending info from the ground to online data repositories during the Asian tsunami tragedy."
Thirty six hours into the disaster, the project tapped into VoIP (Voice over Internet Protocol). Dina Mehta and Phil Wolff from SkypeJournal (a team blog contributed to by Skype users) got together to set up a virtual call centre. "I think there is something about the human voice… It makes the call centre more approachable than a Wiki," says Mehta. "People calling in sometimes need help with the Wiki itself. They were grateful that someone was actually listening to them.
"There was this lady who was weeping. She told me she was at the end of her tether. She wanted to help by offering her home to a family. She lived close to the affected areas and had tried reaching the Red Cross and other authorities, with no luck. She was happy just to be able to vent to a human being. I told her the best I could do was point her to more places, while adding her offer of help on the katrinahelp.info wiki," Mehta recalls.
Within 48 hours, a complete virtual communications network was set up in New Orleans and Louisiana, along with volunteer caller hubs in Alabama, Mississippi, Chicago, New York, Toronto as well as internationally.
Speaking of the impact their endeavour made, Embuldeniya says, "To my knowledge, the KatrinaHelp hotline was a first in Louisiana. About four to five after the disaster, I heard of Vonage and other VoIP providers doing the same -- which was encouraging because it was a step towards taking wireless communications to the next level and aiding in disaster relief operations."
Embuldeniya said it was natural for volunteers working round the clock for days to snap in an all too human way. "The operators on the ground sometimes dozed off due to exhaustion after being on a shift of up to two days non-stop. I was up for about 90 hours until we got the communications network set up. Sometimes, due to stress, people would snap. They would tell me to ignore their rants or bear with them."
It remains to be seen whether the KatrinaHelp project becomes a one-time success or a model for future disaster management set-ups. Embuldeniya is hopeful. "We are nearing the close of a month since Katrina hit," he says. "Thanks to the many communication experts that have been providing us with assistance through real time ER scanners and ham radio communication with satellite links, we now have access to crucial and critical information as well as the ability to coordinate with all stakeholders involved in relief operations."
Meanwhile, the team at KatrinaHelp are monitoring Hurricane Rita. "We have got a communication network of people and resources on standby," adds Embuldeniya, "which means we can deploy assistance and aid ASAP, when needed."
So much for those who assumed the Internet was primarily about e-mail.
Image: Satish Bodas / Photograph: Vijayendra Mohanty