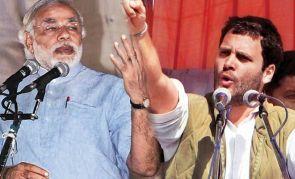 Those expecting a showdown between Narendra Modi and Rahul Gandhi in Karnataka are upset.
Much to their dismay, the two leaders have chosen to stay on the sidelines of the election campaign in the state.
Coverage: Battleground Karnataka
While Rahul has already addressed two rallies in the state, Modi is likely to address just one rally in Bengaluru.


Many analysts say that if Modi, who is a top contender for the post of prime minister after the 2014 Lok Sabha, participates in the campaign and the BJP loses the elections, then it could have a bearing on his candidature to the post of Prime Minister.


The Congress too faces a problem with Rahul.

Rahul is not a visible face in many parts of the state and has avoided controversial constituencies.

For instance, Rahul recently cancelled an election programme in Bellary where there is a major dissidence against Congress candidate Anil Lad. Sources say Rahul did not want to face embarrassing questions regarding selecting a candidate from the mining lobby.
The Congress is banking very heavily on a negative vote against the Bharatiya Janata Party.


The BJP in Karnataka made a lot of effort to get Modi to campaign for them in several places in the state.

The party has kept the people interested about Modi's visit, but has till date not been able to confirm whether he would come or not.

When asked they say he is most likely to address a rally at Malleshwaram on Sunday.
Sources said that Modi would instead campaign actively for the 2014 Lok Sabha elections as he realises the importance of the state which has around 29 MP seats.

Also, he reckons that Karnataka is the only state in southern India where the BJP can win parliamentary seats. In the last Lok Sabha election, Yeddyurappa had given 22 MPs to the BJP.

Modi is hopeful that BJP's name in Karnataka would be cleansed to a large extent by 2014
Karnataka has been famous for proving analysts and predictions wrong during elections.