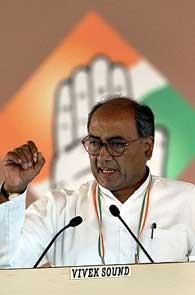 Congress General Secretary Digvijaya Singh and Madhya Pradesh Industries Minister Kailash Vijaywargiya are locked in a war of words over Congress Vice President Rahul Gandhi's political success.
Days before Rahul's two-day visit to the state on April 24, Vijaywargiya had said that the Congress vice president was a "flop film", which had already flopped in the assembly polls in Bihar, Uttar Pradesh and Gujarat.
"Rahul's film would not be a hit even in Madhya Pradesh where the next assembly elections are slated to be held in November this year," he had said.
In response to Vijaywargiya's statement, Digvijaya said that Bharatiya Janata Party's "films began flopping" after Rahul started to contest parliamentary elections.
He said that Rahul contested his first Lok Sabha election in 2004, when the BJP film flopped.
Similarly in 2009, said Digvijaya, Rahul contested the Lok Sabha election again and this time, L K Advani's BJP film flopped at the Centre.
The Congress general secretary said that BJP films hit rockbottom in Uttranchal and Himachal Pradesh. He admitted that the Congress was unable to form governments in UP and Bihar but pointed out that its voting percentage had gone up.
On the other hand, he said that BJP's voting percentage decreased steadily and claimed that in the upcoming assembly elections in MP, the BJP will be a flop case.
"Vijayawargiya will be the biggest flop film," Digvijaya said.
On Digvijay's claim that the Congress voting percentage had gone up, the MP minister said he did not know what the Congress leader was talking about, as his party had got only four out of a total of 243 seats in Bihar.