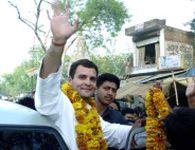 Congress leader Rahul Gandhi on Friday said that the Bharatiya Janata Party is a world champion in corruption. Gandhi was addressing a rally in Tumkur as part of his Karnataka election campaign.
"The BJP in Karnataka has clearly not lived up to the promises it made to the people of the state. Not only has it broken all records where corruption is concerned, but it has also done nothing for the benefit of the people," Rahul said.
Rahul Gandhi said the Congress would provide good governance in Karnataka. "I assure you that in case any of the MLAs are not found to be working, they will be removed from the party," he said.
The AICC vice-president informed the people about the grants the Congress at the Centre had provided Karnataka. "We sanctioned a lot of grants but the BJP looted your state," he added.